Texas, San Antonio, Pearl; a mixed-use culture and culinary destination with history that dates back to 1883 — a revitalised 'neighbourhood' built on the heritage of the State's largest brewery. Green spaces, events, a farmers market, retail outlets and a series of chef-led eateries comprise Pearl; its latest addition the jewel in its crown.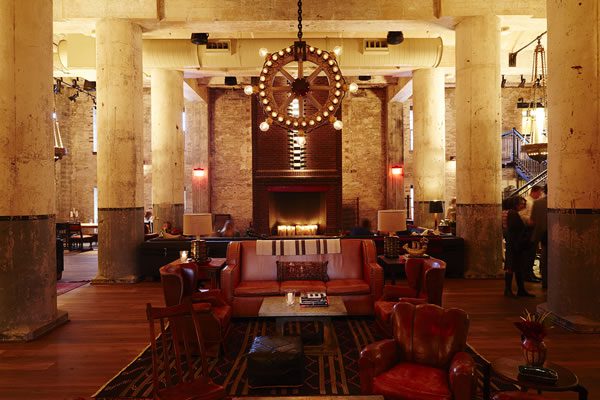 Hotel Emma takes its name from Emma Koehler, wife of the brewery's founder Otto, a figure central to the site's history having led it through Prohibition and beyond, and is very much a destination in itself. Renowned designers Roman and Williams have Roman and Williamsed the place; applying their experience in Hollywood production design to a degree above and beyond their previous spaces (think Chicago Athletic Association; Viceroy New York; Freehand Chicago). Drawing on the rich history of the city — the infamous Battle of the Alamo played out here in 1836 — the in-demand design duo offer a theatrical vision of deep-rooted Americana, the old brewery's early industrial features reimagined, repurposed, reinvigorated.
As a central anchor to the Pearl space, food and drink is inevitably of importance here at Emma — there's even a 'culinary concierge'. Locally-sourced gourmet market Larder; bar and clubroom Sternewirth with its cocktails, craft beers and wines; and unpretentious American bistro Supper are the trident of honest rootin'-tootin' foodie destinations led by chef John Brand. Big, bold and drenched in drama, Hotel Emma is a brew to savour.