Despite the fact that most downtown structures were destroyed in the Great Chicago Fire of 1871, visitors today can still enjoy a whole melting pot of architectural influence in the Windy City; each style reflective of the city's long history and multicultural heritage. Each noted for their originality.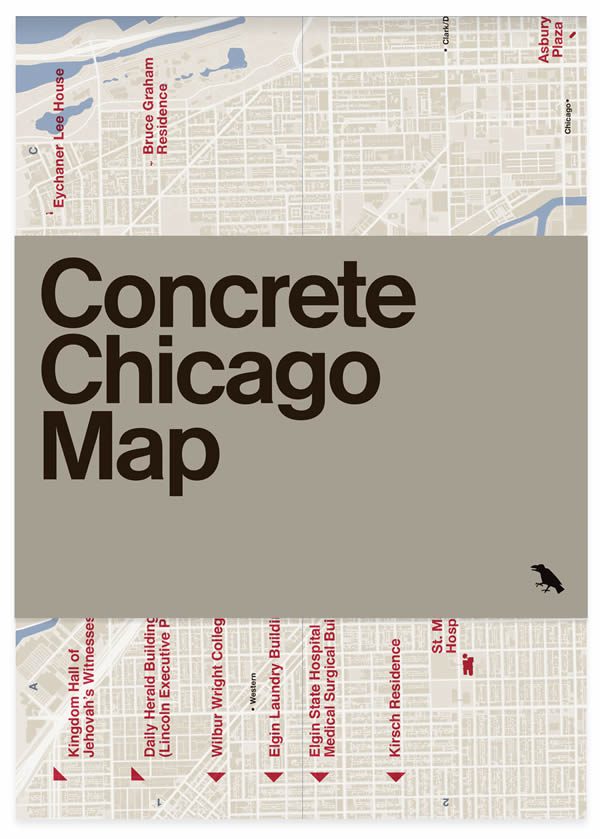 In the latest release from Blue Crow Media, the purveyors of concise maps of niche architecture offer a guide to a selection of these storied buildings; highlighting historical and contemporary examples of concrete architecture in one of the world's most renowned cityscapes.
Concrete Chicago Map—with text by Chicago​-based architect Iker Gil and photographs by Jason Woods—looks at buildings including Bertrand Goldberg's Marina City complex, which at the time of completion was the world's tallest reinforced concrete building, and projects by Skidmore, Owings & Merrill's Walter Netsch, including his design for Northwestern University and his most important work, the University of Illinois at Chicago Circle Campus building.
Also Netsch's most controversial, the building featured elevated walkways, public amphitheatres, and the champion of brutalism's signature Field Theory buildings; whilst some key elements—including those walkways—were demolished in the 1990s, many of its buildings remain, and its towering University Hall was recently renovated. "In many cases," says Gil, "these concrete buildings captured the aspirations of the city at critical times. As we shape the future of Chicago, it is worth trying to learn from the lessons and opportunities represented by these remarkable buildings."
The two-sided guide, with a map of the city and surrounding suburbs, is a celebration of the architecture that remains today, architecture that played a critical role in defining educational, institutional, and government buildings in Chicago, and architecture that—whether it concrete, tall, brutalist, or modern—ensures the city's skyline remains one of the world's most recognisable.
Concrete Chicago Map, in collaboration with Iker Gil and Jason Woods, is available now from Blue Crow Media.