From the foundations of its glossy skyscrapers to its famed network of subway tunnels, New York City is oft-dubbed a concrete jungle, yet architecturally its​ ​19th-century​ ​brownstones​ ​and​ ​Art Deco​ ​towers are the illustrious icons it is most commonly associated.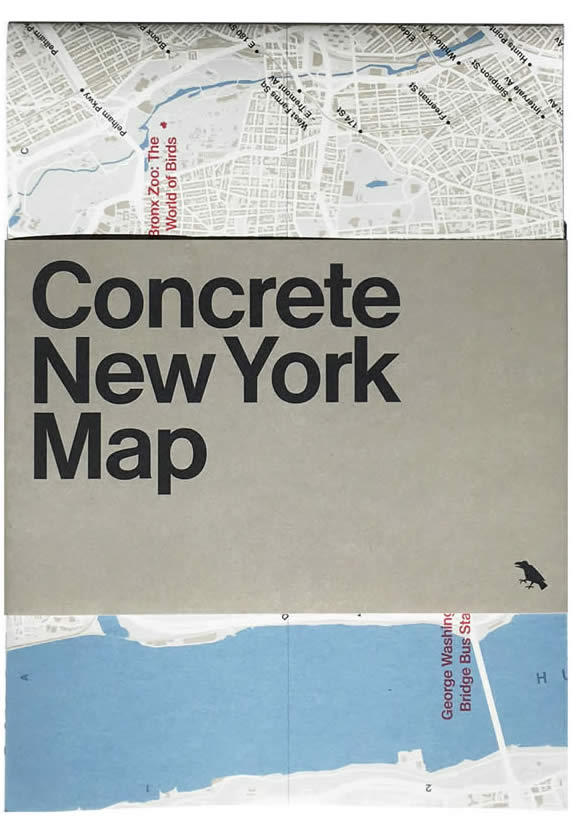 Concrete​ ​New​ ​York​ ​Map​ — the tenth architecture map in a brilliant series from Blue​ ​Crow​ ​Media — offers an insight into the under celebrated material, focussing on buildings and structures that represent some of​ ​finest​ ​achievements​ ​in​ ​engineering​ in the city.
From revered headliners like Frank​ ​Lloyd​ ​Wright's​ ​Solomon​ ​R.​ ​Guggenheim​ ​Museum, Marcel​ ​Breuer's​ ​Brutalist​ ​Begrisch​ ​Hall​, and Eero​ ​Saarinen's​ ​TWA Flight​ ​Center, to the lesser-known ​George​ ​Washington​ ​Bridge​ ​Bus​ ​Station and Battery​ ​Hill​ ​at​ ​Fort​ ​Tilden, the two-sided guide puts the old school side-by-side with the new school — contemporary works like Dattner​ ​Architects'​ ​Spring​ ​Street​ ​Salt​ ​Shed​ ​and​ ​Steven Holl​ ​Architects'​ ​Hunters​ ​Point​ ​Community​ ​Library completing the concrete landscape of one of the world's most photographed cities.
Short explanatory texts come via Allison C. Meier, and there's some fine photography from Jason Woods; all going toward making the handy pocket-sized Concrete​ ​New​ ​York​ ​Map an absolute must-have for fans of the Big Apple and completists of Blue​ ​Crow's fine architectural collection alike. Available at selected independent bookstores and through bluecrowmedia.com