New York City design agency, Meyer Davis, combine raw metals and rugged leathers with refined furnishings, rich velvets, and eye-catching custom lighting for Chicago's Proxi; the latest venture from chef Andrew Zimmerman and managing partner Emmanuel Nony and sister restaurant to the esteemed Sepia, where the former has made a name for himself showing off inventive American cuisine.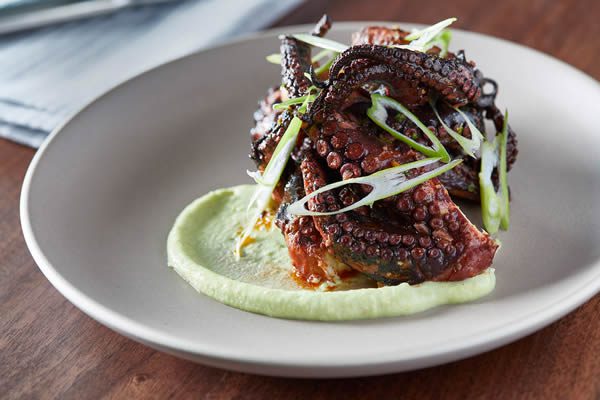 Located in the city's West Loop neighbourhood among the plentiful eateries of Restaurant Row, Proxi sees the team shift their focus onto more sharable dishes with influences from Japan, Thailand, India, the Middle East, and the U.S.; plates like coal-roasted oysters, crispy Vietnamese crêpes, and duck dumplings sharing a menu with pastry chef Sarah Mispagel's unconventional yet balanced desserts.
The space features a long central leather banquette leading to a dining room filled with individual tables and additional banquettes. Thoughtfully renovated to preserve existing architectural elements, brass-frame mirrored walls and custom-designed cement tiles separate the dining area from the bar. Led by Josh Relkin, that bar is a place for guests to sip cocktails from a globally-influenced menu which sees homemade elements like kombucha, limeade, Thai iced coffee, and sodas served alone or as a component in Relkin's inventive libations. Its designers having managed to capture the refined essence of Zimmerman's innovative cooking, yet balanced that with the casual approach of sharing plates, Proxi is a relaxed addition to the West Loop and another feather in the cap of its partners.