With a name inspired by President Martin Van Buren (who served as the eighth POTUS for a single term, and was often referred to as 'Marty Van Ruin'; thanks to his status of being at blame for the economic depression of 1837), The Ruin Daily is a sandwich bar located in Chicago's West Loop Business District, which chef Gabino 'Bino' Ottoman is hoping will elevate the sandwich to epic (pro)portions.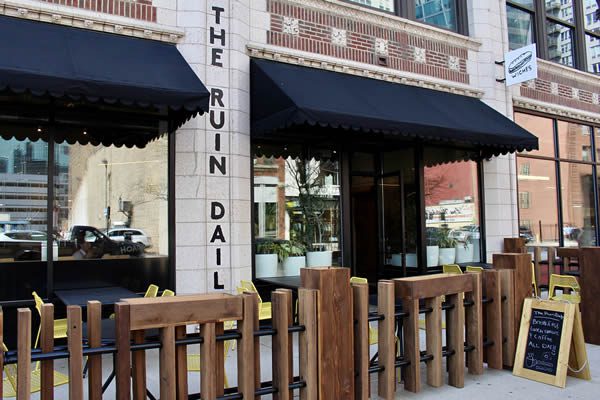 Open dawn till dusk, the menu revolves around a rotating selection of more than ten sandwiches, from breakfast fillings to the interestingly named Gym Shoe (a baguette with sliced lamb, corned beef, sliced beef, tzatziki mayo, giardiniera and shredded lettuce) and The Little Magician, which is packed with rare roast beef, foie butter and pickled onions.
For those of you mindful of watching your carb intake, Bino has added plates of deli meats, pickles, slaws and sides to the menu; as well as healthy juices, smoothies and teas. Coffee comes courtesy of Fulton Market's Metric Coffee (and can be enjoyed with an assortment of pastries freshly-baked by chef Mindy Segal), whilst late-risers may want to take advantage of Dylan Stewart's cocktail list, the renowned mixologist shaking and stirring up a storm capable of leaving your day nicely ruined.
The Ruin Daily's interiors and branding are as playful and unabashed as its audacious sandwich output, and riffs on a house-style of childlike doodlings; bleached wood and white tiling ramp up the sophistication level, but a skittish spirit is The Ruin's overriding personality.