Jones & Sons opened on Arcola Street, Dalston, three years ago; an inconspicuous residential street like any other in Hackney. The space, an old Victorian textile factory, used to also service the Arcola Theatre before it moved to Ashwin Street in 2011. It's anonymous, and about as pretentious as a plank of wood; interiors are fairly minimal, modest, and fuss free.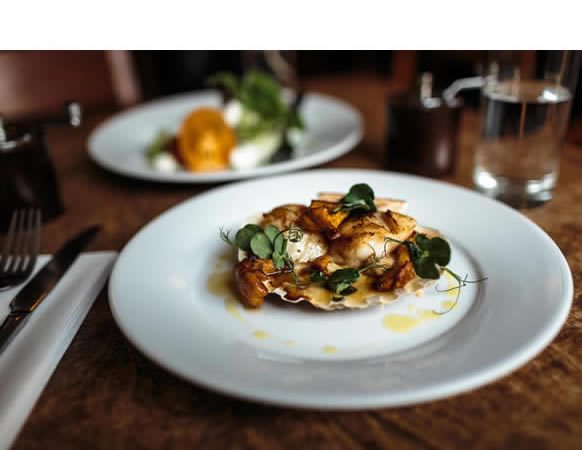 A large wooden bar dominates the main room, which Andy Jones (proprietor and owner) and business partner Richard Priestly built with their bare hands. At the end of it sits an old wooden whisky cabinet that Andy inherited from his parents' hotel in north Wales, where he first waited tables at the age of three. Banquettes, custom-built kitchen, and an upright piano are the only other features creating a woody and homely look.
Jones & Sons is a traditional British, produce-led restaurant that likes to keep its dishes simple, yet rich and manly. The menu is a mix of classics and moderns: on trend are heritage tomatoes, while the hand-dived Coquille St. Jones is a classic French scallop dish. Another archetypal plate is the sea bass with celeriac and fennel; the cauliflower with spinach, capers and pine nuts a beastly modern. If calories don't concern you, then the lobster macaroni cheese is a certain must, but take care — portions are generous, and you may need assistance leaving the restaurant.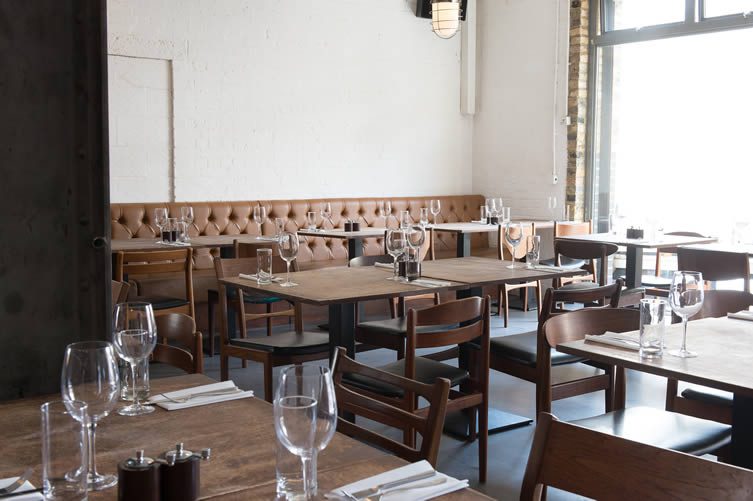 The place is very much about Andy: it's who he was, and who he is. No stranger to the 'hoods of Hackney, he was formerly the GM of the infamous Cat & Mutton party boozer on Broadway Market. A people-person chap eager to please, don't be surprised if he just lands on your table and tells you a story or two. We sat down with Mr. Jones to talk through the concept, the changes he's seen in Hackney, and why fad restaurants won't last in a city dominated by a thriving culinary scene …
Why did you choose Dalston for Jones & Sons?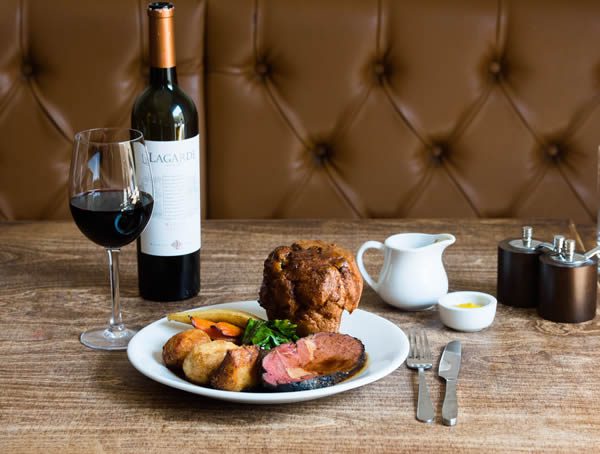 I've been doing this in Hackney for years. As a General Manager of two busy sites in London Fields, I hadn't really liked how the area had become. I know I probably sound like a lot of the people who used to live in Hackney, but that area had lost something when it became really popular. I didn't want to open a business in an area I'd fallen out of love with. I went for Dalston because it was missing more 'grown up' places.
Why 'grown up', then?
I'm not a fad type of restaurant guy; I like things done the way they've always been. I grew up in a working class family run hotel in Wales, and that's where I get my work ethic and drive. I just wanted to open a nice neighbourhood restaurant. Nothing more, nothing less.
I was told that you designed and built the restaurant yourself. Can you tell me about the process; did you have any carpentry or design credentials?
The build was everything I imagined and more. Richard Priestley and I designed the space, and we started with an absolute blank canvas. The only things we outsourced were the Banquette seating, the electrics, and the floor, we basically did everything else. We also did it in five weeks: 15 hours a day, seven days a week to get it done. On opening night we were sweeping dust out the back door when customers were coming in the front.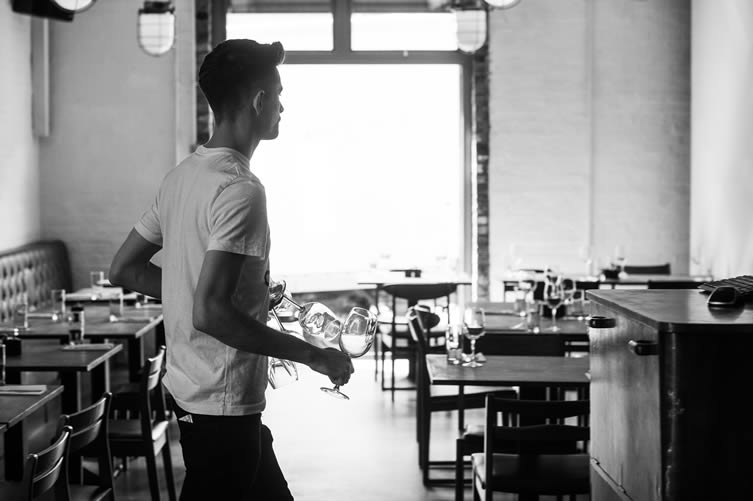 And where did Byron Pritchard come in?
Byron and I had known each other for years through two ex-girlfriends, but weren't 'friends' — so, when I was told he was this amazing, crazy, artist/builder/carpenter type of guy, I wanted to see if we could work together. He was into it straight away, physically, and emotionally. He dictated everything during the build and everyone just took his lead. He was so exhausted by the end of the build that he shaved his much-famed dreads off. A great guy.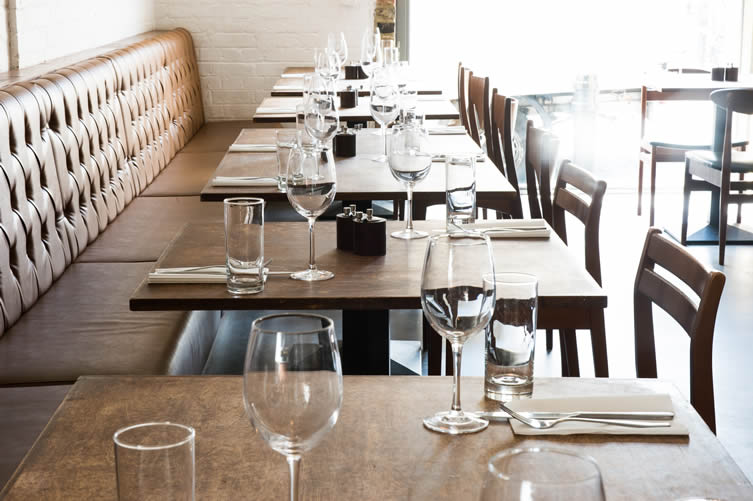 From the oak, to the marble, to the Scandinavian-style seating, where did you find the materials?
I had a very tight budget to get the place open, so we had to be savvy about where we spent the money. The oak cladding is actually low-grade tongue-and-groove flooring that we found in a warehouse near Heathrow, which we then stained in teak. The Carrara marble is from a great place in Leyton that does amazing stone worktops, and all the Scandi furniture was bought from eBay. The lighting came from a company in Plymouth that deals in marine salvage.
There's seems to be a sense of simplicity at every level, can you talk a little about that?
First of all, there is nothing simple about serving 400-500 covers a week, nothing simple about having 20 staff over two businesses running from the same site, nothing simple about doing ten external weddings a year, and several other events. But thank you for mentioning simplicity at every level; it makes me feel warm inside.
As for the food, it's the food I like: classic, simple, and seasonal. I'm not interested in re-inventing the wheel. I like red meat cooked on a char grill, I like meaty fish with fresh accompaniments, that's what we do. I like smaller, slightly more intricate starters over complicated desserts; I want the menu to pose a few questions, but not to alienate people.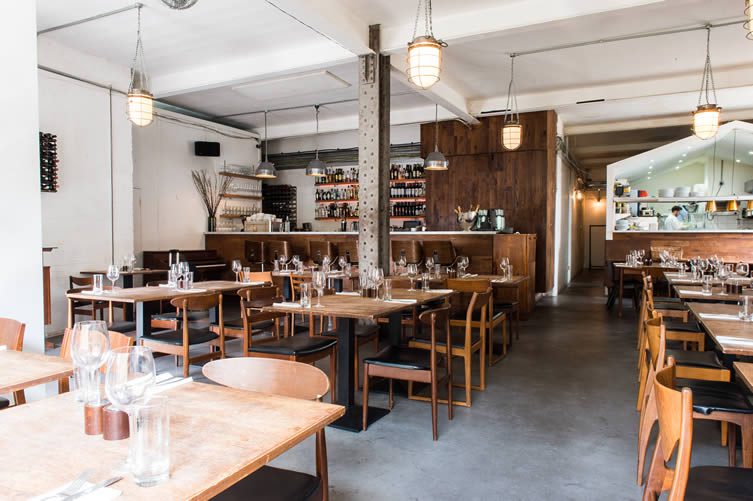 Tell us about the cocktail menu
I like to keep it fairly classic. We do infuse an Earl Grey gin, and we had rhubarb vodka on for a while, but my favourite cocktail is called the Gorski. It's named after a very good friend of mine who gave me a gift so incredible that the only way I felt I could really honour him was to create a cocktail named after him. The main ingredient is our home-smoked rum, which is hard to get the same every time, but when we do it's a knockout.
Tell us about your time at Cat & Mutton, the infamous London Fields boozer that some of us (at least me) have a hard time remembering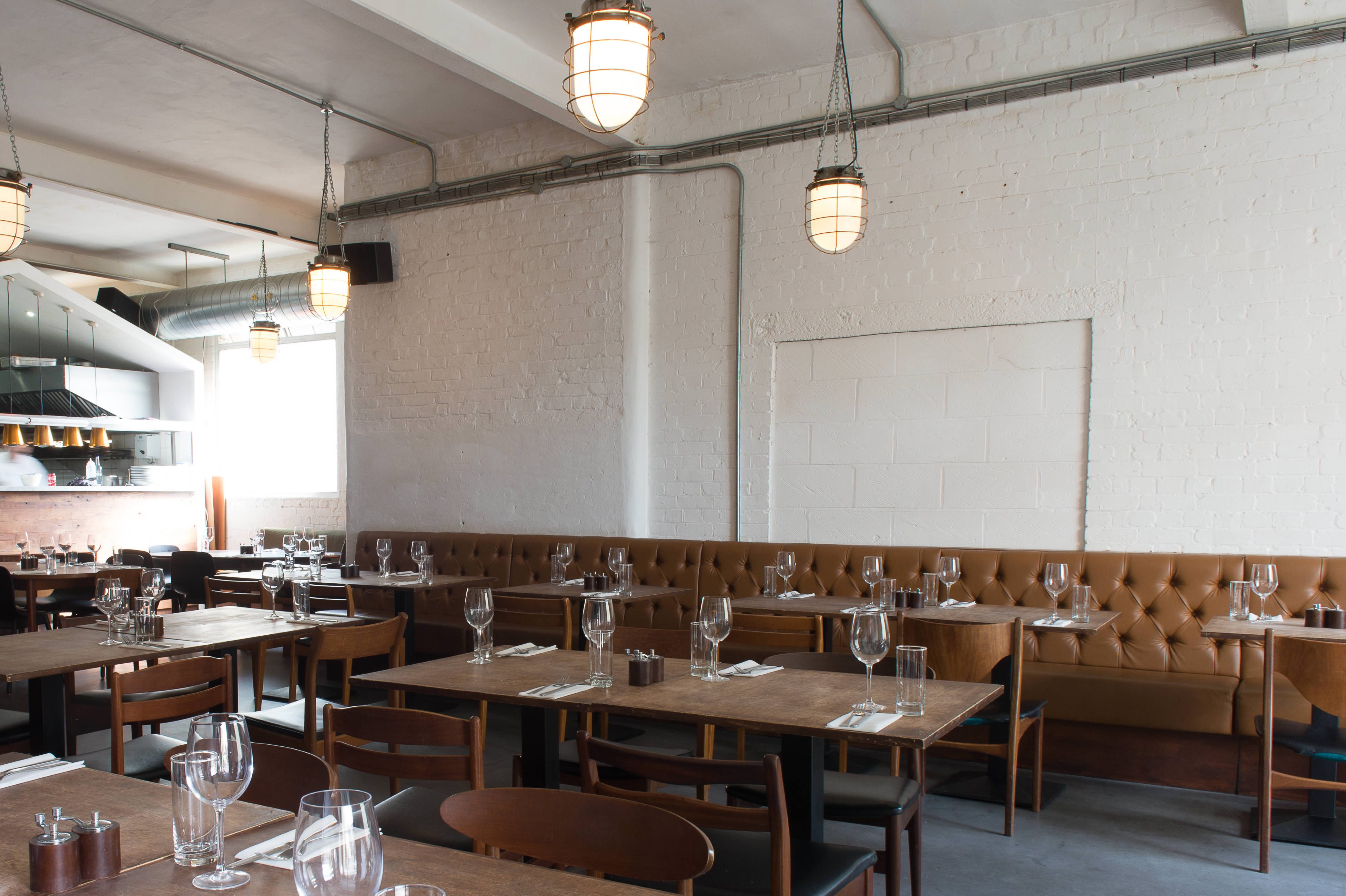 My days at the Cat & Mutton are full of happy memories, it was a great time, pre- the huge explosion that Broadway Market is today, pre- the chains, the tourists. There were two places, the Dove, and The Cat. I started as a barman, was given the GM job pretty quickly, and never looked back. The owner, who remains a great friend, gave me free reign with food, service, and party nights — and, as a team, we just ran with it. We had two great DJs doing the Sunday nights, and the anticipation that used to build was amazing. A great period of time where everyone was welcome and everyone, for the most part, had an amazing time.
Do you think savvy London diners are expecting more from their neighbourhood restaurant? Where do you see the capital's restaurant scene heading?
It would seem that everyone in London is now a 'foodie'. I don't like that term, but I think you are right that diners are becoming savvier. The expectation in Hackney is up there with the highest in the country in my opinion. Everyone is raising the bar, new concepts, new menus, a lot of chef owners … which are a blessing and a curse in some ways. You have to start with a bang or you fade away pretty quickly. I did things the other way, very little press, just opened and worked my socks off to make sure the place was as successful as it could be. Only now, as we are a few years in, am I looking to get the word out there.
As for the future-dining scene in London, I'm not sure if we'll ever reach saturation point, but I think some areas are so overloaded with places to eat that surely the local economies can't support them all.