What do Scorsese and Schrader's Taxi Driver; Hitchcock's Psycho; Reservoir Dogs; Trainspotting; or the darkly dystopian A Clockwork Orange have in common? Cult classics aside, each join a host of other iconic movies on Inside Information: Director's Cut, a new art print from pop culture-obsessed wall art connoisseurs, Dorothy.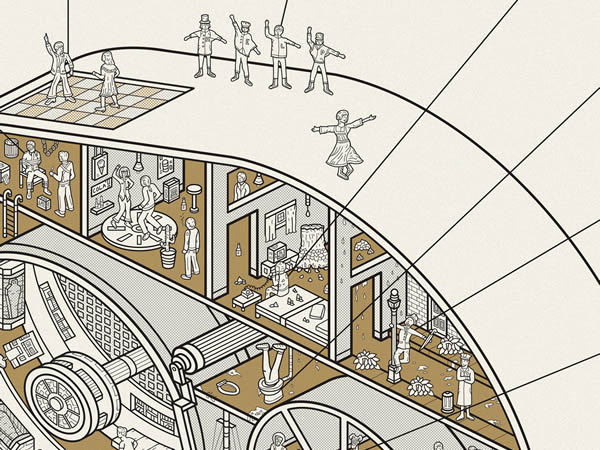 The intensely detailed cutaway print imagines a miniature world of memorable movie scenes — from Mr Blonde's Stealer's Wheel-soundtracked moment to Jack Woltz's shocking discover — hidden inside the distinctive Arriflex 35 IIC, one of Hollywood's most significant motion picture cameras; and a firm favourite of Stanley Kubrick, who used it almost entirely to shoot the aforementioned adaptation of Anthony Burgess's most famous novel.
Featuring a total of 60 scenes from an array of films a generation will never forget, the art print is the third in a series that also includes pioneers like Giorgio Moroder and Brian Eno wandering around inside their much-loved Minimoog and an ode to the life-changing Apple Macintosh, and sees a little something for film buffs of a certain age. The big question being: how many scenes and their respective movies can you identify?.
The three-colour litho print (50cm x 70xm) is available to buy online for £30 / $39 plus P&P; whilst the trio of meticulously-designed cutaway prints can be snapped up in a bundle for £75.