Celebrating some of the most exciting, experimental and divisive albums to be released in the last 30 years, the Stamp Albums: Post-Punk and Stamp Albums: Post-Rock prints from Liverpool-based studio Dorothy are colourful collections of seminal records (48 per print to be precise) reimagined as an oversized sheet of collectable postage stamps.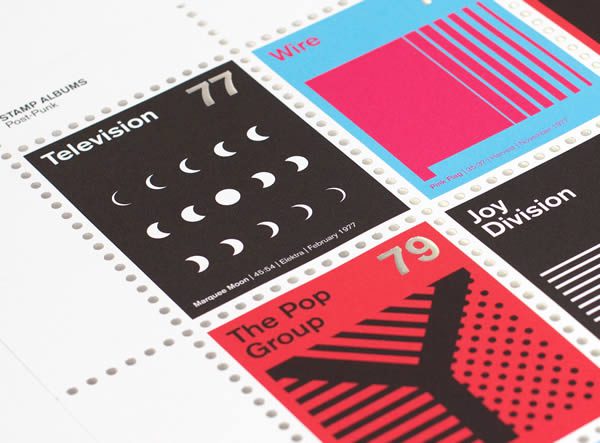 Individual stamps feature a graphic inspired by tracks off the album, the date of release, label, and running time — post-punk proceedings rightly kicking off with Television's landmark 1977 album Marquee Moon; Talk Talk's complex 1988 classic, Spirit of Eden, ushering in the beginning of post-rock on an ambient cloud of pop melodies and virtuoso performances.
Across the pair of brilliant art prints, a riot of seminal albums dance awkwardly through the jagged edges of post-punk (think Talking Heads; Joy Division; Suicide; and The Teardrop Explodes) and melt into the sonic bliss and reverberant racket of post-rock's pulsating commotion; giants from the scene like Godspeed You! Black Emperor, Mogwai, and Explosions in the Sky taking aural expanse to new levels.
Printed on 120gsm KeayKolour China White uncoated paper with four-colour litho printing and silver foil, and measuring up at 60cm x 80cm, the two Stamp Albums prints are £35 each; a bundle of both saving you a slippery new tenner.