We are partial to a good map over at We Heart HQ, so imagine the delirium that ensued when the World Song Map dropped on our desks. Maps … and music. The world. Some combination. It's the latest offering from UK-based studio Dorothy, who've produced pop culture inflected maps before; but nothing on this scale. Their World Song Map takes you on a musical journey where every corner of the world — continents; countries; cities; oceans; rivers; and landmarks — is cleverly transformed into a song title.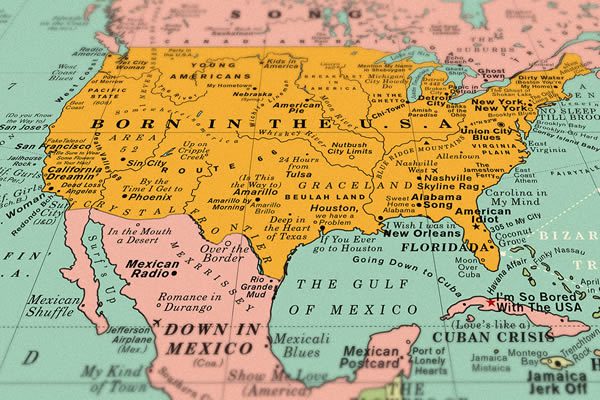 Calling it 'their most ambitious print to date', the map (which took the Dorothy team eight long months to design) includes the titles of over 1,200 songs — a mix of classics like Back in the U.S.S.R., Anarchy in the U.K and Sinatra's New York, New York intertwined with some of of their personal favourites; No Sleep till Brooklyn, or London Calling.
Loosely based on the style of a vintage 1950s world wall chart, World Song Map is available in two editions: classic and special, both printed on 120gsm uncoated art paper, the latter litho-printed in four spot pantone colours for extra retro charm. An A-Z key listing all the songs and artists is on hand for those in search of their favourite ditties. Clocking in at 60cm x 80cm, Dorothy's detailed maps are a treat to lose yourself in, for aficionados and hit paraders alike (musical icons from Cream to the Vengaboys are represented); if only the act of rewriting the world's borders and frontiers could be this jovial in real life.