Some four years after opening their first hotel in Amsterdam, Zoku——the triumphant concept that facilitates global living and working for the travelling professional——open their doors in Copenhagen; choosing the city's Amager island as home for their latest home-office hybrid.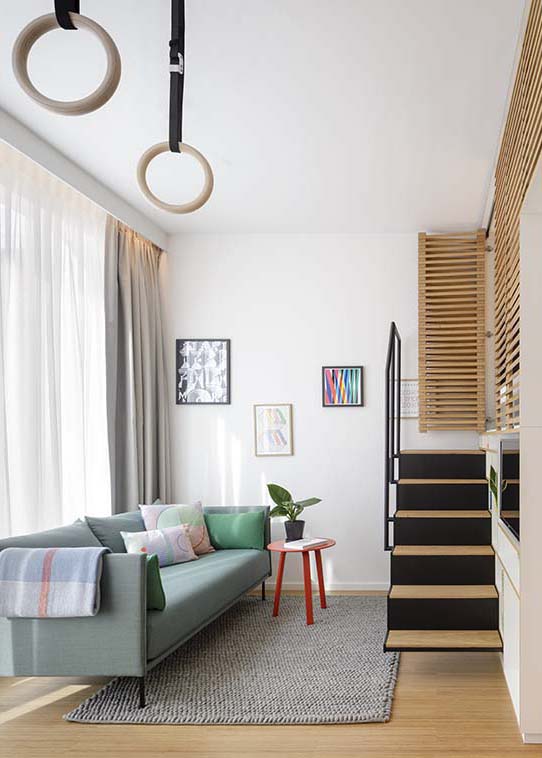 Designed in collaboration with Amsterdam based multidisciplinary design studio, concrete, Zoku Copenhagen offers 160 lofts in five different size categories, each featuring customisable interiors that shift the focus from the traditional hotel bed to a practical living space, the centrepiece a four-person table that can be used to work, dine, entertain or simply hang out. With many guests opting for longer stays, lofts are equipped with a fully functioning and smartly designed kitchen, as well as extensive storage spaces, an alcove with office supplies, and a mezzanine-like, lofted sleeping space, accessible by a retractable staircase; able to be screened off when you're looking to forget about the working part of your stay for a while.
Guests can make use of the 'art swap' facility, adding a finishing touch to the space and stamping their own personality on the loft. Furnishings come courtesy of Danish design brand, HAY, and some lofts even feature gym rings, meaning you can burn some calories without even leaving the room. Created in response to the need for more flexible international living and working spaces, Zoku supports the rising 'work from anywhere' lifestyle, shifting the focus from sleeping to living, working and socialising, creating a global community and network in Europe's creative capitals that boast revolutionary design, customisable interiors, and smart use of space.
Meaning family, tribe, or clan in Japanese, Zoku fundamentally offers a place for like-minded individuals to thrive whilst getting to know a new city, a venue that balances work-life and leisure; eschewing the traditional and rigid nature of hotels. With companies still figuring out how the returning to the office will look, Zoku makes it easier for employees to come together in one environment. Now residents and locals can work and live under the same roof, simultaneously tapping into coworking trends across the globe.
"We want to grow internationally, help build the cities of tomorrow, and push the world forward by creating and operating mixed use buildings designed specifically for our target audience," explains co-founder and managing director, Marc Jongerius. "This is what we have focused on since the launch of Zoku, and the recent pandemic further confirmed the need for this."
An impressive addition to their much-loved Amsterdam concept, Zoku Copenhagen represents the beginning of exciting times for this adventurous cowork-live brand.
@zokucopenhagen
@concreteamsterdam