Listening to tales of his grandmother's life in rural Spain, before his family emigrated to the States in the 1930s, photographer Mark Parascandola found himself travelling to the Andalusian city of Almería often; taking photos of the barren landscape and old Western sets that remained from its surprising heyday as 'the movie capital of the world'.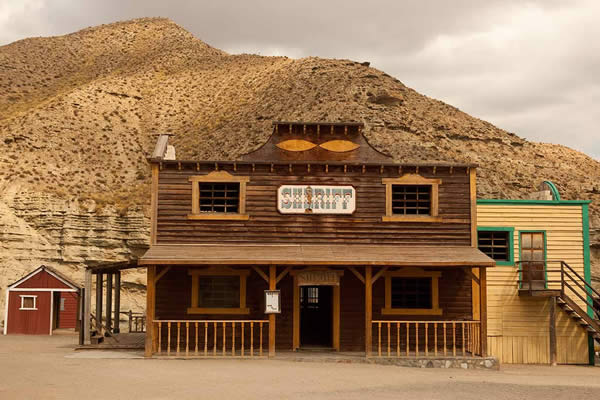 What Parascandola mightn't have understand as a child was that 50 years ago the province of Almería was very close to becoming the next Hollywood, iconic movies such as Lawrence of Arabia, Cleopatra, and many a Clint Eastwood Western shot there thanks to cheap labour, an inhospitable landscape, and a mostly fake public relations campaign launched by the dictatorship of Francisco Franco.
Born and raised in Wisconsin, the photographer was gripped by his strong personal connection and keen eye, and continued to make the journey as an adult — becoming increasingly fascinated by the old film sets and locations as a different kind of 'ghost town'. "Unlike real ghost towns," the photographer explains, "the Western movie sets were never inhabited and never served as living communities. They are a fiction, constructed solely for the movies." Today, some of these sets have been abandoned, whilst others have found new lives as offbeat tourist attractions.
Images from Parascandola's time in the far southeastern corner of Spain, along with an essay tracing the history and politics behind the unlikely transformation of the sleepy town of Almería, are published in a new photo-book from Daylight Books, Once Upon a Time in Almeria: The Legacy of Hollywood in Spain; a 148-page hardback documenting the lingering spectre of the region's time at the pinnacle of entertainment.