Clerkenwell Design Week is underway, and so to is Design Undefined #3, occupying dextrous design den Clerkenwell London; the creative concept store of multifarious spaces and faces. Among plentiful design diversions and discourse over the course of three days, Anthony Burrill and Michael Marriott have collaborated on a 'room within a room' installation which pairs Burrill's new book and his renowned screen-prints with the latter's humble craftsmanship.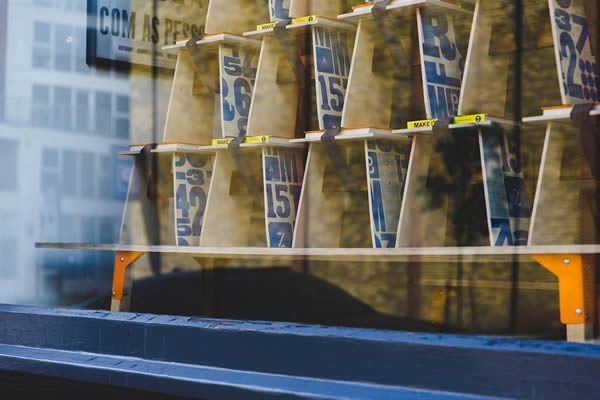 On display here, I like it. What is it? is one of those renowned and much-aped screen-prints from the type-obsessed designer, and it's a question plenty will ask of the duo's work here. A singular collection of furniture has been built using screen-printed plywood, Marriott showcasing the pared-back, functional aesthetic that he's been busy crafting at his London design studio since way back in 1993.
His humble approach is quite the match for Burrill, whose honesty and humility has remained a key spark behind his individualistic approach. Incorporating the designer's new Make it Now book into Marriott's pieces, the installation exhibits a bookstand, chairs and table, and a window piece that binds Burrill book with a house-of-cards style stack of stools.
The duo's work is joined at Design Undefined's third edition by a perception-altering installation from Jordan Söderberg Mills; woodcuts by Alex Booker (who is hosting a series of workshops over the three days); and ALUSID's surfaces and furniture that have been made from landfill-salvaged waste.
Design Undefined #3 continues at Clerkenwell London as part of Clerkenwell Design Week until 25 May.
@anthonyburrill
@clerkenwellldn