A stomping ground for the besuited, rubbing shoulders with neighbours like The Living Room, Liverpool's commercial district may seem an odd choice for a Scandi-inspired social space, bar and kitchen concept. After speaking to Alison Lockett-Burke (the brains behind hip Liverpool spot The Baltic Social), though, it begins to make perfect sense. In such a small city, there's really no reason to confine hip concepts to certain quarters; and just because you work in an office block doesn't necessarily mean you want to spend your nights supping overpriced champagne in a 'private booth'.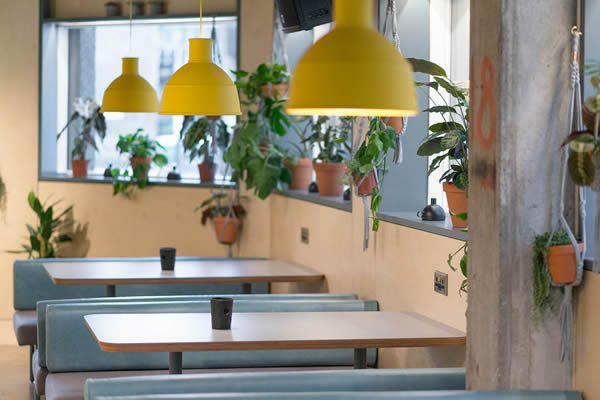 HUS means house in Swedish, and that's exactly what this concept is all about. Set over three floors — including a roof terrace complete with beehives — HUS demands your attention from brunch to dancing on the tables at 2am (this is common practice in Liverpool by the way). In short, Lockett-Burke wants you to feel at home, relaxed … in her words: 'not to worry that you're wearing the wrong shoes'.
A sleek retro Scandinavian décor (put together by R2A Architecture) helps convey that hygge ethos; inspired by trips to Copenhagen, Alison sought out vintage furniture and had her finds recreated for the bar area. This is combined with a pared back aesthetic that revels in its building's Brutalist architecture; all adding up to a distinctive, clean look in a neighbourhood defined by glitz.
HUS sets its stall as a multi-use space — DJs and the first beer tank of its kind in the city keep punters happy until the early hours; an underground space has a concrete bunker appeal, and has a permanent stage perfect for intimate gigs; and its rooftop will come to life with barbecues and locally-brewed craft beers when the sun decides to rear its head.