Slap bang in the heart of London commotion — on the edge of the City and the hip East End — new design aparthotel Leman Locke (the debut of a new lifestyle brand from serviced apartments behemoth Saco) features 168 studios that maximise space and functionality amid the sort of creatively-minded atmosphere you might expect from a Generator Hostel or Hoxton hotel; bundled with the convenience of a long-term apartment.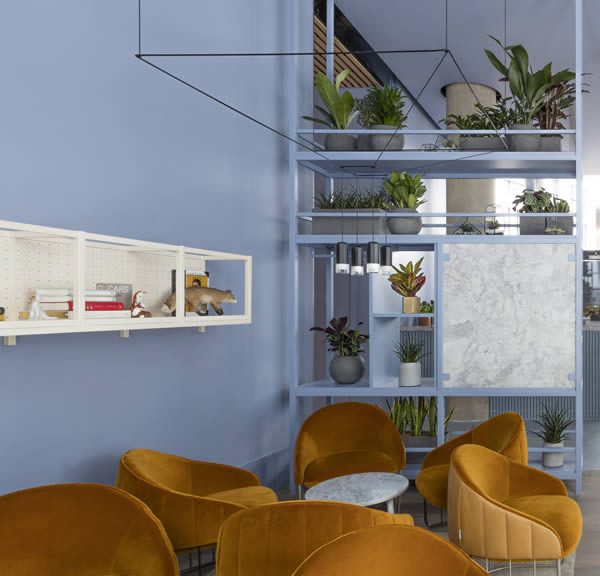 A place for like-minded people to meet, work, and socialise, Leman Locke has been designed by New York-based We Heart favourites Grzywinski+Pons, who wanted to administer all the good sensations of a hotel stay, whilst benefiting from the comfort of a space more akin to one's home. A very nice home.
The result is the duo's signature harmonious aesthetic — pale, powdery colours, and thoughtful consideration of textures; with complimenting furniture (mostly all designed by Grzywinski+Pons themselves). The designers have also sought to move away from what they call the 'transformer vibe' apparent in plenty of current micro-residential products — think pull-down beds, retractable desks and flip up tables — the duo telling us: 'whilst that approach appeals to the "inventor" side of us as architects, we hoped to spare guests from the chore of clearing up and manipulating their furniture when finishing a meal or getting ready for bed.'
A feature staircase connects the café-bar area to a forthcoming restaurant space and, with a gym and meeting rooms located high up on the 21st and 22nd floors and a cultural programme that promises everything from DJ masterclasses to craft beer-tasting, Leman Locke is the ideal spot for design-conscious nomadic travellers to boost their creative thinking.