I recently met architect Matthew Grzywinski — one half of studio Grzywinski+Pons — at the opening of the new Urban Villa hotel and residencies in Brentford, West London. Enamoured with the interior design of its social spaces, from the concrete-poured bar and café, to the spacious sharing tables and convivial approach to design; I was keen to learn more about the designers.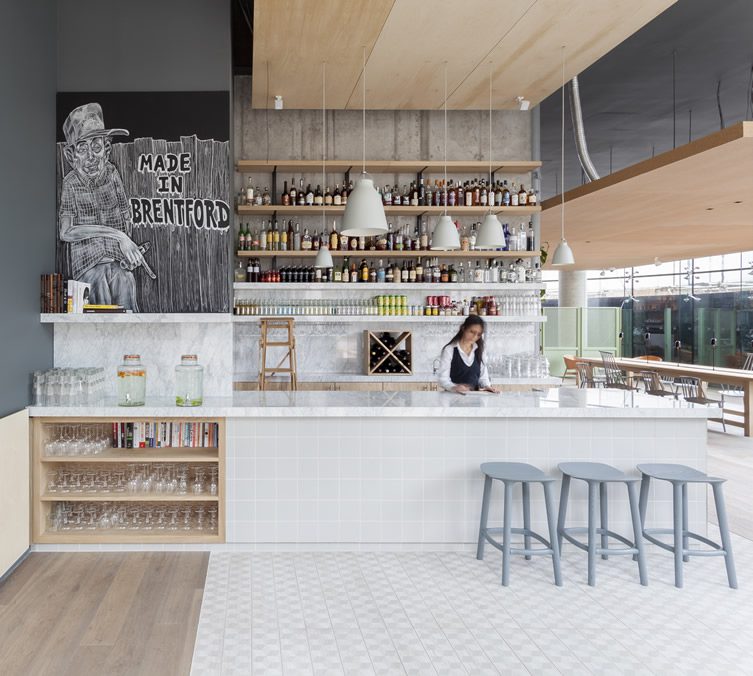 Imagine a well-populated pocket of residential London, a major motorway on one side and views of Kew Gardens on the other — and you have yourself an anomaly that epitomises the expanding city. How does one add a little haven amongst the cranes; the building trucks; the whirr of cars? How, in light of overkill property development, do designers create a space that is more than just strip lighting and a reception desk? And why is that important? The use of materials, an air of authenticity, and the usability of communal space spoke volumes — even before I met Grzywinski. The duo managed to create a space with personality, charm and cool, in an otherwise corporate development. But rather than making a statement along those lines, or making the point obvious, the architecture practice approached the interior project with its users in mind.
The young, New York-based practice is just over 11 years-old, which is a triumph for the design duo. Strong-willed, distinctive in their approach and with maverick sensibilities, their appreciation of materials stands for longevity, quality and environment from start to finish. I caught up with Matthew on one of his many pit stops in London to learn more about the Grzywinski+Pons approach, why materials are so deep-rooted in their practice, and what makes the duo tick…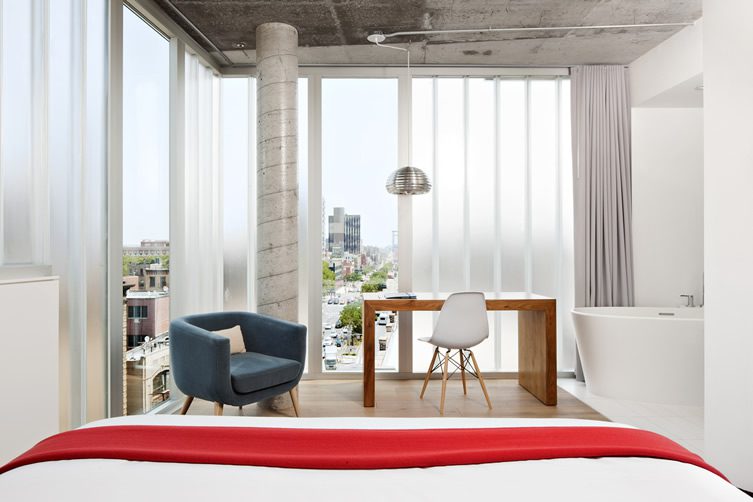 Materials are intrinsic to your designs, what is it about certain materials that draw you in as architects?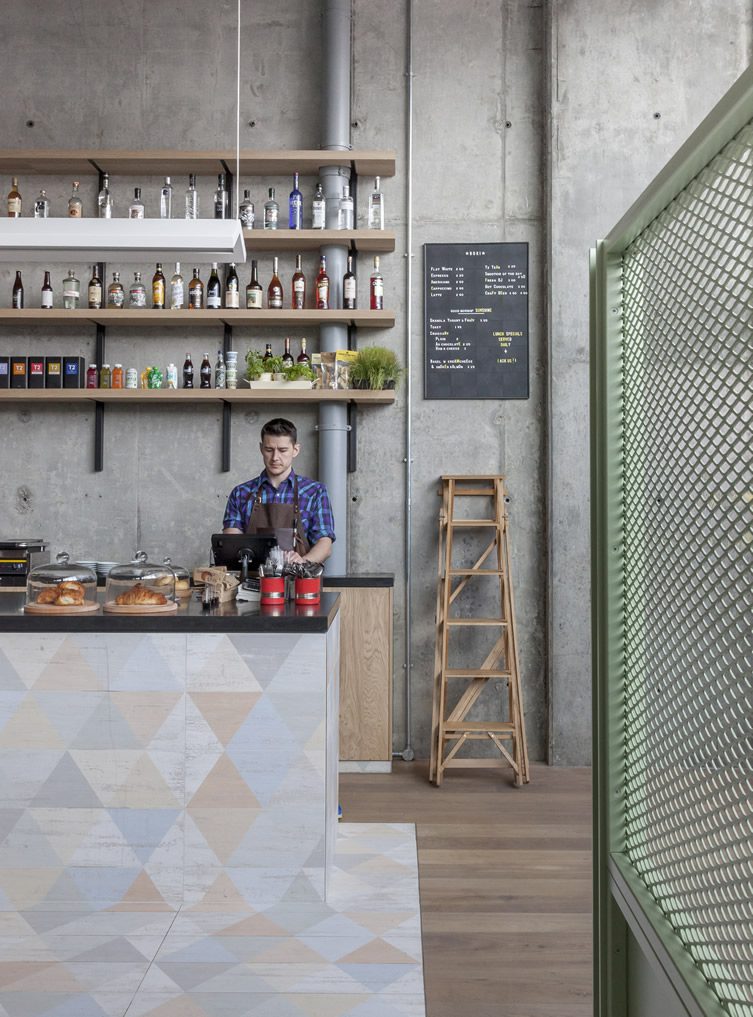 Whether it is an intervention of a beautiful existing building, or a new build — we allow the materials to become a part of the space. For us it is important that both the interior and exterior materials work together and have the opportunity to juxtapose. When you have a material palette that performs a certain function, you can then bring it inside… there is continuity in the aesthetic, and a real dialogue between the interior and exterior. Most of the time materials are functional, but not always, sometimes it is about the balance of the temperature in the aesthetic. What is really important to us is authenticity of a material in context. The idea of using a veneer, or a material that imitates, or is a facsimile of something, isn't something we prefer to work with.
We're a young practice that has been lucky enough to have great build projects — and we've had the opportunity to see some of those projects age. It can be a bit of a wake up call when you see how the materials have aged… a shock when those buildings haven't been looked after. You expect the owner to preserve and love that building but that isn't always the case. We can't rely on people looking after those buildings, so we look at materials that age well. Tactility is as important as the visual aspect of the materials we use. We always need to keep that in mind; sometimes you have to future-proof the design.
Light is another huge ingredient when making an environment, which is why we like to use a lot of glass. A lot of our work is in big cities so how do you amplify light? How do you create the access and is it street-friendly? We want to be responsible with the use of it. It's a lovely ingredient.
"We treat project constraints as opportunities to catalyse innovation" you've said. Have you ever been stretched as designers to the point of madness by constraints?
Of course! There is making lemonade out of lemons, and then there's being stuck between a rock and a hard place. If you have a team — and by team I don't just mean a design team; I mean client and contractors — where people want the best from a project, then anything is possible. But when you're at odds with people that are involved in the projects, fundamentally, that can be problematic. We've been really fortunate working in the UK where budget hasn't been the milestone, and our ideas have been taken really positively.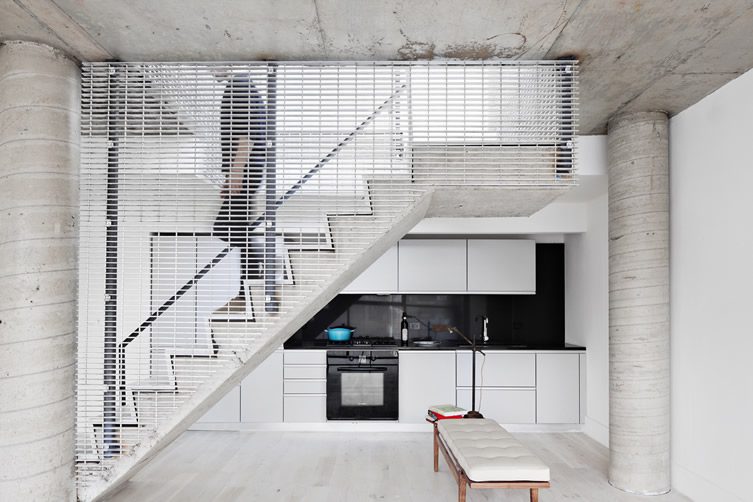 You can deal with budget issues, but the biggest roadblock is everyone not being on the same page. We have purposely stayed small as an office because it allows us to be selective with the projects we work on. And that partnership with the client is hugely important in what we take on as a practice. We have now found a way of recognising if we are a good fit for a project or not. If we know we can work well together then it makes the entire process a pleasant and rewarding, and we put in three-hundred percent.
Your most recent project in the UK saw you develop the interiors of the residential and private Urban Villa suites in West London. How did that come about, and what were your favourite aspects of the project?
That wasn't the first project we worked on with Union Hanover. The first project we worked on got through planning and went so well that they divested themselves of the assets very quickly. But because we worked so well together, that led to the Urban Villa project. The nature of it was very different — as the finished structure came first (which, unlike the interiors, we didn't do). I'm most happy with the public spaces. That was where we had the most latitude and were able to have our own team to execute the design. Our goal was to create a 'feeling' inside. Could we create something that wasn't fake or too fabricated, that was authentic and genuine? We wanted it to have a different feeling to its context. We wanted an element of reality. The rooms are really big and users will love them, but it is in the public spaces — like the bar, café and sharing tables — where the public will get to enjoy the space socially and comfortably.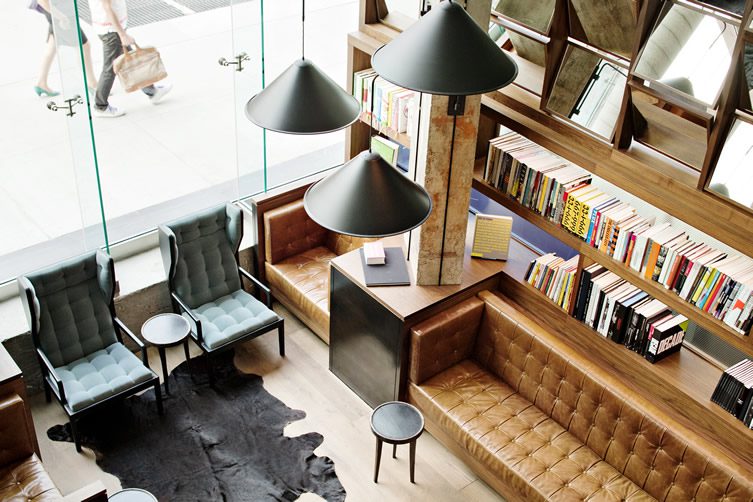 You and Amador Pons have been working together for over thirteen years now, that is one solid partnership! What is it about you both that works, and what are your collective strengths?
Neither of us were seeking a partner. We never really had a plan to work together. I always considered myself a lone wolf, and thought I worked best alone. In the US, after architecture school you're supposed to pay your dues by working for other practices for a couple of decades. It isn't a young persons business. I think we both, respectively, were a little too impatient for that. For me it was either architecture now, or I would rather go and do something else. Everyone got a job in good practices after school but I didn't want to be on that treadmill. Amador wanted to learn how to build, so he ended up working on the development side, and I went travelling abroad avoiding getting a proper job.
I wasn't a trust fund kid, so reality did eventually kick in. Amador and I kept in touch and when I was back in New York he got in touch as an opportunity came up. We were asked to pitch an idea and just sort of went for it. The project was based on executable reality, and we actually got the job against all odds. Grzywinski+Pons was born a few years after that project.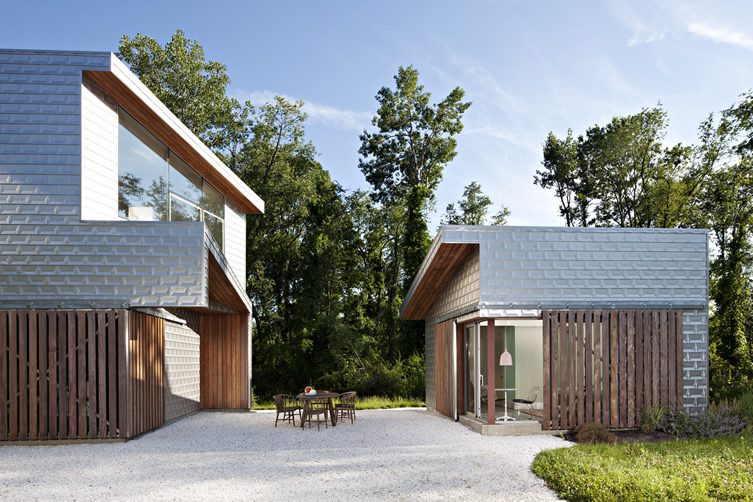 Dutchess House No.1 is a particularly interesting project, because you worked with materials that respond, rather than keep in tune with the environment. So light, the flow of it, and seasonal variations were all considered in the project. What materials did you use and why?
That job was a fun one. I love cities and this was the total opposite. In beautiful woodland, with nothing for miles, we could have only made the environment worse! Very conscious of that, we knew the house had nothing to do with kerb-appeal, it was purely for the owners — which was new for us. We started by asking how the client wanted the house to perform. It had to be very ecologically sound, when you're in that environment its almost embarrassing not to be.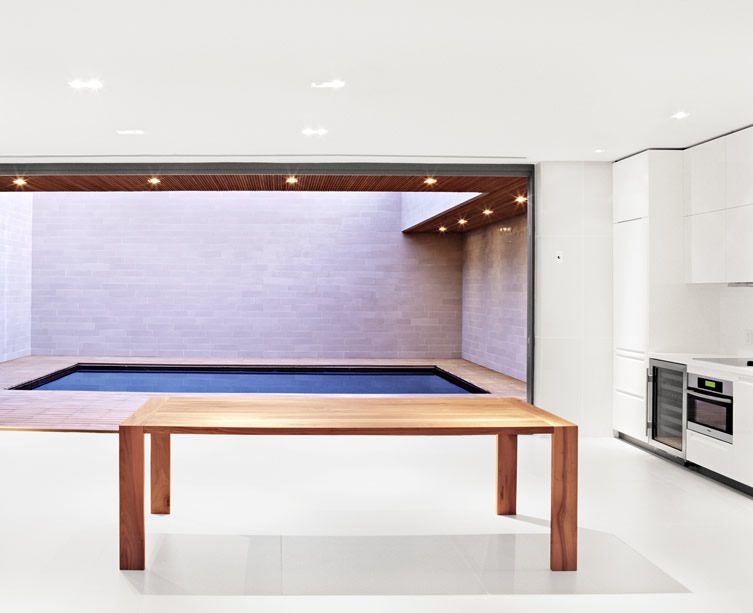 We built it out of ICF (Insulated Concrete Form), which was a newish material. We built in blocks and wanted to put a skin on it that was going to weather well, so we used a high albedo metal which meant it had a high percentage of reflectance to keep the heat away. A fairly inexpensive material, the aluminum is authentic and doesn't rust badly, so is perfect for the great outdoors. On site, there are beautiful sunsets and sunrises; and in the fall the foliage turned a great colour. At sunset the house has a peachy glow to it, and in fall it has a subtle rusty hue similar to an Instagram filter.
If someone asked for that house to be built on his or her plot of land somewhere else in the world, would you build it?
I think it would be different. There are things that we could take from it, but if the client wanted it exactly the same then we really couldn't do it. It responds to its site, which would be different elsewhere. It was originally a bespoke solution to set criteria. That is how we design in general — we approach each project independently. We would however love to design pre-fab houses or modular homes, for sure.
If you could work on any project, what would your ideal commission be?
The dream project, eh? That is a tough question. There is still the little boy in me that loves travel and places. There is something about airports and train stations that are exciting, but a little 'machine-line' — where you feel like you are in and out. I love the idea of designing a school or university too. A discerning head house, with a mix of residential and hospitality, offering a multi-functional space for people coming and going but experiencing while they're there. Experiences, like in travel, are life's little boosters, creating opportunities — and we love being a part of people's experiences.
***