'The concept is simple,' say the team behind Japanese multi-venue arts-hospitality venture BnA Project, 'we create art hotel rooms with artists, the artists receive a percentage of the booking fee every time their room is booked. Room design, from top to bottom, is dictated by the artist and their vision; they run the show.'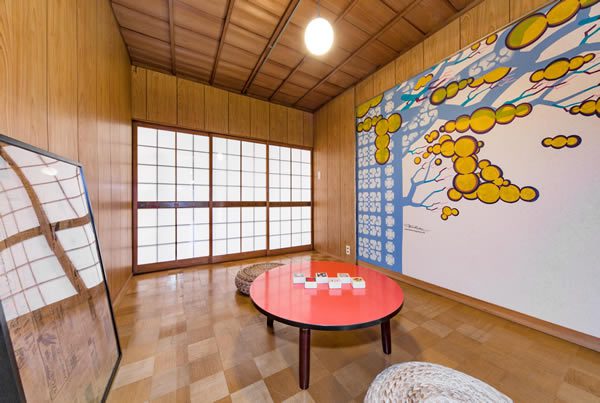 Sure, there are plenty of art hotel projects around the world that harness the talents of local creatives, but it'd take a hardened cynic not to feel a little wave of excitement wash over them when somebody says of their artists: 'they run the show'.
The BnA story begins in 2014, entrepreneurs Yu 'Taz' Tazawa and Yuto Maeda meeting architect Keigo Fukugaki, who had become heavily involved in Japan's street art scene — the trio were all too aware of artists struggling to make an income, show their work, and connect with international movers and shakers; equally mindful of travellers finding it difficult to come across smaller independent galleries. The solution? Put travellers to sleep inside the artworks — BnA becoming a living, breathing gallery for artists to show and sell their work from.
Managing multiple art and music spaces in Tokyo's hip Koenji neighbourhood, Kenji Daikoku joined the trio and the collective set artists to work on Airbnb apartments in Ikebukuro (Tokyo) and Kyoto; before opening their flagship BnA Hotel Koenji earlier this year, where their artistic endeavour is set to snowball in the coming years. BnA Hotel Koenji's front-desk doubles as a design-led café-bar, whilst basement gallery BACKROOM serves to further the project's interaction with the local art scene; the quartet have plans for up to 40 eclectic rooms throughout the neighbourhood.
Artists already engaged in the BnA Project include Yohei Takahashi; Ryuichi 'OGI' Ogino; Hideyuki Katsumata; JONJONGREEN; Nigamushi Tsuyoshi; and Ayako Hishinuma.