Hotels the world over are clambering at the feet of the street art elite in a bid to inject some cool into their properties; exhibitions, interventions, artist-designed rooms. But what if the hotelier himself was one of the street art elite? André Saraiva needn't jump through hoops to get big-names on board at his hotel. He is one.
Setting the wheels in motion for the Pigalle neighbourhood's revival in 2006 with Hotel Amour, Saraiva, alongside fellow schemers Thierry Costes and Emmanuel Delavenne, returned to the Parisian hotel scene late last year with a follow up that takes inspiration from both its forerunner and the countless hotels the trio have visited over the years; be they grand palaces, roadside motels, family-owned B&Bs or swanky 5-star business hotels.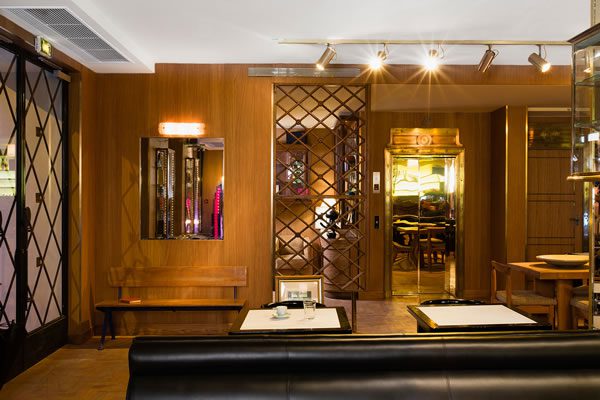 The eclecticism of that inspiration is evident, here at Grand Amour Hotel. The trio bill it as a place to meet hedonists, penniless musicians, intellectuals, friends and they themselves; the melange of guests replicated in a design that defies categorisation. Everything you see has been collected from antique stores, gifted by artists, or come straight from the owner's personal collections — there are no TVs, bedding is 'palace-worthy', antique pieces come from storied designers, wood panelling delivers a high dosage of kitsch. André's famous top-hatted stick man crops up in a shower, artist pals like Petra Collins and Carlotta Kohl have swung by, leaving certain rooms resembling live-in studios.
There's a 100 seater restaurant where you can rub shoulders with 'cult writers and dissidents', barista-grade coffee and cocktails, a small curio-filled shop … they say they want to deliver the sensation of bygone times, 'when hotels were above cafés and you had to get your key from over the counter'. Such sentiments can oft read as lip service; part of the 'strategy' — but there's a sense here that the shambolic is embraced, that encounters are the key ingredient in experience. Pull up a pew and settle in, son.