Art and hotels have enjoyed a long and storied history as natural bedfellows. Claude Monet would become the first in a long line of Savoy Hotel artists-in-residence when he turned up in 1901 to begin painting the Thames from his balcony; the likes of Picasso and Matisse hung out at family run Provence inn La Colombe d'Or during the the '20s and '30s, trading some of their creative output for a free feed and somewhere to stay in seclusion on the Cote d'Azur.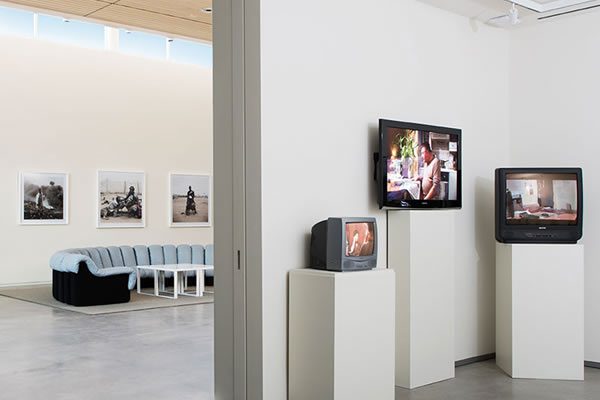 Art hotels are now big business — whether its a $30 million Jeff Koons sculpture occupying prime position at Wynn Las Vegas, underground street artists transforming entire rooms like at San Francisco's Hotel Des Arts, or even hotels with sleep-in sculptures, the hotel world seems to be locked in a battle to out-art.
There are extravagant collections (over 4,000 works at The Ritz-Carlton, Millenia Singapore; museum-grade originals at Zürich's Dolder Grand), art as inspiration (Australia's Art Series Hotel Group), and even galleries that double up as a place to stay (Zürich gallery/b&b The Proposal); all united in one common quest … to inspire a new wave of culturally-minded travellers: the creative class demand to be dazzled.
Celebrating the very best in art hotels, and of art in hotels, we've joined forces with Expedia.com to bring you the lowdown on the planet's top 15 hotels that embrace art as the very fabric of who they are — hotels that cannot be separated from the art that entwines their experience. This is our edit of the world's top 15 art hotels …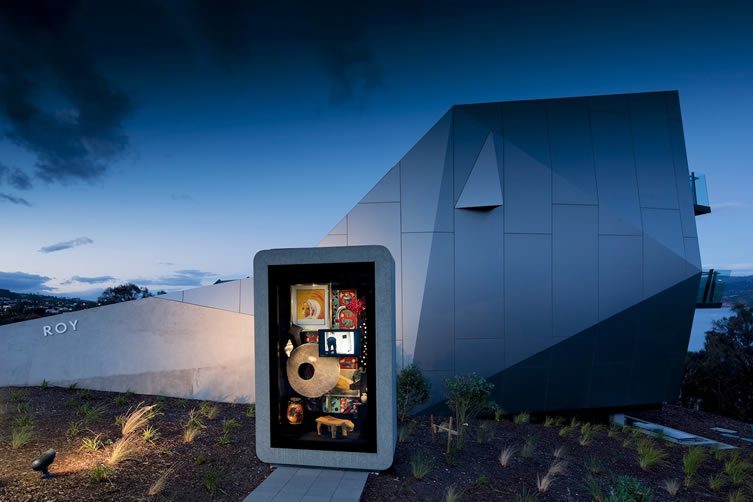 Mona Pavilions, Hobart
David Walsh is the Australian professional gambler who designed betting software that scooped him an absolute fortune; MONA is the staggering behemoth art gallery he built in Hobart, Tasmania, with a large amount of the mega-bucks he made from it.
As well as hosting arts and music festivals, and having one of the world's most impressive art galleries, Walsh hired top architects to put together the Mona Pavilions — breathtaking accommodation that shares a three-and-a-half hectare private peninsula overlooking the Derwent River with the gallery; each stocked with art direct from the MONA collection.
See more on Expedia.com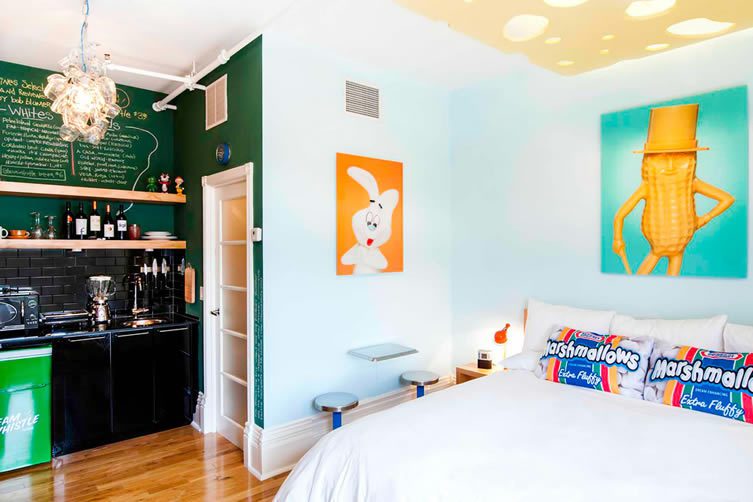 Gladstone Hotel, Toronto
The Gladstone Hotel — housed in a 125 year old building — called upon local Canadian artists to turn their 37 guest rooms into works of art, ensuring no two rooms would be the same. Highlights include Cecilia Berkovic's room 305, Teen Queen, a homage to the cool chicks that rule the school; Simone Moir and Corwyn Lund's ethereal The Parlour of Twilight; and Bob Blumer's Surreal Gourmet, a den of food-inspired kitsch.
If that's not enough, the hotel prides themselves on the fact they partner with community organisations and curators; producing regular exhibitions that are relevant to creatives across the city.
See more on Expedia.com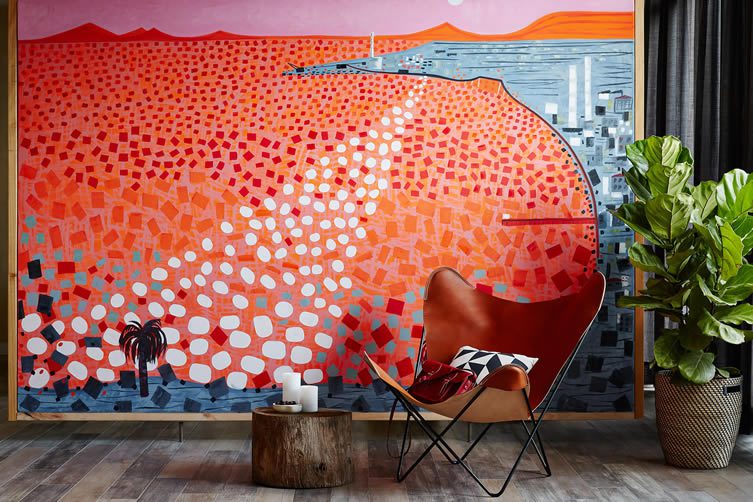 The Schaller Studio Hotel, Bendigo
Part of the Art Series Hotel Group, and named after Australian artist Mark Schaller, The Schaller Studio has been designed as the first in a series of hotels for regional Australia (the group have a chain of artist-inspired hotels throughout Melbourne).
Located in Bendigo, the hope is that guests will understand the artistic and cultural offerings outside of major cities and, housing in excess of 240 of the expressionist's original artworks, this is an initiative that adds real value outside of simply introducing art as a differential.
See more on Expedia.com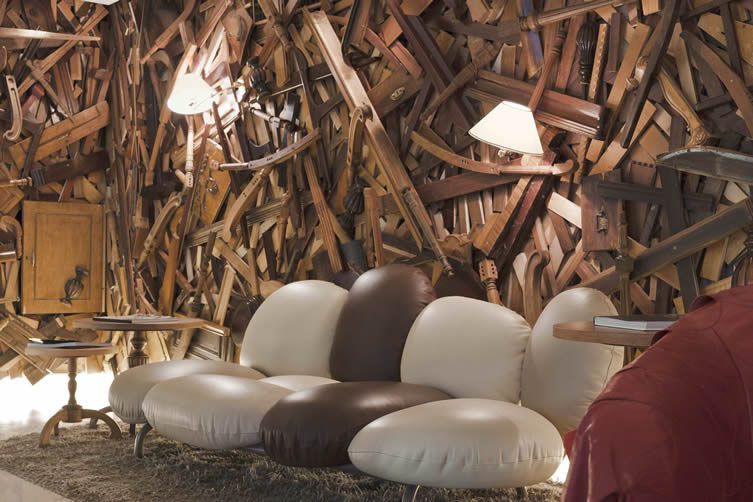 NEW Hotel, Athens
As owner Dakis Joannou is considered to be one of Greece's leading collectors of contemporary art (he commissioned Jeff Koons to apply 'dazzle camouflage' to his 115-foot super-yacht), it's natural to have high expectations for Athens NEW Hotel; guests won't be left disappointed.
Featuring bespoke everything (furniture, architectural elements, upcycled installations throughout) created by Brazilian designers The Campana Brothers, the guest rooms also take on themes such as Karagiozis: a shadow puppet and fictional character of Greek and Turkish folklore.
See more on Expedia.com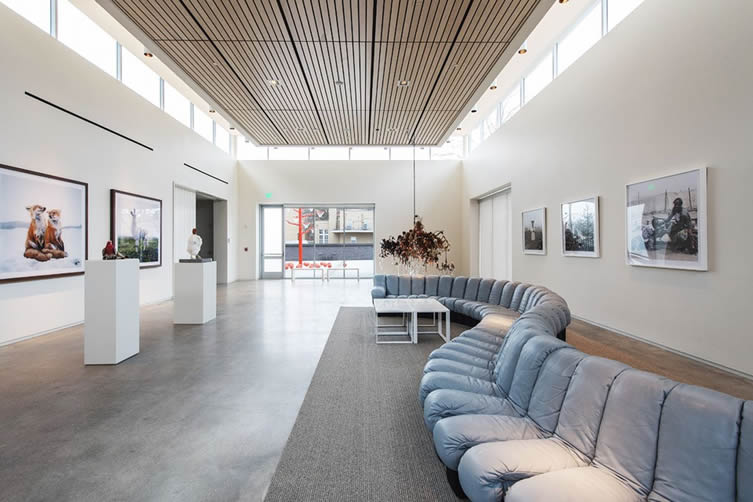 21c Museum Hotel Bentonville
More than just your average art hotel, you'll find an actual museum at the aptly named 21c Museum Hotel in Bentonville, Arkansas. Part of a chain of 'museum hotels' dedicated to art of the 21st century, the exhibitions rotate on a regular basis — and feature works from emerging and international artists, photographers such as Sam Taylor Wood, sculptor Yinka Shonibare, and multimedia artist Kara Walker.
See more on Expedia.com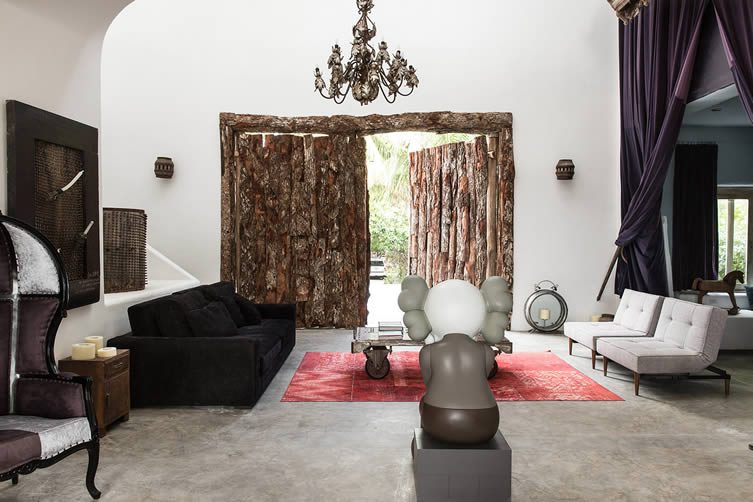 Casa Malca, Tulum
Most hotels with a commitment to art employ a curator, artist, or collector to help them develop their offering, Casa Malca — in Tulum, Mexico — is different, the hotelier is the expert. Lio Malca is a New York art scene mover-and-shaker, and has put a ruck of his own collection into this expansive beachside villa; including a version of KAWS's signature Companion sculpture. Half of the hotel stretches out onto the Caribbean, the other the lush green of the jungle — but the art is everywhere.
See more on Expedia.com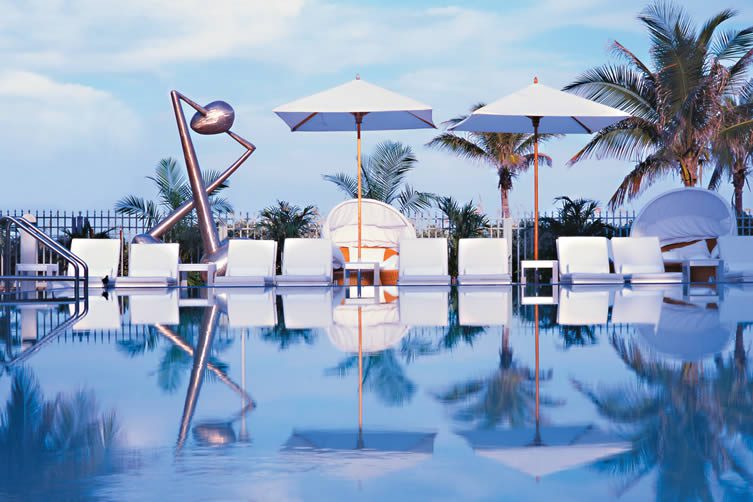 Sagamore Hotel, Miami
The Sagamore was purchased by Cricket and Marty Taplin after their expanding personal art collection could no longer fit in their home (it's a tough life). From artist quotes scrawled over the walls to photography, murals and installations throughout the hotel and gardens, this oceanfront property is akin to staying in a modern day gallery.
In addition to the Cricket Taplin Collection, three additional private collections currently adorn this Miami Art Deco hotel.
See more on Expedia.com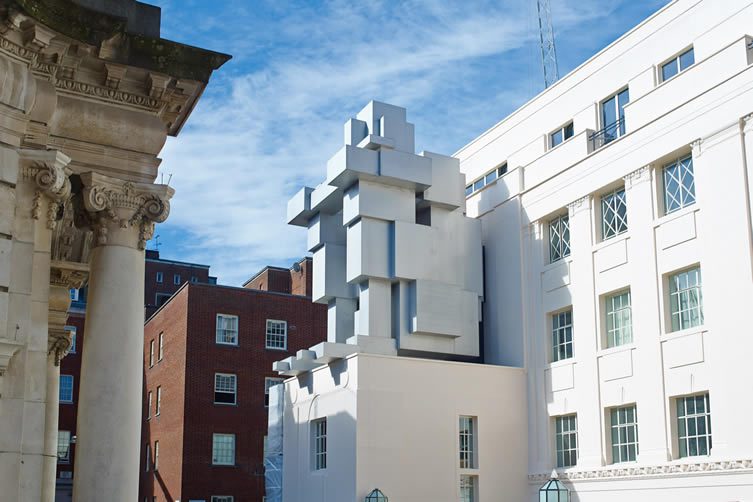 The Beaumont, London
A five-star hotel in the heart of Mayfair, The Beaumont (from restaurateurs Corbin & King, who count The Wolseley and The Delaunay as part of their impressive portfolio), is inspired by the Art Deco hotels of the 1920s; and is unutterably swanky.
However, for the art lovers out there, the posh hotel comes with an interesting appendage: Anthony Gormley's ROOM, an 'inhabitable sculpture' that is also a a one-bedroom dark oak-clad suite. Famed for his public artwork, the chance to bed down within an actual piece of art is undeniably unique.
See more on Expedia.com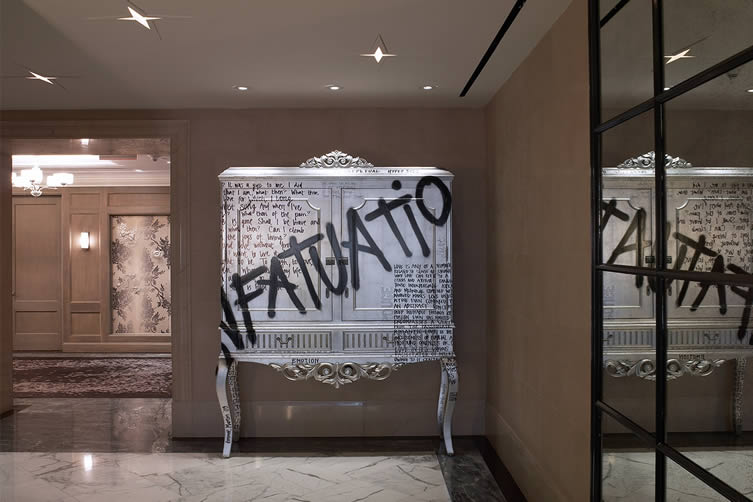 The Surrey, New York
Chuck Close's large-scale photorealism is one of the highlights of an extensive art programme at Upper East Side New York's The Surrey hotel; his Kate Moss a focal point of their lobby. Elsewhere, big names like American artist Jenny Holzer make up a collection that is accompanied by something original: an 'art expert in residence', award-winning art historian Natasha Schlesinger bringing her experience to an ever-evolving art program.
See more on Expedia.com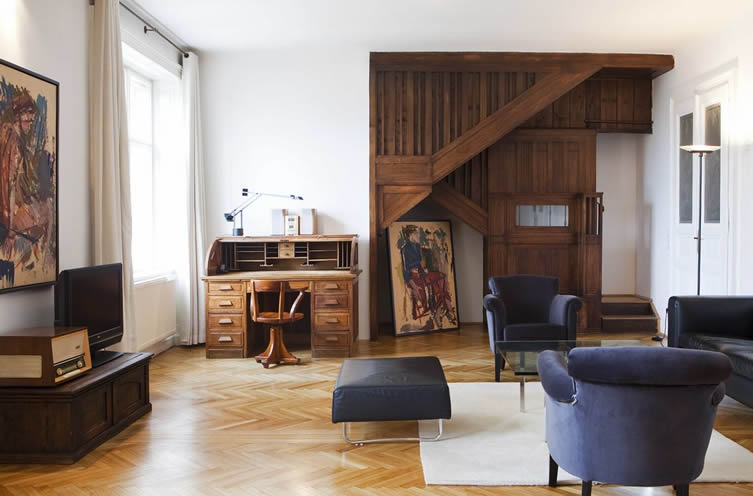 Hotel Altstadt Vienna
The Altstadt Vienna, located in the capital's artist quarter of Spittenberg, houses a vast collection of contemporary art — be it on loan from the city's museums, or from owner Otto E. Wiesenthal's personal collection.
Works by legendary artists like Warhol; Leibovitz; Gironcoli; Kusama; Prachensky; as well as those by up-and-coming artists, grace the hallways and guest rooms … meaning you can marvel as you roam.
See more on Expedia.com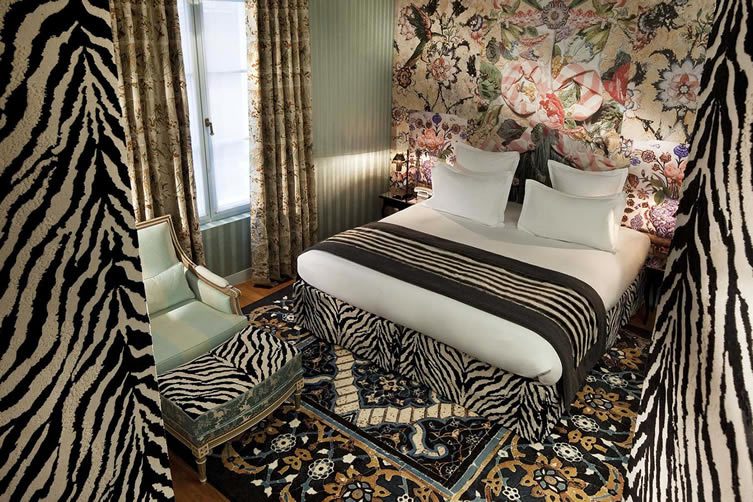 Hotel du Petit Moulin, Paris
Decorated in its entirety by French fashion designer Christian Lacroix, no two rooms at Hotel du Petit Moulin are the same. Bold and stylish with individual colour (riot) schemes and bags of ostentatious character, Lacroix says "each room had to tell the beginning of a story, a story to be completed by the travellers themselves." Just make sure your story doesn't involve waking up with a hangover. Ouch.
See more on Expedia.com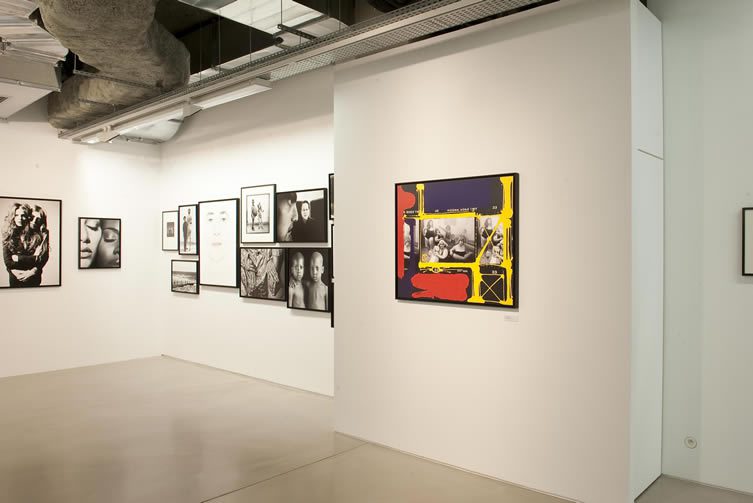 Le Royal Monceau-Raffles Paris
A art hotel in every sense, the Le Royal Monceau-Raffles Paris features works from its own collection in each of the rooms and suites, public areas and the garden — be it photography, hung art, or huge installations like Nikolay Polissky's life-size wooden elk and deer on the first floor landing.
There's an in-house art gallery and art bookstore, but perhaps most telling of their commitment to the cause is your very own 'art concierge'; Julie Eugène talks guests through the hotel's collection, organises private viewings at Paris's galleries, can arrange studio visits with local artists, and even invites artists over to the hotel to discuss their work.
See more on Expedia.com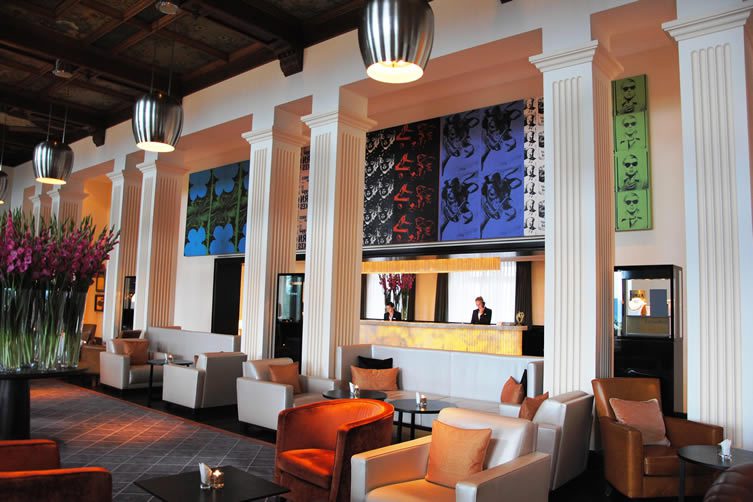 The Dolder Grand, Zürich
Hotel art collections don't come much weightier than Zürich's super-luxury Dolder Grand; it is one of Switzerland's most significant private collections, assembled under instruction of majority shareholder Urs Schwarzenbach.
Bringing together works from the likes of Dalí, Takashi Murakami, Keith Haring, Anish Kapoor, and Sylvester Stallone (???), the collection occupies almost every corner of the hotel's 40,000 square metres of decadent luxury — having undergone a major overhaul in 2008 by renowned architect Norman Foster. A series of Warhol works greet you above the check-in desk.
See more on Expedia.com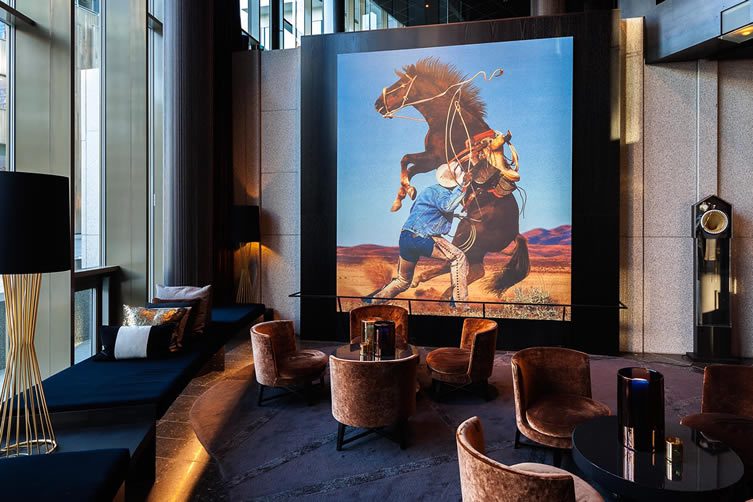 The Thief, Oslo
Once a former prison island, Tjuvholmen (or Thiefs Island), now holds some of Oslo's best local and international art; a series of galleries following in the footsteps of £70 million Renzo Piano-designed mega-gallery Astrup Fearnley Museet.
Giving the revolution somewhere to lay its head is The Thief hotel, whose art curator Sune Nordgren chooses individual pieces from established international (and the top Norwegian) artists for each of the 118 guest rooms, whilst in the communal areas you'll find a more sensory experience.
See more on Expedia.com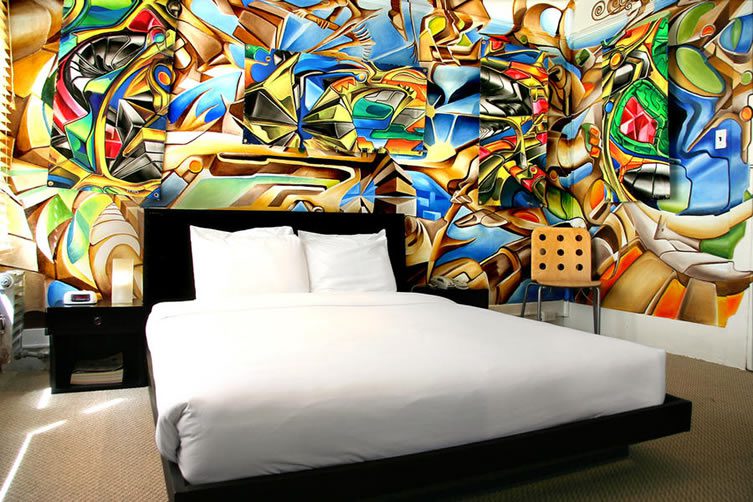 Hotel Des Arts, San Francisco
Each and every guest room in San Francisco's Hotel Des Arts features unique installations and works of art from emerging local and international street artists — world renowned Shepard Fairey just one among many — creating an environment whereby people can experience art as they would in a gallery.
Tim Gaskin's Room 404 — where Louis Vuitton logos share wall space with Madonna — has caused a bit of a stir, with the French fashion house issuing the hotel with a cease-and-desist letter (which Hotel Des Arts ignored, instead hosting a public exhibition in the room). Edgy.
See more on Expedia.com