Spanish creative director, artist, and fashion designer David Méndez Alonso grew up in Galicia. His earliest influences came from the world of graffiti and American underground comics by Daniel Clowes, Charles Burns, and Johnny Ryan. His work transcends whatever medium he chooses, and he's forever creating installations, clothing, art, and ceramics. A prolific craftsman, Alonso describes his portfolio as a playground; but there's a darker side to all the evident fun. "I regret growing up as a symptom of wastage of creativity and spontaneity. I always say that my work is an accumulation of errors composed together to create beauty".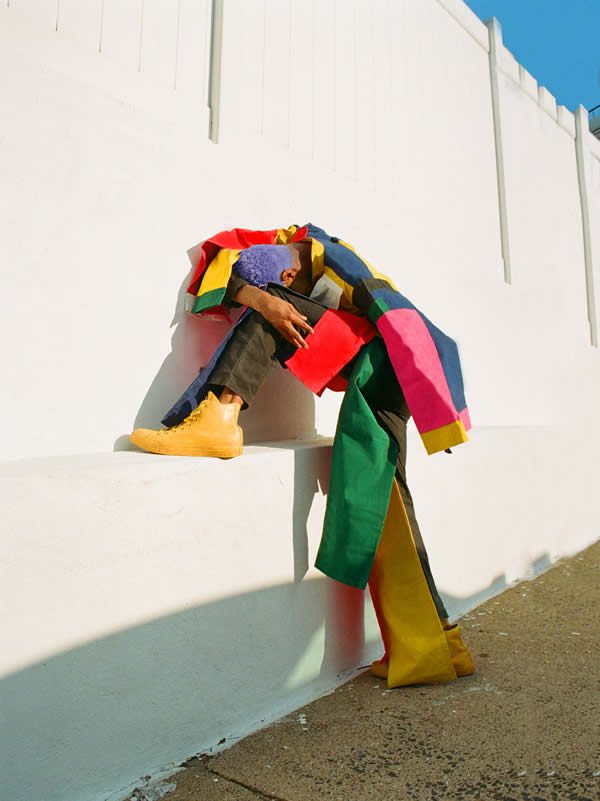 What looks like play, silliness, or anti-adult is in fact maturely abstract, primary and leftfield creativity. There is a lot of joy in what he presents, and viewers are often invited to question what they see. From bold and colourful archaic shapes painted on faces to absurdly long sleeves on garments, the Spaniard has mastered creative freedom. Having worked with super brands such as Reebok, Nissan, and Levi's—to name just three—Alonso says: "I'm lucky to work without any limitations." A rarity at times, it appears that his autonomy of expression, of creating 'fun' and happy accidents, is what these brands are drawn to.
Alonso also runs a fashion house born from an infatuation with culturally-inspired clothing and street art. The pieces are odd and childish but uniquely make one smile. Why not crop one trouser leg or place an upside-down love heart randomly on a cuff? Expect the unexpected. "Outsiders Division is aimed at all the people who understand my work, for all the weirdoes out there; it is a brand that celebrates the beauty of errors. We feel the power and embrace the freedom. If I had to select a word that reflects the spirit of OD, it would be JOY. Outsiders Division helps you to find the best version of yourself."
Today Outsiders Division has a bit of a cult following but can also be seen on international catwalks. Not defined to any medium, one of Alonso's favourite projects to date is Hotel Oasis with Lafede of Studiostore, an abstract, dreamlike project that consisted of seven 'happy' creations. His first foray into furniture design saw the pieces as hybrids of sculpture and furniture. We hope to see more of this highly spirited conceptual class from a man who masks originality and talent with tomfoolery.
@davidmendezalonso
@outsidersdivision
@createthezine