After a successful couple of years feeding pizza-craving masses and embarking on all manner of collaborations and events, Yard Sale Pizza have just added to their successful Clapton restaurant with a second outpost a few miles north west, over in Finsbury Park.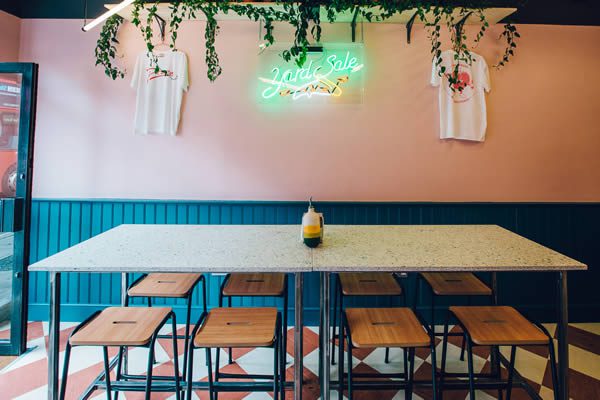 Nick Buckland, Johnnie Tate, and Dan Spinney have made somewhat of a name for themselves (surely aided by Macauley Culkin's pizza-themed punk band playing out their UK debut in the original Clapton branch), most notably for doing the simple stuff well — and that's the theme again here in Harringay.
The 30 cover restaurant — very nicely put together by designers Fettle — offers a menu of five pizzas along with a rotation of specials, all handmade from double fermented dough and stone-baked for delectably bubbly crusts. Chef Nick Buckland and his team have created a selection of homemade dips, and salads and sides to compliment the likes of The Holy Pepperoni, Hell Yeah and Cheesus Walks. Nonna's gelato is on offer for dessert, so choose wisely between the 12" and gut-expanding 18" doughy excellence.
An exclusive collaboration with Hackney's Five Points Brewery means diners are able to not only wash down the goods with a can of Five Points Pale Ale, but they can also salivate over The Mullered Mushroom: Portobello and oyster mushrooms braised in Five Points 'London Smoke' porter and Five Points Porter and Chocolate Ripple. Meanwhile, Borough Wines look after devotees to the grape.