Located in the heart of Amsterdam's Unesco-listed canal district—in the the former Prinsengrachtziekenhuis (Prinsengracht Hospital) to be exact—Fosbury & Sons' newest coworking space, its first in Amsterdam, is set over 64,583 square feet; the iconic building capable of housing 250 businesses and entrepreneurs.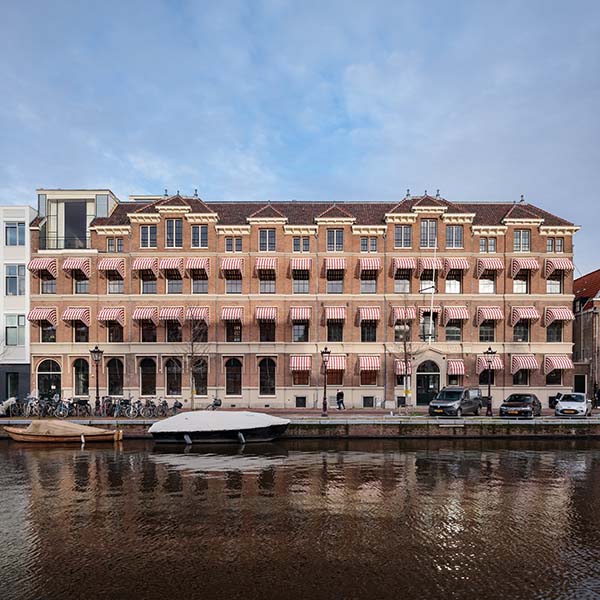 The first international location for the Belgian co-working concept, the location is a special one; the canalside building brimming with history and design details that were treated with utmost respect throughout its redevelopment. "We set out to make it a special place for locals," explains the coworking brand's co-founder, Stijn Geeraets. "Also, we believe The Netherlands are ready for our vision of beautifully appointed work places with a professional yet welcoming atmosphere".
With interiors by Going East, the aim to restore the structure's former glory and grandeur was used as a starting point—the design duo opting to reinstall parquet flooring in the suites, as per old photographs, and retaining and emphasising some of the dilapidated ceilings. A collaboration with Grimm Gallery and The Ravestijn Gallery sees the communal spaces adorned by modern art and photo works providing the co-workers with inspiration from local and Belgian artists.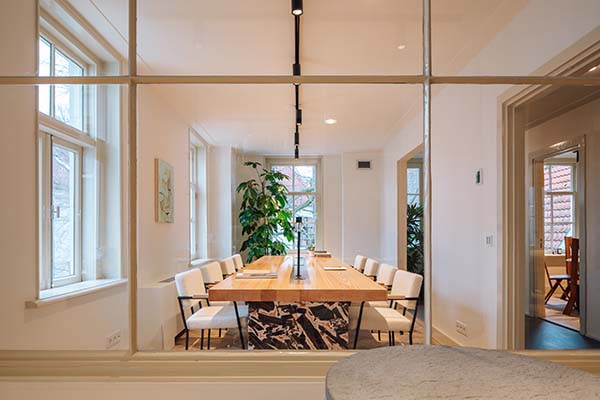 Priding themselves on shunning bland office spaces in favour of beautiful design-forward environments, whilst offering full autonomy, flexibility, and connectivity with other entrepreneurs and companies, Fosbury & Sons understand the importance of a balance between work and private life; offering its members a professional work place with oodles of opportunity for fun thrown in the mix.
The Fosbury & Sons Café makes for a great place to win over new clients, this 2,476 square foot space situated alongside an idyllic and sheltered inner garden ,and serving international plates freshly prepared daily.
Anything but your ordinary office, with this Amsterdam co-working, events and meeting space, Fosbury & Sons' first move outside of Belgium is even more impressive than one may expect from this cowork game-changer.