TOMS are the Californian company who make Argentinian shoes. Shoe-slipper kind of things. But people love them, and they have outlets all over the world. Here we are in Thessaloniki, Greece, where the brand have a flagship store that is much more besides.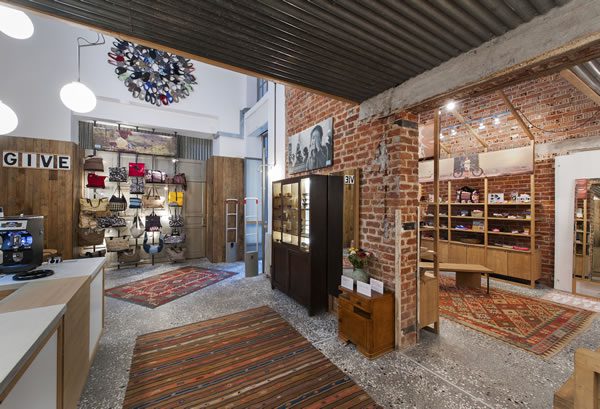 Designed by FORMrelated Studio, we've got TOMS Flagship Store & Café (which is fairly self-explanatory), and TOMS House (a moody, basement extension of the café, complete with cast iron bar and old fireplace); immersive spaces that occupy the ground floor of the Preserved Building — also known as Old Post office — in the Greek port city's historical centre.
TOMS Thessaloniki runs with a thread that (gladly) seems to be everywhere right now: re-use, upcycle. FORMrelated have given utmost respect to the iconic Thessaloniki building, highlighting its history with a strict only-new-when-necessary policy; remnants of the original space are everywhere, furniture to fittings updated, or utilised for entirely different purposes. Downstairs, in TOMS House, intervention is utterly minimal; the old wood-burner, the patinated walls that tell a story of decades gone by, the remains of the basement's old boiler.
Out in the arcade's 'inner-yard', TOMS serves as a social space for a city dominated by coffee culture; regular events playing out in a constantly evolving space under the old atrium. A ramshackle delight, TOMS Flagship Store & Café demonstrates how shops can become living, breathing ingredients in the fabric of a modern city.