A brand new studio on the creative scene is Cabeza Patata. Founded by illustrator and craftswoman Katie Menzies and 3D artist and animator Abel Reverter, their recently formed studio, 'potato head', has a lot to say. The duo's vision seems limitless, and strong female characters feature at the heart of their universe.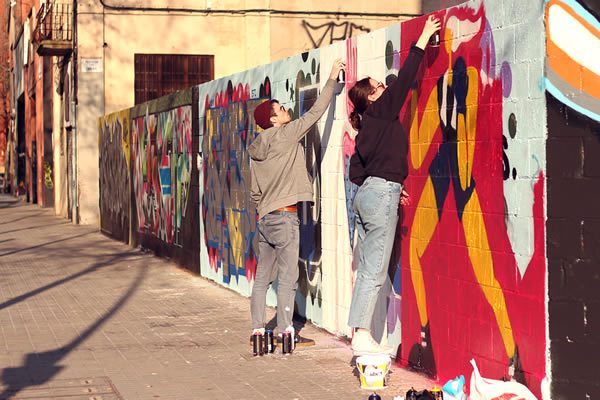 Creating illustrated 2D and 3D scenarios full of comedy, positivity, and oomph—with soft fluid textures and an excellent colour spectrum—the studio is taking its first steps to stardom. Menzies and Reverter exude energy, and are on a mission to create new projects while experimenting across illustration, animation, mural work, embroidery, craft, and 3D.
Their signature style presents predominantly female characters with exaggerated arms and legs. These expressions are boldly intentional, and say a lot about Cabeza Patata's message to the world. By portraying female strength and power, the duo hope to inspire younger generations of ladies to feel proud of whom they are.
Awed by their powerful 2D and 3D characters, and intrigued by their all-female cast—representing kick-ass heroes to look up to—We Heart managed to pull Katie Menzies and Abel Reverter away from creating just long enough to talk to the Barcelona- and London-based studio about their unique hook.
You recently formed Cabeza Patata, what motivated this?
We never planned to form Cabeza Patata, it was all a bit of a coincidence. Abel was playing around with his fancy new computer and wanted something to practice 3D modelling. Luckily, that something was one of Katie's character illustrations; as soon as we saw the result, we knew we were on to something.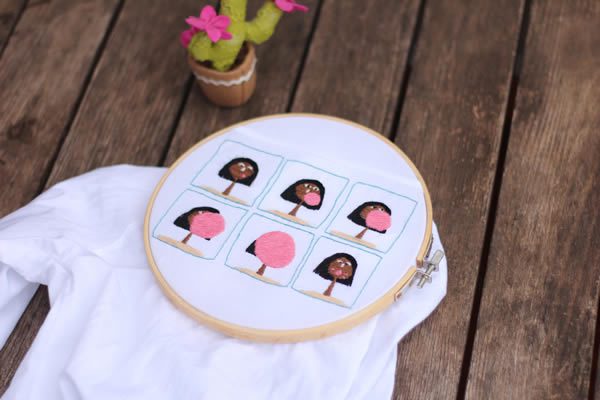 We've been creating a new illustration almost every day and loving seeing how the characters and our style is evolving. We are applying the 'don't look back' technique: make it, post it, and move on. This way we're always improving and keeping things fresh and fun.
What were you both doing before?
Abel has been working as a freelance motion designer for the last five years, jumping between London studios to work on almost every type of project, from charity campaigns to Hollywood films. Katie moved into illustration late after studying gender politics and French. She started her brand, La Katie, in 2016—making custom embroidered clothing and illustrations.
Will you still work independently?
Short answer: probably yes. But the end goal is to work exclusively as Cabeza Patata, directing campaigns with our characters taking centre stage both in animation and illustration.
What challenges are you facing as a brand new creative studio?
Starting a new project is never easy, but the fact that we saw so much potential at the beginning gave us a lot of energy and motivation. We both agree on the direction and ideas behind our work, having a strong female character at the centre of our little universe; so any creative disagreements are minor and allow us to keep pushing the illustration further.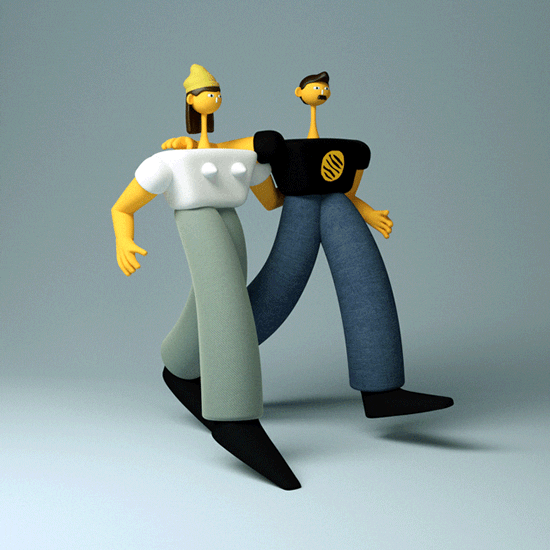 Why did you call yourself 'potato head'?
Good question. One of the main reasons is the sound of 'cabeza patata'—it has a nice ring to it and makes people laugh and remember us. Also, we love potatoes, so all in all it was a perfect fit.
You are creating energetic and positive characters, why is it important that they are positive? What are you trying to say with your work?
We feel that it's much more constructive to focus on a positive and playful message, even for a serious cause. We want to make people smile and understand our point, not impose some moral message on anyone. Comedy is an excellent way of making people relate to a cause and stop them feeling defensive or put off by certain messages.
Exaggerating female body hair, for example, normalises it by making it funny. This is emphasised because, until recently, this high-level 3D was only available to companies like Pixar, who would never put a woman shaving her legs in her pants in their films.
Where are you based, can you tell us about your studio?
Katie is from London and Abel is from Galicia in the northwest of Spain. We are based in Barcelona and London. Right now we are working from a co-working studio space in Barcelona, which is a huge disused factory full of awesome designers and illustrators.
Your style jumps between 2D and 3D, can you tell about your creative process?
Katie does the initial 2D illustration, and once we are both happy with the design, Abel translates this to 3D. We then both work on the art direction, deciding the final look of a piece. We love this approach because it means we create stylised 3D worlds that only work from the angle that the 2D illustration dictates. It's an entirely different way of constructing a 3D image, which gives a very graphical feeling.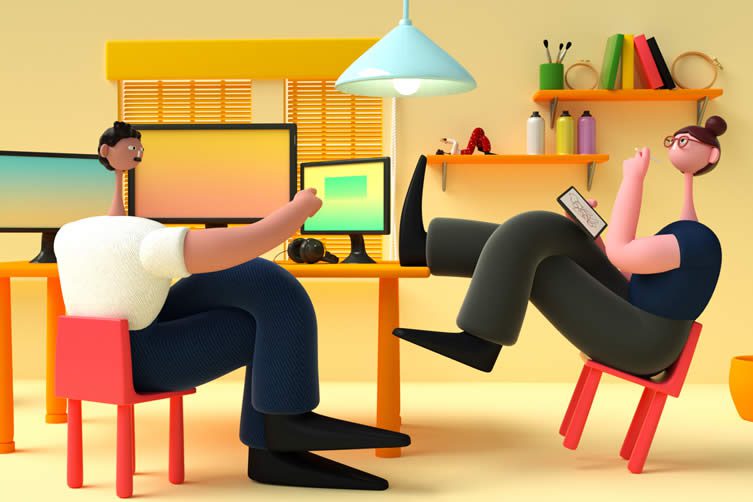 What techniques have you been experimenting with?
Lately we've been experimenting with 360° posters, moving a camera around the moment we've captured in 3D. It is a difficult challenge because it means the image needs to work from every angle—but it allows people to appreciate the illustration in a new way, watching the loop again and again.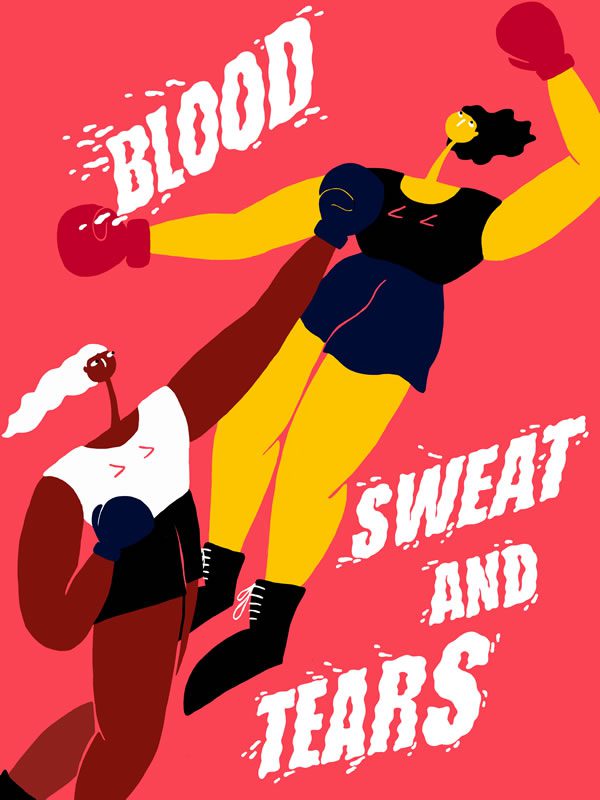 Kick-ass women feature a lot in your work; can you tell us about these powerful female characters?
Sometimes people ask why we only draw women and it's precisely for this reason that we do. Nobody would ever ask if it was the other way around.
It should be standard to see women and different ethnicities represented everywhere doing everyday things, and we'll keep promoting this image until it is. We are super conscious to focus on diversity trends and equality in work. We want to see women fighting, breastfeeding, and taking up space in every field without having to be sexualised or objectified.
What do the exaggerated features in your characters represent?
The characters are almost all female and are always strong and imposing. The exaggerated contrast between their small heads with long necks, going down to their big legs and arms, gives the impression that we are always looking up at them, giving them importance and powerful stance. In a world in which boobs are somehow so offensive to many people, our characters' are obvious and always present.
You've already created murals in Barcelona, hosted embroidery workshops, and worked on a handful of commercial projects—can you tell us about a few of them?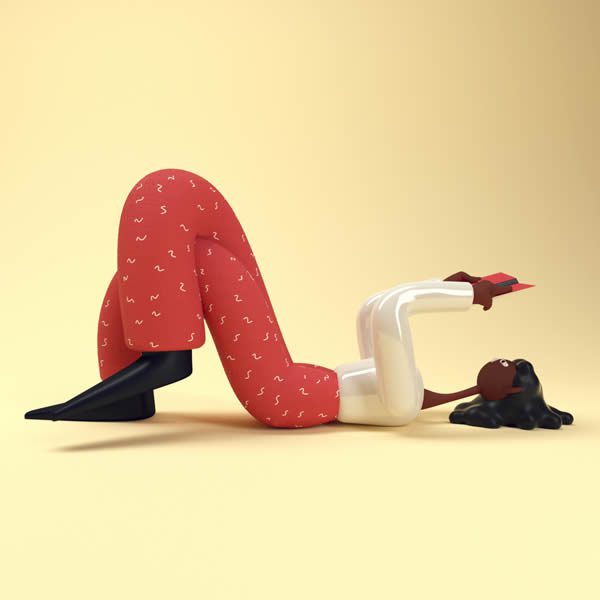 We find there's nothing better than painting murals in the city. We spend a morning out in the neighbourhood with different people stopping by to see what we're making. There's no feeling better than seeing a little girl watching a woman paint a giant, powerful woman on a seven foot wall. It's still so rare to see women taking up space like this. At the other end of the spectrum, we also know the importance of undervalued traditional women's roles like embroidery. It is an art form in its own right, and we are trying to make it seen as such.
Although we're working on a few commercial projects, it is not our first priority as right now we are more concerned with building the foundations of Cabeza Patata. We still have our incomes from our freelance jobs, so we are not pressured to take every project that comes.
What does 2018 have in store for Cabeza Patata?
The list keeps growing. We are working on a top secret collaboration with 50 designers, properly rigging the 3D characters to be able to do character animation, and building the whole universe of our Cabeza Patata characters; creating objects, different settings, and even animals.