Following a major remodelling at the hands of starchitect Norman Foster, majority shareholder Urs Schwarzenbach lead a march for Zürich's The Dolder Grand to host one of the world's most significant hotel art collections; it is now one of Switzerland's largest private collections. Boasting originals from the likes of Warhol, Dalí, Haring, and Kapoor, it's little surprise that art world be on the menu at a new dining addition to the beyond-luxury hotel.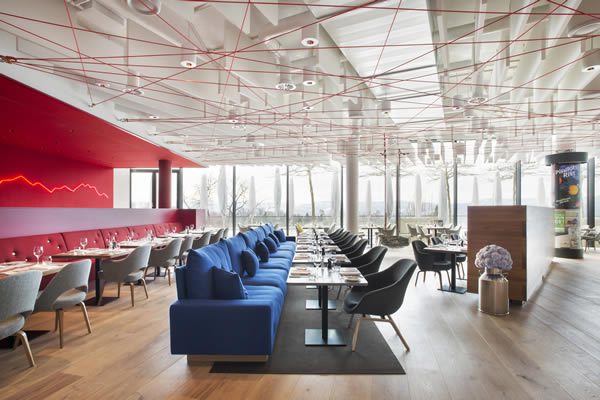 The Dolder roped in renowned Swiss artist Rolf Sachs to weave a creative streak into their posh new Saltz restaurant; known for blurring lines between design and art, the Lausanne-born creative has brought his multidisciplinary approach to the table, with repurposed materials from the local landscape and cultural references as a starting point for a an eye-opening fit-out.
The Swiss Alps are a central inspiration, a 500-kilogram rock suspended by red climbing rope is backdropped by neon lighting that depicts mountain peaks; a focal point in the 280 sq ft space, in which Sachs gets to grips with other unusual materials like salt, and felt. Chef à la carte is Patrick Hetz, who has plentiful experience in all manner of well-heeled kitchens, from Gstaad Palace to Scotland's Gleneagles Hotel.