Residents past and present make for an impressive roll call: Roger Moore, Liz Taylor, Bernie Ecclestone, Julie Andrews. Southwest Switzerland's Gstaad has affluence as a middle name. The central promenade is home to chalet-style high-end boutiques – Louis Vuitton, Hermes, Prada – and, whist best known as a winter destination where skiers can revel in 137 miles of slopes, the picture perfect village retains a year-round buzz thanks to top notch hiking, swanky restaurants and even swankier accommodation.
Flying into Geneva recently, I took the lengthy but rewarding onward GoldenPass train journey, winding around mountains in an ornate train carriage – feeling all Heidi as the eye-popping terrain passes me by. A glass of champagne or two later, I arrive in Gstaad – met by a driver who ushers me into a 1962 Bentley, formerly owned by the aforementioned Mr Bond. This is the good life and, for the next 72 hours, I intend to embrace it like a long lost relative.
My home from home is Le Grand Bellevue, a one hundred year-old hotel renovated top-to-bottom less than 12 months ago and now a family-owned, -designed and -managed property. Swiss-born Daniel and Davia Koetser are responsible for the transformation, and Daniel is on hand to greet us – promptly filling us in on how his wife's company set about creating a refined, casual interior loaded with cute touches and bold statements. I spot House of Hackney wallpaper, a 17.5 metre Chesterfield (incidentally George Smith's longest), birdcage chairs and a Murano chandelier which hangs over the staircase like a falling snowflake. With only 57 rooms there's a hefty focus on service; staff friendly, helpful but above all else knowledgeable. They remember my name, help me with a charger dilemma, and allow me to make a last minute change to my spa treatment.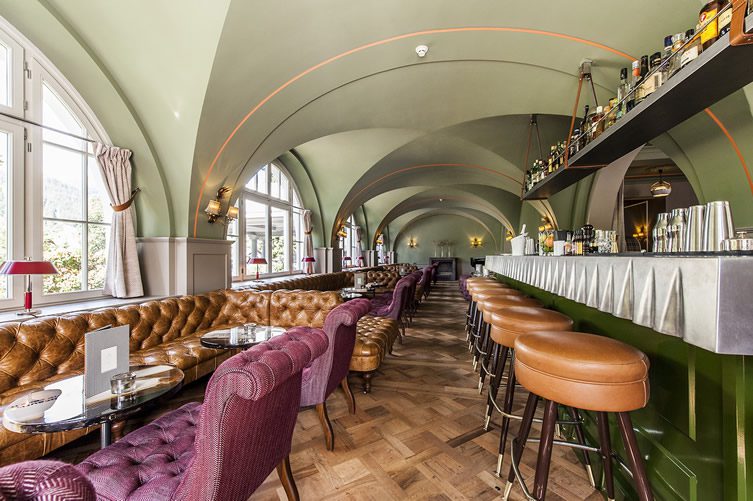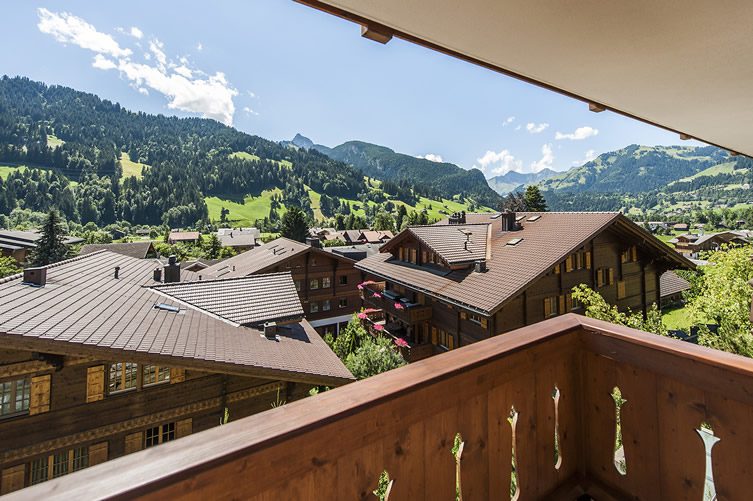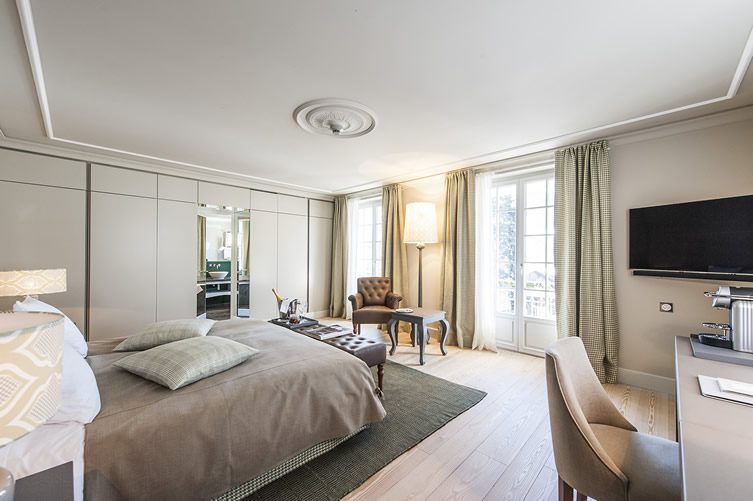 It's a sunny autumn day and I'd be daft not to enjoy their manicured gardens, indulging in one of the best afternoon teas I can recall – it included a Snickers macaroon for goodness' sake – and looking out over the surrounding mountains, the stresses of city life ebb away. I finish gorging on sandwiches, scones and sweet pastries and head to my deluxe chic room, a large space boasting a balcony, freestanding bath and Bamford organic amenities that I can't take away from my nose. A complimentary minibar is stocked with beers, orange juice and other refreshments – but I opt for a quick Nespresso hit before zoning out in a bubble bath, with views of an imposing glacier. It's Heaven, but I have somewhere to be; dining at the hotel's ground-floor restaurant, headed up by Michelin-starred Urs Gschwend. I'm regaled with a sensation of flavours: tuna tartar with wasabi; Scottish salmon with avocado; a grilled fillet of sea bream with spinach; forest berries and vanilla dessert, all perfectly paired with wondrous wines.
To allow guests to enjoy its fine food, wine and cocktails without feeling too guilty, the hotel has devised a range of guided walks, treks and hikes through the mountains – whilst a state-of-the-art yoga studio and plentifully-equipped gym offers respite for your love handles. At 2,500sqm, the Bellevue Spa is a place to lose yourself spiritually and literally: eight treatment rooms; heat therapies; Turkish hammam; salt grotto; outdoor Finnish sauna, and sizeable swimming pool.
Embracing tradition, the rustic Le Petit Chalet – set within the hotel grounds – is the perfect spot for a meat fondue and, seating only 18 guests, provides a sociable surround. For lovers of Sushi, the Le Grand Bellevue's Sushi Bar is a must – masterful hand-rolls and some of the best looking (and tasting) makis and nigiris I've come across in some time.
My visit of Gstaad nears an end, I pack my case ready for the journey home and head outside to my waiting car – the Bentley you may ask? Not this time chaps, I can't help but feel a little smug – tourists nudging one another as we pull into the station in a shiny black state-of-art Porsche Panamera S E-Hybrid. Oh how the other half live.
***