Set within three adjoined buildings in Manchester's city centre, Whitworth Locke is the latest offering from Locke—the brand of design-led aparthotels that immerses guests in its surrounding neighbourhood culture, connecting travellers with like-minded locals in staggering settings.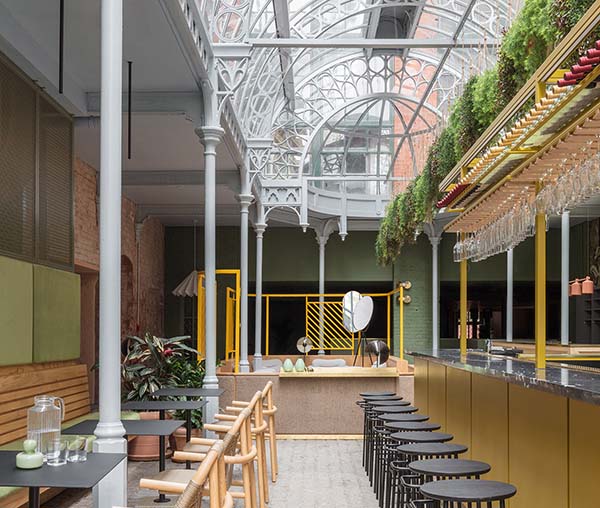 Located on Princess Street, close to Oxford Road Station and a slew of independent bars, restaurants, and shops, Whitworth Locke consists of 160 studios and suites that come in all shapes and sizes; FDN Whitworth, a collaboration with local third wave coffee icons, Foundation Coffee House, where the finest coffee meets fresh and healthy food, juices and a large selection of cakes, in an inspired space for hanging or coworking; and the Conservatory bar.
Found within an impressive Victorian glass atrium that designers Grzywinski+Pons have overhauled—correcting previous alterations and simplifying the volume of the space to maximise transparency—the latter is a stylish space from which to sip hand-selected wines, craft beer, or innovative cocktails; an enviable spot which is sure to attract as many locals as it does design-savvy travellers.
"Our alteration of the property was principally driven by the intent to preserve and celebrate the richness of the historic 19th Century building fabric, whilst obliterating a poor previous alteration to the building from the 1980s," the designers explain, "all while creating a distinct new language commensurate to the new life and purpose we hoped to foster within." Grzywinski+Pons completely gutted the three linked buildings—Central House, Dominion House, and Johnson House—before refitting the former textile warehouses in their signature style, their aim to create some visual and atmospheric juxtaposition between the new interiors and the bones of their Victorian fabric.
As with previous Locke hotels, an Instagram-friendly pastel colour palette applies throughout—whether you're in town for a night or a year, the design aparthotel's spacious suites and public areas rich in grand Victorian period features and local collaborations are set to capture your imagination.