There are few greater joys in life than a big bowl of mussels accompanied by a plate of frites and a Belgian beer. La Moule in Portland, Oregon, is attempting to prove that there are: an expertly-crafted cocktail for afters. (Or starters.)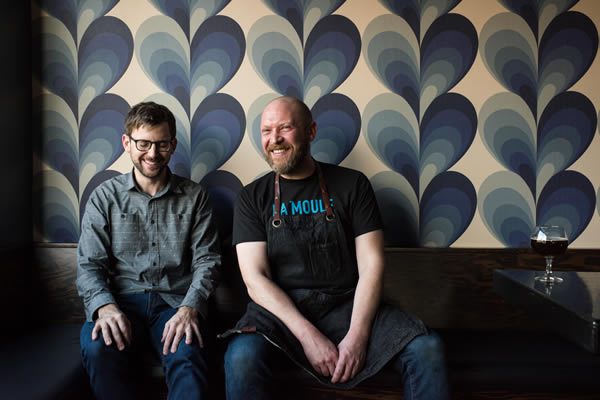 A collaboration between chef Aaron Barnett and bartender Tommy Klus, La Moule fuses the passions and skills of both men, and does so in splendidly retro surroundings; the gaudy blue mussel shell wallpaper winning on so many levels. Elsewhere, there's vintage-looking seating, and a tatty chequered floor that gives off the rough-around-the-edges look the duo have aspired to — this is a neighbourhood diner that has atmosphere high on its agenda.
There's no edginess when it comes to service, though, Barnett and Klus have been cutting their teeth in renowned restaurants and cocktail bars respectively, and attention to detail is paramount. There's a nice story about Aaron Barnett eating frog's legs for the first time aged just eight, and Tommy took himself all the way to Scotland to undertake internships at revered whisky distilleries Bruichladdich and Springbank; these are details that go some way to defining the zeal that La Moule runs on. Casual, but committed, here's a twosome with a winning formula.