A concept that connects Mexico and Italy through gastronomy and an incredible feat of design gusto, Il Mercato Gentiloni takes its diners on a multi-sensory experience through flavours, aromas, ingredients, and fine food culture.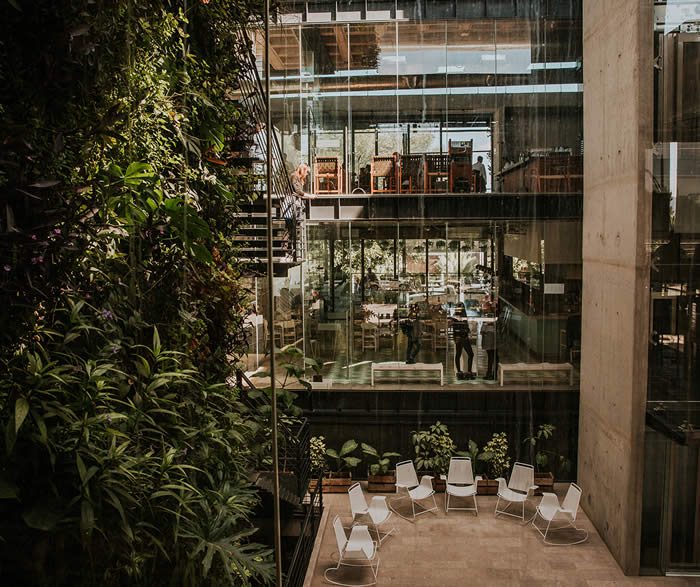 Located in Saltillo, Mexico (the capital of the state of Coahuila, 160 miles west of the Texas border), the Herculean project was conceived by Cadena + Asociados Concept Design® for the Gentiloni Arizpe family — merging their lifestyle, personality, and gastronomic heritage (Emanuele Gentiloni and his wife Beatriz Arizpe founded the Terraza Romana and Jugos la Huerta in downtown Saltillo in 1991) with an architectural language that pays homage to the city's history as a significant brick manufacturer.
Set over several levels, the gargantuan space houses a market; bakery; juice bar; Mexican and Italian restaurants; a cooking school; and events hall — all connected by lush terraces and vertical gardens that soften the edgy industrial aesthetics and allow diners to take advantage of the fine weather; enjoying alfresco dining any time of the year.
Huge murals; exposed bricks; industrial lighting; steel; coloured terracotta Saltillo tiling; and custom-made carts selling produce and wares combine to make Il Mercato Gentiloni one of the most fascinating projects of its kind in Mexico.
@ilmercatogentiloni
@cadenaconceptdesign