Following on from the rapid success of their first Vancouver restaurant, the guys behind Virtuous Pie — an eatery on a mission to accelerate the adoption of the plant-based diet — have stepped onto American soil for the first time. Portland, precisely, where they're fitting in very nicely with their new neighbours thanks to a casual ambience combined with affordable and scrumptious fast plant-based fare.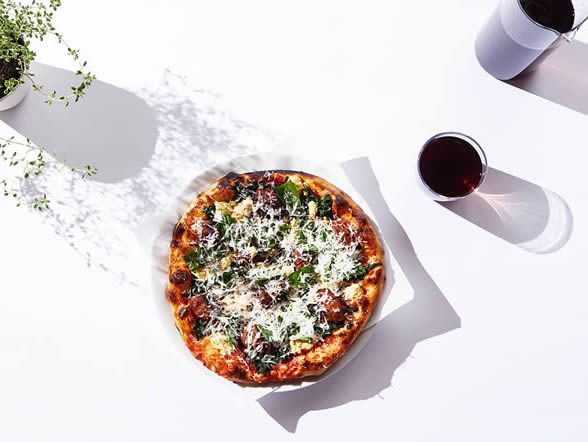 Situated in the Hosford-Abernethy neighbourhood, the menu features sustainable and locally-influenced food options — 100% plant-based pizzas topped with house-made nut cheeses like cashew mozzarella, almond ricotta, and non-GMO tofu feta; alongside scrumptious dairy-free ice creams. Striving to change attitudes one slice (or scoop) at a time, Virtuous Pie whip up unique yet winning flavour combinations that keep the patrons coming back time and time again.
Understanding the importance of community, where possible Virtuous Pie work with local artisans and producers; the city's Heart Coffee Roasters one example who are on-hand with carefully-crafted caffeine fixes via drip coffee and espresso-based drinks. The Pie's spectacular space was designed by Bright Designlab and Hammer and Han, and features Pacific Northwest wood, materials and plants, custom furniture, and eclectic finishes that add a wholly modern feel to accompany the Vancouver export's forward-thinking cuisine. A great fine to the already exceedingly-hip Oregon city.