A story of human inventiveness, triumph and drama, the images in Alastair Philip Wiper's Unintended Beauty draw the reader's attention to the brilliance of machines big and small; their ability to expand, improve, maim and destroy, and how they reflect the ingenious spirits of the human beings who create them.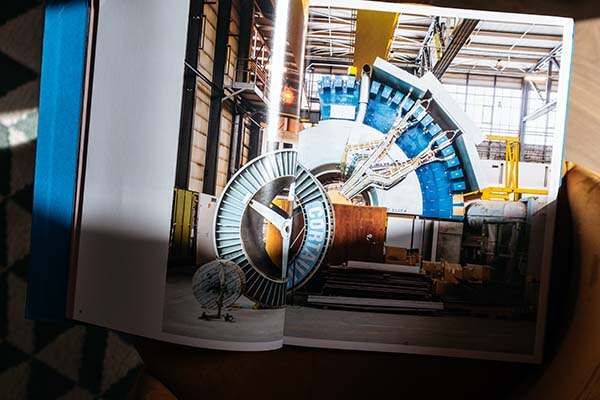 Published by Hatje Cantz, the 208-page hardback book features 90 images alongside texts by Marcelo Gleiser and Ian Chillag, and a handful of quotes from the likes of Roald Dahl, Orson Welles and astronomer Carl Sagan. Showcasing rich details of the mind-boggling manmade—from cavernous factories to machines that smash atoms together—Philip Wiper's photography captures the fascinating aesthetics of things at the far edge of comprehension.
Unimaginable wonders on show include the Odeillo solar furnace in France, the world's largest solar furnace, opened in 1970 and still used by agencies such as NASA; the Maersk Triple E container ship documented whilst under construction in 2014 at the DSME shipyard, South Korea; a plywood mock-up of part of the ATLAS Detector at the CERN research centre (pictured to the left), Switzerland, the largest of seven detectors on the LHC and found by the photographer gathering dust at the back of the warehouse. The uncompromising beauty of such monuments to industry and research impossibly alluring.
"I've always been intrigued by things that are a little bit strange, a little bit dark," the photographer explains, "and perhaps don't quite fit into the conventional idea of what is beautiful or pretty. But I don't think that I started to look at these kinds of industrial spaces as being beautiful until I really started to photograph them in this way. Graphically they are very interesting. So, I'd walk into a place and simply see lines, and colours, and shapes that were just immediately visually appealing."
Divided into various thematic groups such as research, food, and production—and with image captions and further explanations to the rear—Unintended Beauty is one of the most captivating books we've seen in some time; a stellar ode to the inconceivable magnificence of technology and human progression.
@hatjecantzverlag
@alastairwiper