Berlin Mitte's latest interior design and food heaven has been around since July 2015, and is inexplicably still a hidden champ. BUCHHOLZBERLIN and the owner behind Lokal — one of the neighbourhood's favourite eateries — have teamed up … the result: LADEN. A store, café, luncheonette, and dinner hangout.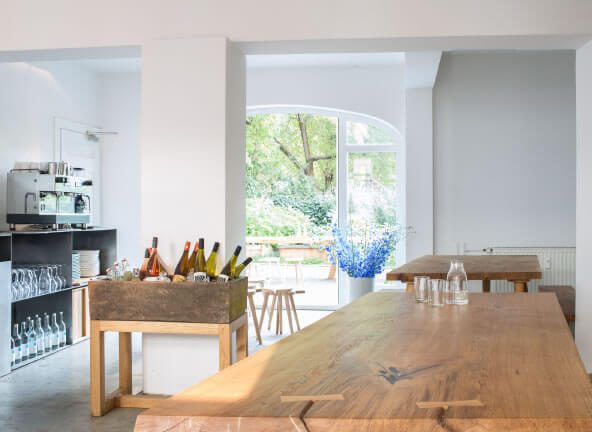 Katja Buchholz designed almost all the interior herself, and all objects and furniture can be bought by the customers — more is displayed in a second, smaller room. Katja has been a designer since 2006, and became well known for her signature tables; individual giant wooden tables made in Berlin out of materials from the city, and Brandenburg's forests. From designing tables she swiftly moved on to designing 'everything around them' – from stools to lamps, cutting boards, ceramics and wooden bowls.
With the concept of LADEN, Buchholz aims to create a space where Berliners can have a holistic experience of her products. Renowned restaurant Lokal began life as the temporary Kantine, which occupied a spot at David Chipperfield Architects' Berlin office … Katja having worked for the British architect meant the relationship was meant to be. Their team excels in the art of serving local and organic food — a perfect match with Katja Buchholz's approach.
LADEN's location at Joachimstrasse in Berlin is quite unique: a former Ball house that has a garden; very unlikely in Berlin, especially right in the centre of Mitte. Most of the ingredients are planted in the garden — the herbs for a peppermint tea will be picked freshly upon order. LADEN serves flatbread, a daily soup, and a special dinner dish — and has become a community space combining urban gardening and conscious nutrition. As Berlin is always in the new, LADEN has big plans: creating more groceries to pick up and take home, holding readings and special focus menu events.