Rustling up a selection of pastries, snacks, salads and stews throughout the week—followed by a serious brunch during the weekend—Berlin café rocket & basil is run by sisters Sophie and Xenia von Oswald and influenced by the traditional dishes of Persia; the duo born to an Iranian mother and German father.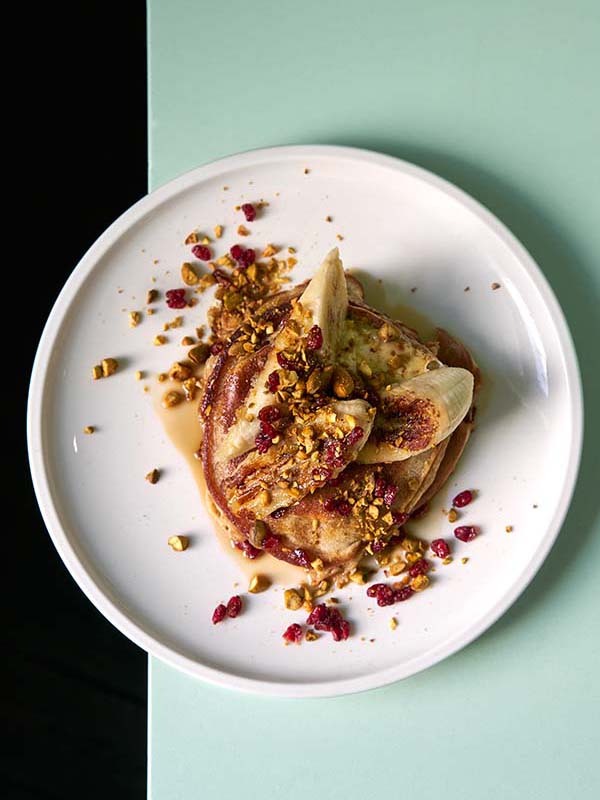 Using fresh and seasonal produce to create strong flavour combinations, local producers and vendors also feature heavily throughout the weekly changing menu dishes such as Khoresh stews with herb salad, tahdig saffron rice topped with a crisp golden crust and mast-o-khiar yogurt sauce; chicken schnitzel sandwiches; and sesame-roasted carrots with tomatoes, coriander and tahini. The rocket + basil duo feeding the hunger masses of Berlin's vibrant Potsdamer Straße area with authentic and considered cuisine.
Their first bricks and mortar venue—Sophie and Xenia renowned for organising 'Das Brunch', a series of popular breakfast events between 2014 and 2017—rocket & basil is a hip space where walls and wooden stools have been painted a pale mint green, offset against the front counter embellished with white tiles; a number of which have been hand-painted with saffron, tahdig and eggplant, ingredients thought of as the most important to the kitchen. The speckled terrazzo countertop is home to the coffee machine and glass case that showcases the lustful cakes, loaves and pastries that are supplied by local bakeries; an additional touch of colour and alluring smell added by freshly-baked sweet treats.
As to be expected by the founders of the famed Das Brunch, weekends are a lingering affair where diners can enjoy bacon rolls with poached eggs, sumac and harissa slaw; a full breakfast with poached eggs, lima beans, bacon, chilli sausage and saffron-and-herb-seasoned hash browns; and traditional Persian omelet, kuku sabzi, all washed down with a hot and spicy Persian Bloody Mary. Honest and thoughtfully-conceived, Sophie and Xenia von Oswald's rocket + basil is a fine addition to Berlin's booming café scene.