Encompassing a bar, lush design hotel, and state-of-the-art recording studio, Gold Diggers returns as 'the' new East Hollywood hotspot—a campus boasting more than three decades of Hollywood history behind the storied doors of what was once a decadent dive bar. It might not look like much has changed from outside, but inside is another story altogether.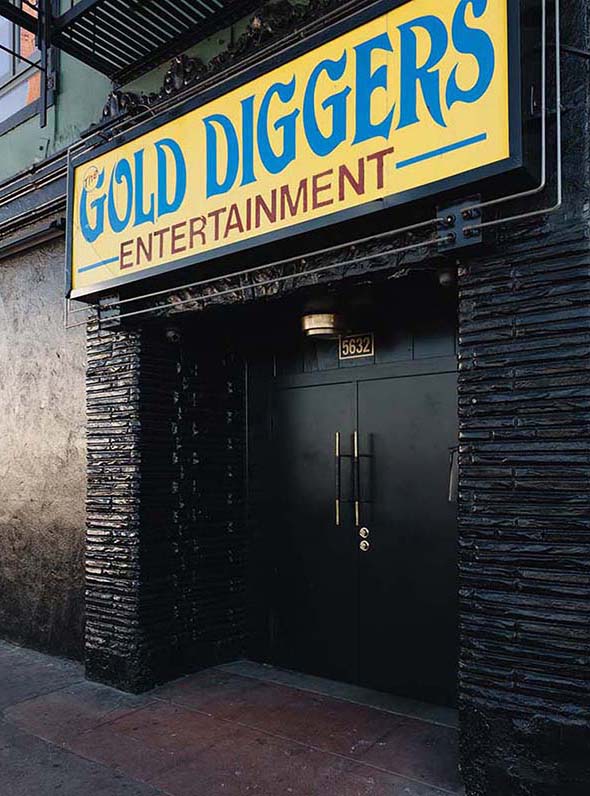 Located on Los Angeles's legendary Santa Monica Boulevard, in the former ​Gold Diggers Entertainment​ building, this dive bar's latest incarnation is a space unlike anywhere else in the neighbourhood. Home to 11 guest rooms—each with its own distinct vibe—Wick Architecture and Design, in collaboration with Night Palm Studio, have taken inspiration from the iconic and infamous Chelsea Hotel, New York, creating stylish boltholes kitted out with one-of-a-kind vintage pieces, cassette tapes, and pieces from local artists.
Unified by the premise relaxation, comfort, and the spirit of alternative music, the spacious rooms at Gold Diggers have a light and natural colour palette, white walls, wooden floors, and large beds where weary heads can be rested after a night spent in the bar—which, having also been reimagined by the same design team, is a dark and moody contrast to the lightness upstairs.
The designers' vision for the redesign of said bar included dark wood chevron paneling, textured wall coverings, plush velvet, leather, and gold deco pendant lighting that will seduce an international crowd who appreciate style, good music, and stiff drinks. That said, in honour of its former life, the designers say they've kept "just the right amount of sleaze"; although these days it's more sensual dive than out-and-out dive. Justin Gage—a man with an ear for talent—is overseeing the music offering and booking the hottest acts, Gold Diggers bar set to host some of the hottest weekly shindigs in East Hollywood.
"​We are so excited to finally open the doors of the Gold Diggers campus to the public," reveals owner Dave Neupert. "For so long East Hollywood has been a forgotten neighbourhood, but we hope to shine a light on its rich history—and now be a part of it."
Lastly, the multi-room recording studio houses nine writing, tracking, and mixing studios managed by Simon Horrocks and conceived in collaboration between Neupert and Kingsize Soundlabs owners Dave and Ronna Trumfio. With the ability to cater for recording projects of any size, the studio makes up the third component of the campus, ensuring that Gold Diggers is the place to Drink. Sleep. Record. Repeat.