It's as futile to talk about the emergence of craft beer as it is to point out that baristas wear long beards and dress like they've been working on a Victorian space flight program. Yet let us recap — for those who've been in a Castlemaine XXXX-induced coma since the 1980s, or live in a market town in Wales — young folk don't drink piss-weak, mass-brewed lager anymore. No siree.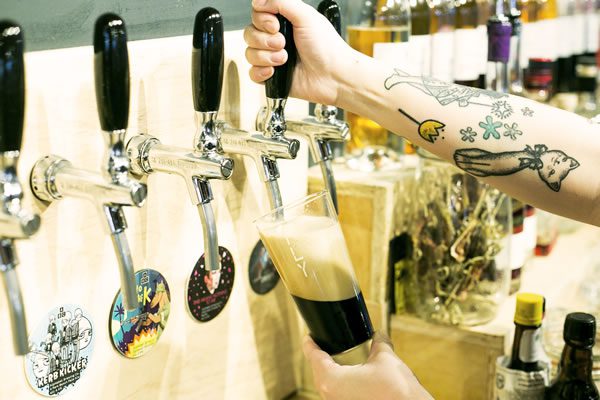 Beers are potent, experimental, brewed with all manner of oddities, and aged in casks that have carried things like wine and whisky. And they have branding to match. Many independent brewers have in-house design teams, or go-to graphic designers who weave all sorts of visual wonder to label these unorthodox concoctions with — and Manchester pizza place PLY have gathered together some of the world's most noted.
Having already hosted exhibitions from the likes of Will Broome and Andrew Salomone, the culture-minded eatery's curator Beki Rymsza has drawn on brewing and design talent from Denmark to Ardwick, New York to Hull. Breweries Alphabet Brewing Co., Atom Beers, Beavertown Brewery, Cloudwater Brew Co., Evil Twin Brewing and To Øl have been chosen to take part in a month-long beer festival, where both taps and walls are taken over — highlighting the importance of great design in today's crowded craft beer market.
'The exhibition fits perfectly with our ethos of independence, creativity and quality' says Rymsza of #HappyNewBeer, which runs at the Northern Quarter restaurant until 21 February.