I was always told off whenever I played with my food, but to be honest it was never on the plate for long enough to make so much as a smiley face out of peas. Pizza, in particular, barely had time to touch the plate, so kudos to Andrew Salomone for the remarkable self-restraint he shows in creating works of art from the oh-so-edible but unusual medium.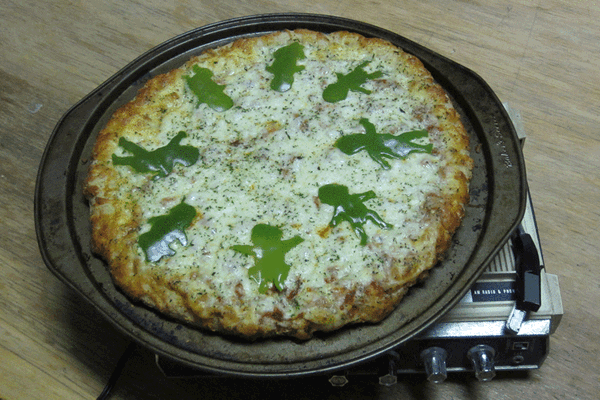 Andrew's Pizzoetrope is a cross between pizza and the zoetrope — an early animation device in which a rotating sequence of progressing images appears to merge into one moving image.
As the artist demonstrates on his "how to" video, it's a deceptively simple process to recreate this ancient trick in the form of a GIF with pizza, a turntable, a strobe light and a camera. The only tricky part is getting it done before the pizza gets cold, but then again, who doesn't love cold pizza? Two versions of The Pizzoetrope comprise Andrew's exhibition at Manchester pizzeria, bar and gallery PLY in the Northern Quarter.
Ravenous Apparitions is the name of the installation; one polymer clay pizza and one made out of cut up disco record sleeves will spin in continuous strobed animation until 30 August. New York-based Andrew was in town to launch the exhibition with a workshop, and his tutorial video is available to study on YouTube. Definitely try this at home, kids.