Newly-opened Detroit arts venue Wasserman Projects is certainly kicking things off in grand style as it welcomes two exhibitions that stretch the 5,000 sqft space to its limits, inside and out. The inaugural event, timed to coincide with the Detroit Design Festival, sees the interior taken over by Brooklyn-based German artist Markus Linnenbrink and Miami Beach architect Nick Gelpi who have collaborated on a dizzying site-specific installation called THEFIRSTONEISCRAZYTHESECONDONEISNUTS.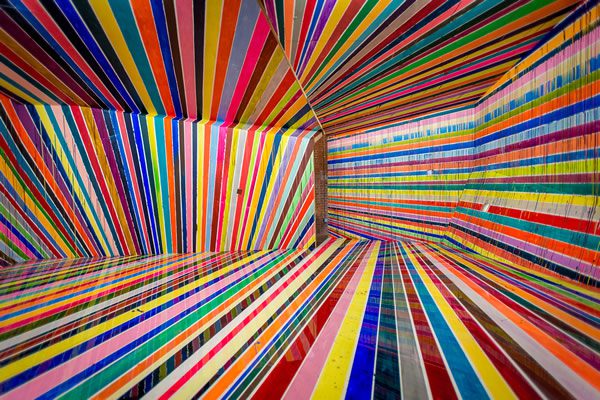 The pavilion is a disorientating, unbalancing immersive structure that uses Linnenbrink's signature dripping lines of lurid paint to warp the internal surface of Gelpi's design. Splitting open along the centre, the pavilion becomes a stage and it played host to a performance by Jeedo X and Saxappeal during the opening reception.
Wasserman Projects' outdoor space is simultaneously hosting the work of Detroit artist Jon Brumit. Elf Waves (Sound House 2) is a modified grain silo housing a "public sound project"; visitors will be greeted by a composed soundtrack playing from the roof and floor. A second work, Earth Loops, is an installation of synthesisers on which visitors can play live music to accompany a looped extract of Brumit's New Earth album. *Spatial Forces (Shed 13) completes Brumit's trio of installations. This radio-based sound sculpture, broadcasting around the Eastern Market neighbourhood on 100.1 FM, consists of 13 short range radio transmitters dotted along Russell Street, each playing a track from New Earth audible solely through FM radio.
Wasserman Projects' inaugural exhibition runs until 12 December.