Located on a motor court structure originally built as the Treasure Isle Motel in the 1960s, Hotel Lucine is a 61-room, fully refurbed boutique hotel, designed as much for locals as it was for travellers to this part of Texas.
Combining a classic courtyard-style property with a location on the edge of the Gulf of Mexico in Galveston, Hotel Lucine is a hangout for neighbours and guests seeking culture, fun and culinary delights. The low-slung, two-story structure has plenty of mid-century spirit and provides a restful oasis to guests from far and wide, creating a seaside hideaway vibe that folks never want to leave.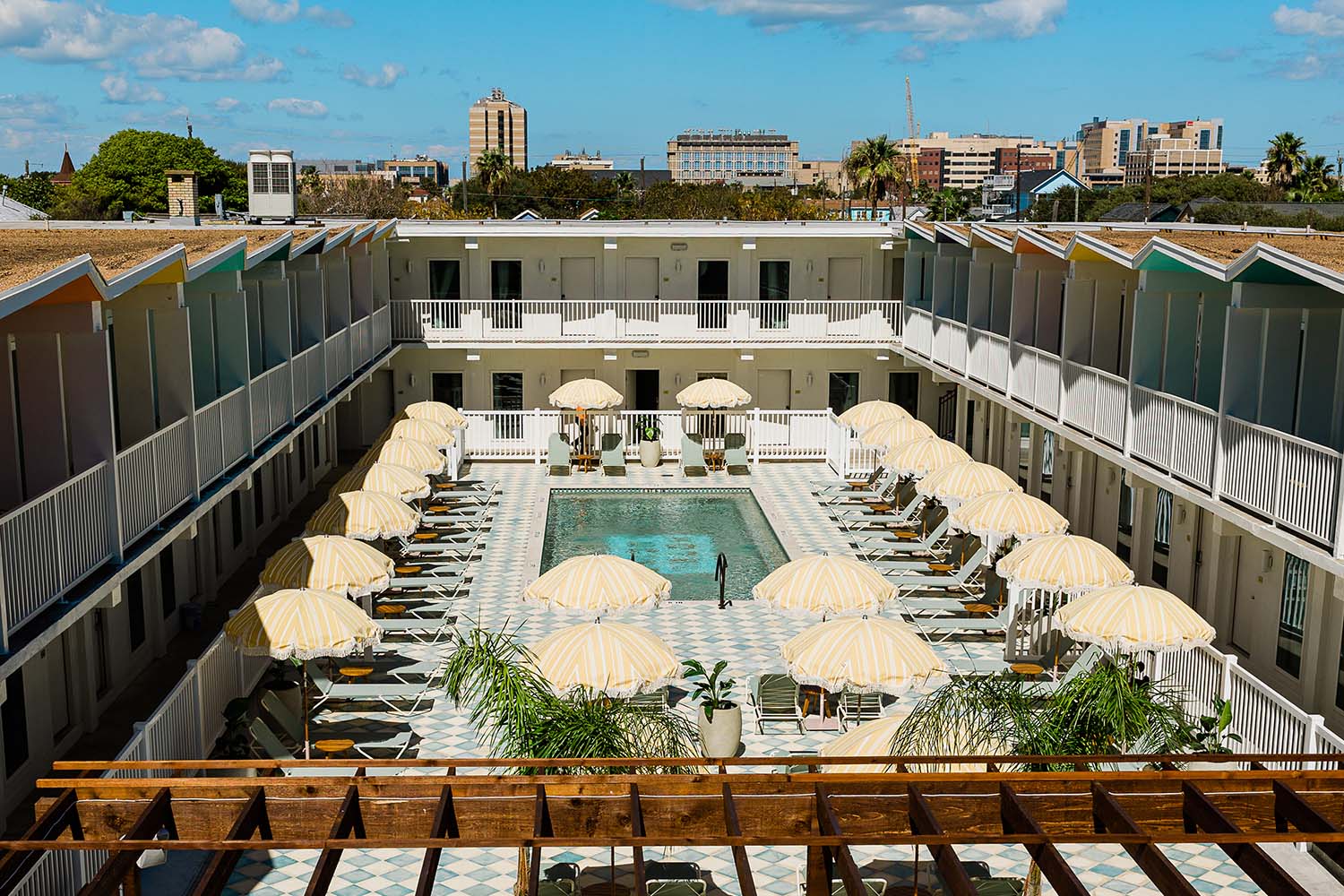 Designed by Austin-based Kartwheel Studio, guest rooms are akin to tiny beach houses and are bright and airy, with some of the larger ones offering views out towards the pool and beach. Nodding to the its former life as a motel, today Hotel Lucine feels refined and modern but full of heart and soul, just like a good house party. The Den is a welcoming spot to enjoy a morning coffee and afternoon juice, whilst those looking for something a little stronger can saunter up to the rooftop bar where they'll find classic cocktails and 180-degree ocean views.
The Fancy is an 'American Fine-ish dining' restaurant focused on using local ingredients with a robust wine and cocktail menu paired with the cuisine. Executive chef Leila Ortiz oversees and manages all the kitchen operations bringing with her a wealth of experience from restaurants including the esteemed Momofuku Noodle Bar.
Born from a group of passionate local entrepreneurs that combine a global hospitality eye with fierce local passion, with some of Austin's greatest design talent thrown into the mix, Hotel Lucine is a hip juxtaposition between seaside resort and contemporary design motel, and is sure to bring a new flavour of hospitality to this part of the Gulf of Mexico.