You could say that Singapore diner OverEasy is on hallowed ground, burger-wise. Their new Orchard Road premises was once home to the country's first McDonald's restaurant, which still holds the world record for the most hamburgers sold on opening day. There's obviously a big appetite for American fast food in these parts, and OverEasy takes up the baton from McD's and runs with it in a gourmet direction.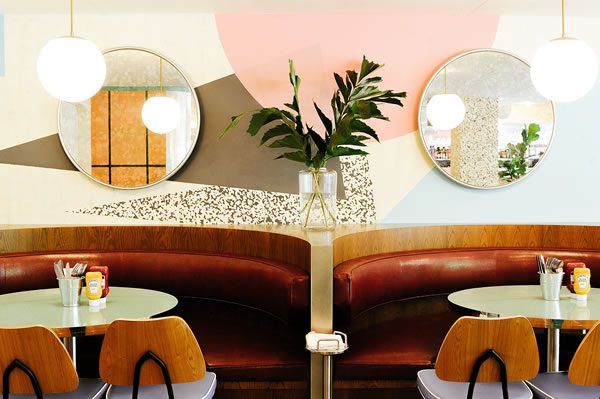 The burgers are made from Wagyu beef, the mac and cheese comes in upmarket varieties including truffle and wild mushroom, and the drinks menu includes a bacon and maple whiskey, triple sec, egg and vanilla ice cream milkshake. Oof.
One of our favourite Singapore interior designers, Lim Siew Hui of Hui Designs (Super Loco), partnered with the Lo & Behold restaurant group's in-house team, tipping their fedoras to the vintage Formica and silvery Airstream trailer diners that have become a signature part of Americana. OverEasy pairs the pastel shades of the 1950s with the design aesthetic of the '60s, taking in influences from the '80s Memphis Group along the way. Swivel stools, big leather-clad booths and chrome finishes create the classic look, backed by a feature wall of salmon pink glazed tiles and teal cabinet doors. A series of beer pong tables in the outdoor gaming area to the front come complete with college-style bleachers for a full-on spectator experience.