You don't expect to begin thinking about the future of nightlife — of technology, of bleeding-edge club music, of raving your limbs off — in an airport duty free at 5am. Perhaps the international DJ elite do; passing through terminal after terminal like something out of a Romero zombie flick. But I hadn't. I don't think about much in airports at that time of the morning. Trying to pass through security as quickly as I can; who sells the strongest coffee; is it too early to start drinking. The future of nightlife? No.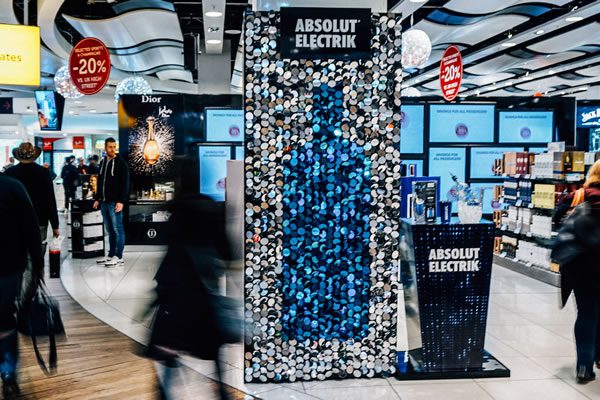 I'm on may way to London, though, to think about just that — and my eye is caught by the spangly metallic silver and blue of Absolut's new limited edition bottles. After all, it is the launch of Absolut Electrik that is taking me to London. A future-forward visionary-led celebration of how far the nightlife experience can be poked and prodded in 2015, a spangly metallic silver and blue affair. I'm in duty free at 5am, thinking about clubbing. Suddenly I'm 18 again.
The funny thing about discussing the future in 2015 is that the feeling we're already living it is hard to escape. Take a step out of going about your day to day business for a few hours — do some hippy mind-cleansing, astral projection or some such — and look closely at every little detail of the life you're already living. Our interaction with technology, that just a few years ago looked so unfathomably futuristic, has become inescapable.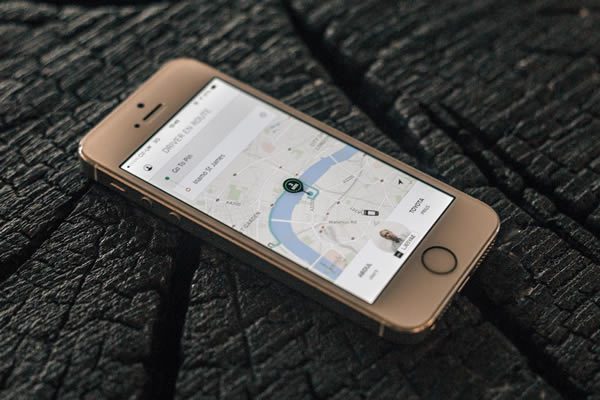 I'm standing here, thinking about who sells the strongest coffee, airside at a major international airport, and I haven't touched a piece of paper: The internet bought my ticket, the internet put the ticket on my phone, the internet opened the gates to let me through into security, the internet will tell the nice lady boarding us onto the plane that I'm boarding onto the right plane — on the other side? The internet will tell me exactly where the driver who's picking me up is, then his cab will beam WiFi to my phone so I needn't worry myself about international data charges. I know, it seems trite to be nonplussed to any extent by any of that — it's just what happens, isn't it? But, back when I practically lived in nightclubs, it wasn't that way. At all.
And onwards into central London, using that WiFi to check my emails, my Twitter, Instagram … perpetually flicking back to Google Maps to see just how little ground we've covered in the last 10 minutes. I'm staying at Mondrian London at Sea Containers, which is not one of them hotels where you can choose your toilet paper via an in-room iPad, but they exist … and infuriate.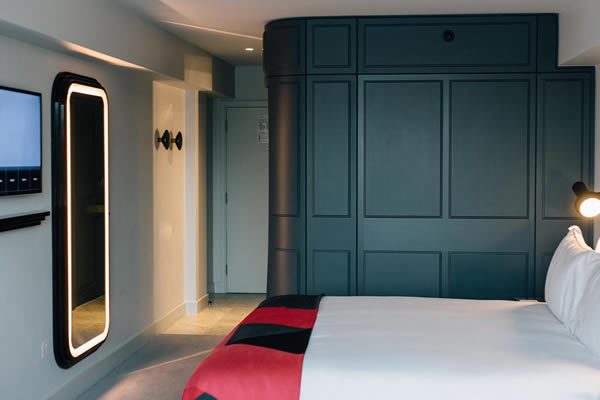 I share a few files, the sort of files that would have taken up a few CDs not so long ago, with people in different corners of the world, and I order an Uber — watching it crawl its way across London, a city whose streets reached their capacity whilst floppy disks were still a thing. (If I wanted an upgrade, there are now plenty of similar Apps; how about an S-Class Merc, or a high-end Audi A8 from swanky service Blacklane? I check my wallet before resisting temptation.)
Files pinged, Uber arrives, and it's off to inamo for lunch — which, along with being a brilliant pun, is a restaurant pioneering new technologies. Born from experiences that we all have, struggling to get the waiter's attention, inamo does away with tradition; beaming an interactive menu, and other peripherals, onto your tabletop. You can see what duck and pancakes will look like on your plate; you can call for the waiter; you can see what's going on in the kitchen; you can even play Pong. The dish-delivering drones are missing — but inamo is another reminder that we're already milling around in what we once would have regarded as light years away.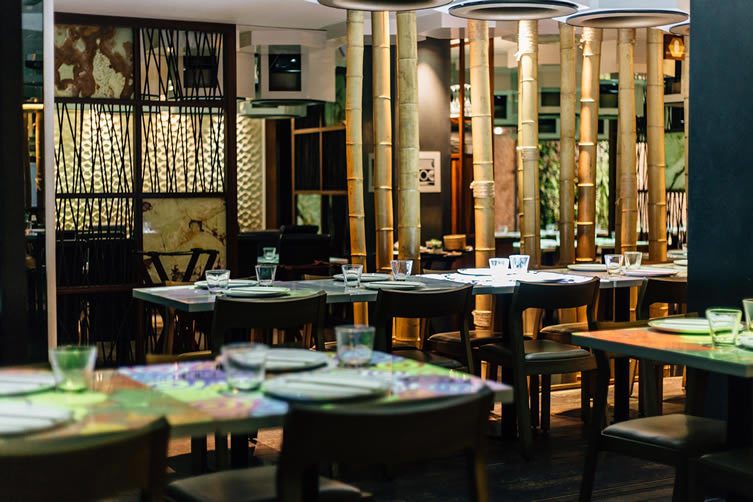 Alright, so I might be labouring the point about our everyday relationship with technology — but I'm here to ponder the future of nightlife. And no future may be pondered without a reasonable assessment of the present, and a considered view of the past. I started clubbing in earnest in the mid-1990s, the dust of Britain's rave explosion not long settled. Sure, we had technology — my Nokia 8110 was the height of sophistication — but DJs still played records, strobe lights and smoke machines were the spectacle de nos jours.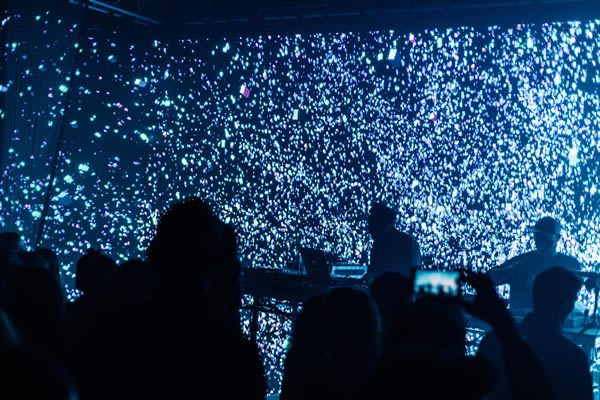 Nowadays, we're used to extravagant visuals accompanying our nightlife experiences — the rise of EDM, the United States' Americanisation of dance music, means that DJ sets can look like something out of a Hollywood film — but what is our interaction? Technology is so interlinked to our existence that interactivity should be a matter of course. Calling upon pioneering tech-art studio Marshmallow Laser Feast, and R&S records (the cutting-edge Belgian label who have soundtracked almost every generation of club music; Joey Beltram to James Blake), Absolut were following a future-forward house party in Downtown Los Angeles — think drone bartenders and a band made entirely of robots — with a second edition of their Absolut Electrik nights. How would the future of London's nightlife look?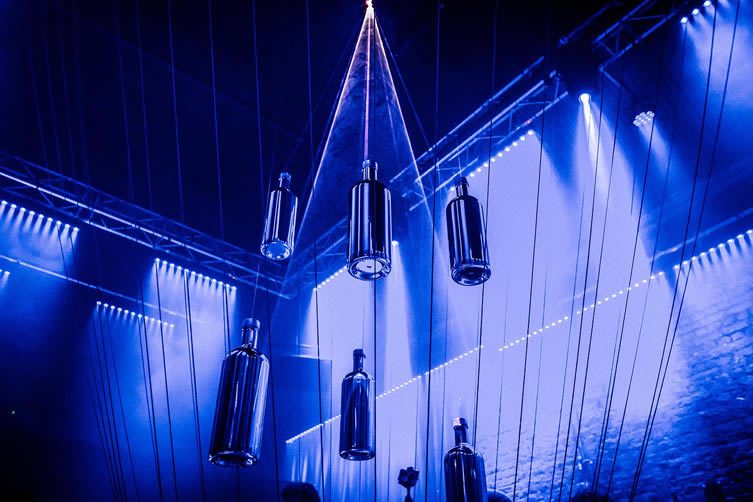 Clearly, London would be a different beast than the showiness of L.A. — drinks are dispensed by humans, mortals also provide the soundtrack; but the subtle shifting of expectation is evident from the off. Storytelling and narrative are buzzwords you'll hear in agencies the world over, they enhance interaction; engagement; experience — and they're here in the faintest of forms as we're welcomed through the doors at London's Bankside Vaults. Silver, or blue (a less subtle referencing of their limited edition bottles), your choice will take you on an 'individual journey'.
We find ourselves in a deep blue space, underneath the railway arches, a bottle installation dominates the room, a haunting piece of looping sound design eschews a perceived demand for beat-based electronica. The cocktails light up in our hands. There's a sense of floating away with those suspended bottles. Behind a curtain lurks that technology that just won't go away — it's impossible to look towards the future of anything without coming across those two letters: VR.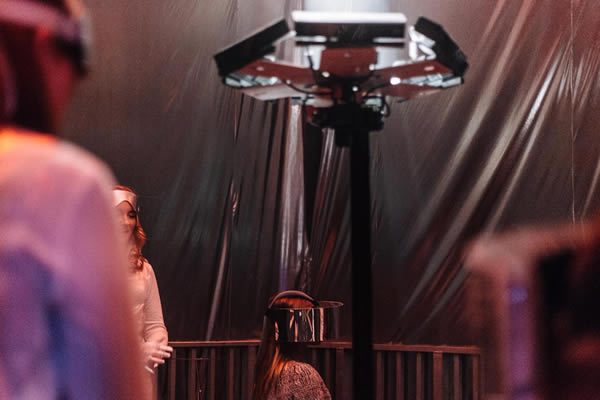 Women dressed like nurses who might work in a near-future hospital — where all ailments are cured by 3D-printing biocompatible materials, cells, or living tissue — lead us into a small space, sit reflective headsets straight out of a sci-fi cosplay convention onto our heads and tech does the rest. I'm in an empty room when, suddenly, I appear sat across the way from myself. There's more of me. It's just me, and other mes sat in a circle — until we start riding on waves … digital waves. It's like being locked in the iTunes Visualizer; the bass is physically pounding into my back. We, all of me, ride the waves before the credits roll. I'm a VR sceptic, but it's actually very good.
Of course, theatre aside, we're only really here for one thing. If the future of nightlife is sitting in a chair, then I don't want to be a part of it. Onto the main room.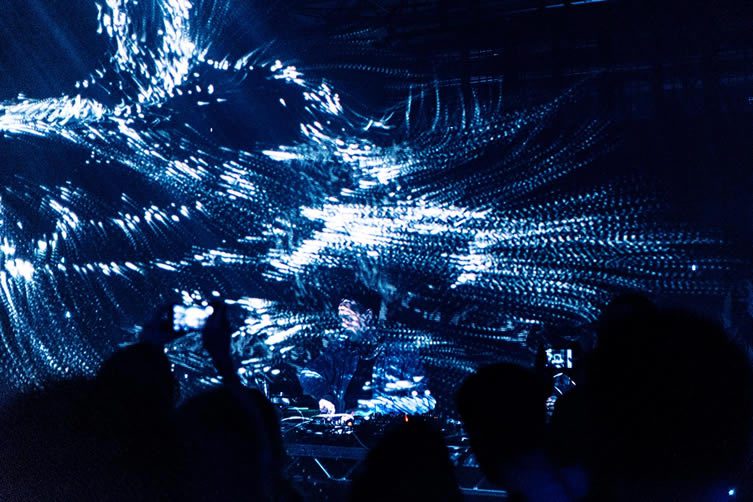 Talk about everything but the kitchen sink. Marshmallow Laser Feast and assorted visual collaborators mutate the main room experience; 360° wall-to-wall LEDs, incorporating motion-reactive visuals, harness the energy of the music — the energy of its effect on the crowd — and spew it all out in retina-rupturing glory. Holo-Gauze is draped in front of the DJs (Leon Vynehall; Moiré; Lone; Space Dimension Controller), swirling graphics distorting reality. It's at times impossible to comprehend what is playing out on the Holo-Gauze, and what on the frenetic LED wall behind … the DJ is engulfed between the two, elevated to a virtual plane. The crowd adore every flicker. Instagram is busy.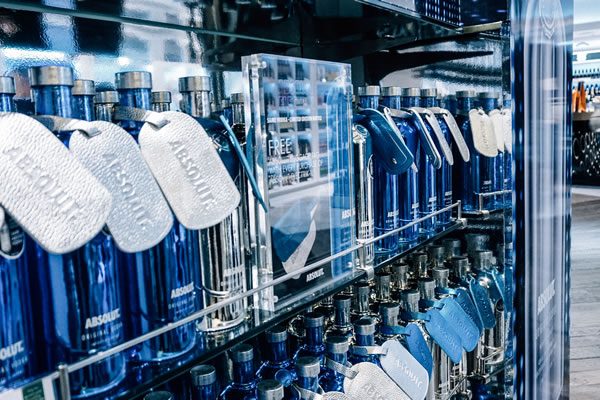 As the music, the crowd, the night, evolves — so too do the visuals; a riot of immersion. VR headsets offer a glimpse at how enveloping future-tech experiences can be, but this is now. In the main room tonight, the future lives among us. Hypnotic; uncompromising. Tonight's key protagonists conspire to sweep us up and away, into their imagination and beyond.
And then I'm back, at duty free — shiny silver and blue bottles glistening at me, head throbbing with the haze of early morning. I flick through news-feeds, I upload images … to 'clouds' in Silicon Valley. The muffling in my eardrums that a night spent with a state-of-the-art soundsystem does to you. I'm in duty free, thinking about the future of nightlife. But I can't help think that this is the future. Is it too early to start drinking?
Absolut Electrik Limited Edition bottles are available now; a pop-up bar at London Heathrow Terminal 3 will be dishing out Absolut Electrik Blue Mules until 5 January, 2016.