America may well be taking a liberty by styling itself as "The Greatest Country on Earth", but there is one field in which the good ol' US of A is most definitely a world leader. The quintessential American diner is often imitated but rarely equalled, a sublime plateful of loveliness made using the best ingredients of fast food, comfort food and home-cooked food. Burgers, steaks, and ten kinds of pie. Wooee, that's some good eatin'. We'll even forgive them putting pancakes, syrup and bacon on the same plate. Live and let live is what we say.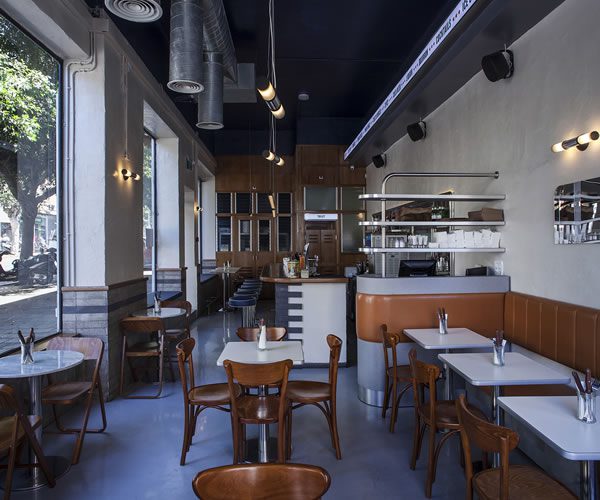 The only trouble with the American diner is that is doesn't tend to travel that well, but in Tel Aviv there's a new place that can claim to have successfully nailed the tricky recipe. America Burger strips down the normally overwhelming choice and focuses on a core menu of five burgers, plus a selection of shakes and sides (including an intriguing mention of 'shrooms on the sign above the counter), while keeping the classic diner aesthetic intact.
There's Art Deco touches in Studio OPA's interpretation of the humble diner — reflected in the mirror, for example — and a focus on quality materials rather than the Formica of later eras. There are also references to the chrome of Airstream trailer diners and the odd contemporary touch too; America Burger's orange-red neon sign burns like a beacon in the Tel Aviv night, beckoning the city's hungry to come inside.