Inspired by classic South Korean picture books of years gone by, visual storyteller, JiYeun Kang, illustrates in an old-style aesthetic to bring her narrative alive. She is known to elongate and exaggerate human features, capturing humble elegance while adopting the shadow-work of a printmaker.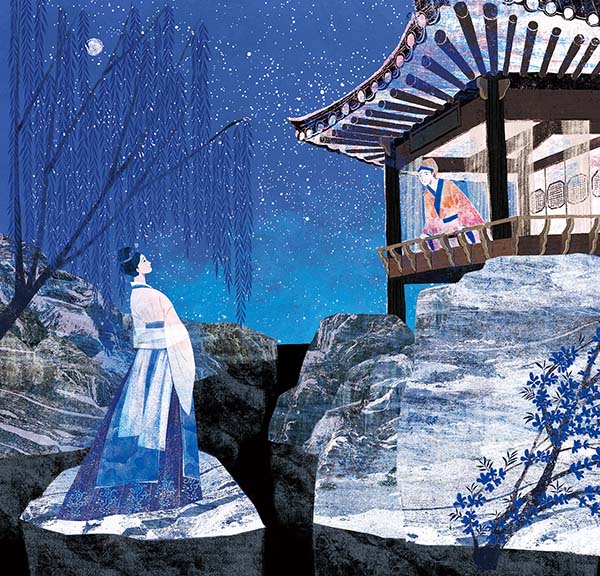 Working as a children's book designer until 2011, Jiyeun.K became freelance with the sole purpose of bringing stories to life. Even though she works with a diverse range of respected publishers in Korea, she is somewhat of an unknown talent in the West. Her work depicts drama of the everyday and of the historic past. Akin to graphic novels, her style imagines atmosphere and feelings where even words aren't necessary.
Although her influences are homegrown—occasionally political and motivated by some of the worst wars in history—many international talents inspire her. Celebrated Danish illustrator Kay Nielsen; Polish artist Tamara de Lempicka, known for her distinctive art deco style; and the Israeli-born American writer and artist Maira Kalman are among her favourites.
As part of a series of features exclusively publishing content from the printed pages of Create Zine, the indie creative promotion publication spoke to JiYeun.K about her work, her conservative Korean heritage and what illustrating stories really means to her.
Tell us about where you grew up and what your early influences were…
I grew up in Daegu in Korea. It is also known as the most conservative city in Korea, and influenced by an idea called Confucianism. It's an atmosphere where people value their ancestors. While people oppress women, men are obliged to take on more responsibilities; it is harmful to both sexes. Fortunately, my parents were kind enough to raise their sons and daughters without discrimination.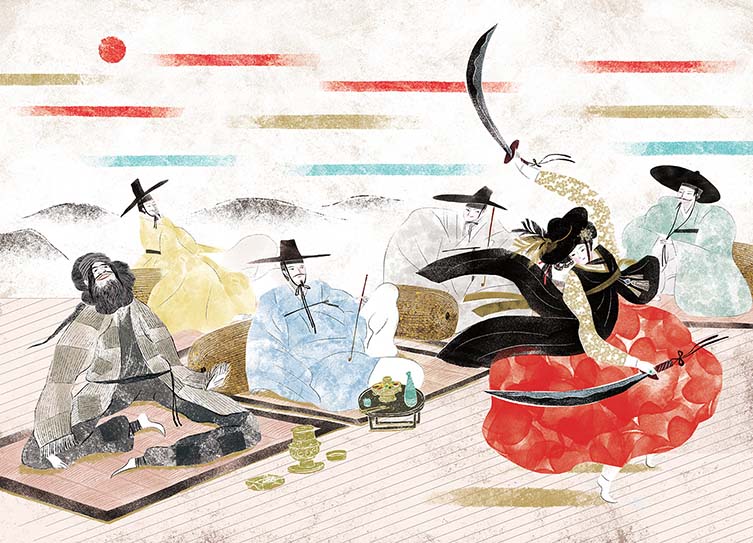 And where are you based now? Can you tell us a bit about your town and studio?
I live in Yongin City. It is a forested city located not far from the capital, Seoul. It's a great place to spend time with young children. My studio is my home and I spend a lot of time there because my children are still young.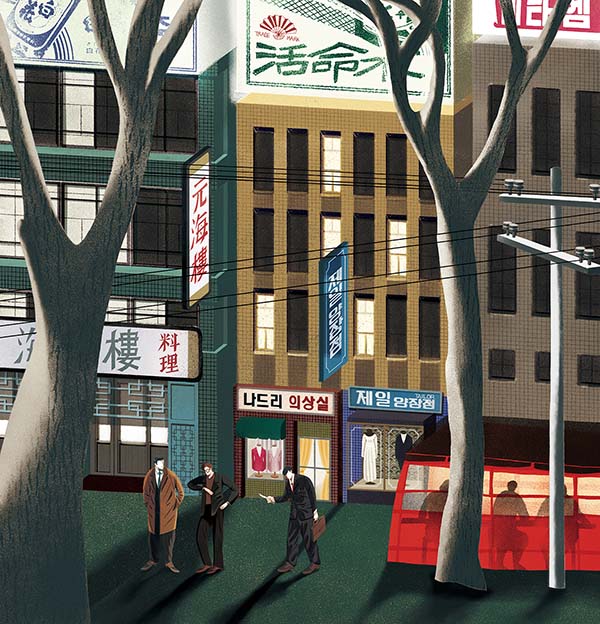 Where did you study?
In Korea schools for illustration are hard to find. I studied graphic design at Kookmin University in Seoul. When I was a teenager I really loved to draw, but during the art school preparation period, the entrance test system bored me. It was a very mechanical and repetitive process. I felt as if I had become a drawing robot. After admission, I took part in a semester's illustration class, which made me feel the joy of drawing again, and I've loved it ever since.
How has South Korean culture influenced your work?
Korean culture, nature and thinking has had an absolute impact on my life—I'm never free from those effects. I like both hand-rendered and digital work, but my recent digital work has much to do with the Korean atmosphere, where mothers have to take care of their children most of the time. Famously we work a lot and sometimes long into the night; many of us are workaholics. I needed to increase my digital work to be more communicative with my clients. My work style is also a realistic choice for harmonising painting and life.
Can you tell us more about the 'Korean atmosphere' and how does it affect your creativity?
Foreign countries have been invading the Korean Peninsula for years. As a result of the Korean War there are still many dangers, and there is tension in everyday life. Therefore, I always feel threatened by war, and at the same time I long for peace. I guess the unique feelings of Koreans—known as 'Han' or 'Jeong'—came from this situation.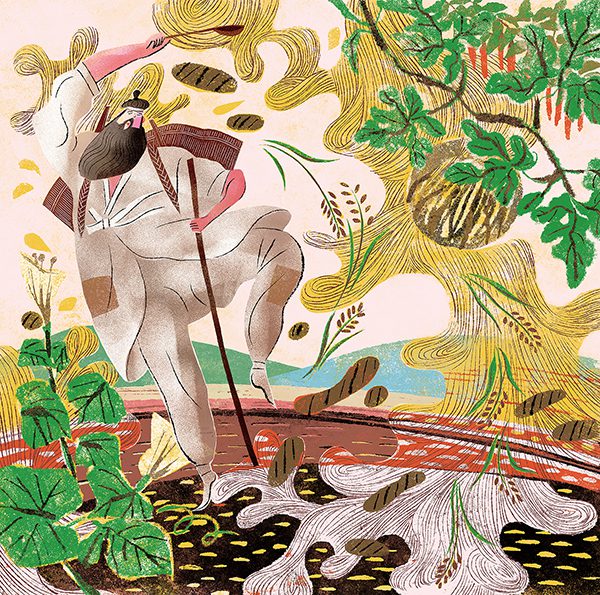 Every young man in this country must go to the army. My son, who is still a baby, will too have to go someday. Healthy young men in Korea must go to the military for two years and train. The impact of this experience on the home and society is huge. Maybe this is where the typical conservative atmosphere begins?
I am living as an illustrator, as a woman, as a mother, which feels special in Korea. I think that experience makes me more involved in literary works, especially in modern Korean literature which is very emotional. Many of the illustrations based on the latest literary works are coming from such empathy, and I think it will continue to have a steady impact on my work.
Your illustrations capture light and colour beautifully, where (and how) did you perfect your skills?
After I graduated I worked as a children's books graphic designer for Woongjin—one of the biggest publishers in Korea—for about six years. I had lots of opportunities to work with diverse and famous illustrators in Korea. In 2011 I quit my job, got married and started illustration in earnest. The first book I illustrated was published in 2015, and since then I have worked steadily as an illustrator.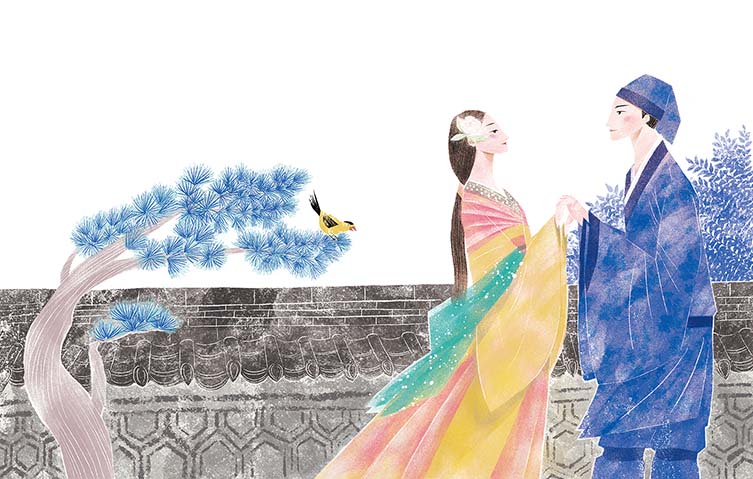 How do you approach an illustration and visualise the story?
To capture the images I use quick lines and sketches. The light or colour is there because it is an essential factor of the scene I am trying to create. My paintings are influenced a lot by what I read, and I don't start sketching until I have a clear image in my head. When the scene is apparent enough, I draw it as quickly as possible with long fast lines. The subsequent lighting or colouring is the process of polishing and embellishing the images that I've captured. 
Please tell us about one of your favourite books that you have illustrated…
My target audience is young adults and teenagers, and I've illustrated a series of books including The Aimless Bullet by Yi Beom Seon and Seoul 1964 Winter by Sung-ok Kim. Both titles are sensitive and deeply illustrate the situation of Korea just after the Korean War. It is a series of narrative illustrations where I tried very hard to capture the dominant images of the era.
Tell us more about your family; do your children like your work?
I have a four-year-old daughter and a one-year-old baby son. They are still too young so I can't be sure of what they think of my work. However, they like to draw pictures while I'm working and show a lot of interest in my illustrations. I don't want them to copy my drawings or lose their courage to draw so I always try to encourage them to paint by themselves.
As a visual storyteller, what are the most important elements to portray in your artwork?
I want to convey a message or a purpose through my works using light, colour and composition.
Do you ever illustrate contemporary culture?
I created a series of contemporary illustration for the launch event of the Italian fashion brand a.testoni. The commissioner wanted to express the brand's concepts of 'classic luxury', and so I expressed that idea with simple black lines and some colour touches.