The Blue Planet's number one Kentucky bourbon has been making history for over two centuries, with one overriding ethos at the heart of its success: an unwavering reluctance to play by other's rules. Searingly bold and an unashamed desire to stay true to your roots – when American bourbon pioneers Jim Beam asked us for our interpretation of their #MakeHistory campaign, we felt terribly at home. Pioneer's spirit runs right through the heart of all that excites us here at We Heart Towers.
The theatrics of a pop-eat eatery delivering their wares by parachute, the hands-on back-to-basics approach of designers taking their skills to the streets, artists using 'the norm' as a means of subverting 'the norm'. Modern pioneers making their own history with a refreshing boldness, hunger. Innovators taking the prodding of convention to its nth degree. Free-thinkers, tactile makers, originators and those with a vehemence for debunking limitations; strap yourselves in for a round-up of our favourite game-changers…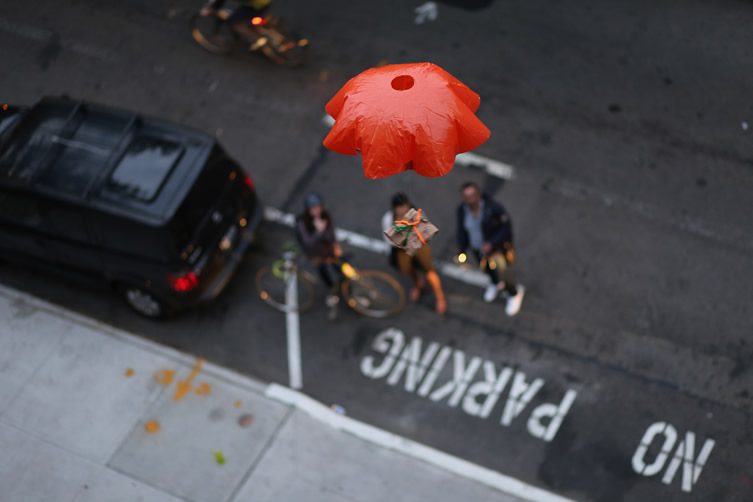 Jafflechutes
The pop-up to end all pop-ups, Jafflechutes combines tasty toasties with a theatrical delivery method – parachutes. The team from Melbourne temporarily take over a lofty location, put the word out on social media, and wait for the feeding frenzy to unfold. The orders come in and the jaffles fly out – out of the window, where the 'chutes deploy, and the sandwiches floats down to the hungry hordes waiting in the street below. The idea has caught the imagination and the Jafflechutes crew have been broadening their horizons recently, taking their show on the road to Sydney, Toronto and New York. INCOMING!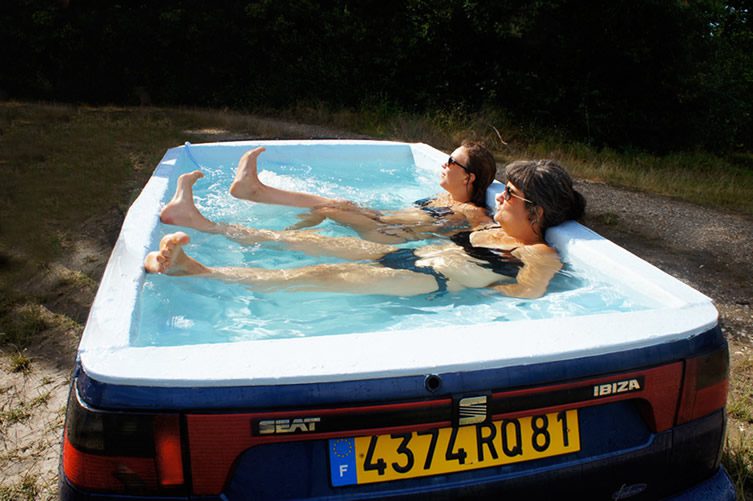 Benedetto Bufalino
A car doesn't need to end its life in a scrapyard when artist Benedetto Bufalino is around. The Frenchman has a seemingly inexhaustible supply of wacky ideas for recycling knackered motors – he's adapted a showroom's worth for various new uses including a barbecue, a giant flowerpot, a chicken coop, and even a jacuzzi. Benedetto's traffic-stopping work doesn't end with cars though; his phone box aquariums are another example of exceptional sculptural vision and a marvellous ability to engage with an audience.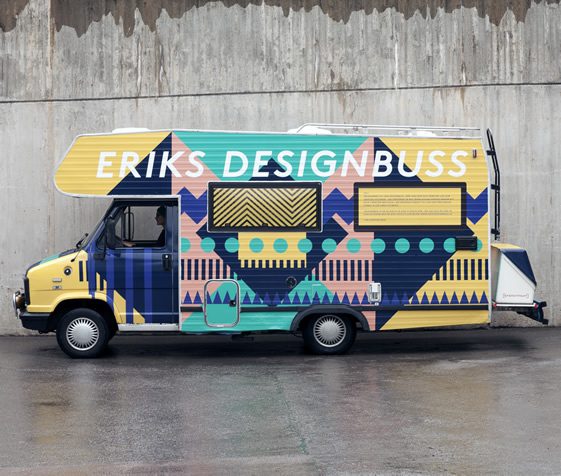 Erik's Designbuss
As a client-centred designer, Erik Olovsson was keen to get a deeper insight into their businesses. Instead of just pop around to their premises for a chat, the Swede thought he'd take things one step further and create a mobile design studio that can travel with him. Within its Tardis-like dimensions, Erik's Designbuss contains a print shop, photo studio, meeting space and library to aid his work, and also somewhere for Erik to sleep while he's on the road. Graphic design is his speciality, and prospective clients can get in touch via his website, which also keeps track of his current location and lists planned "bus stops".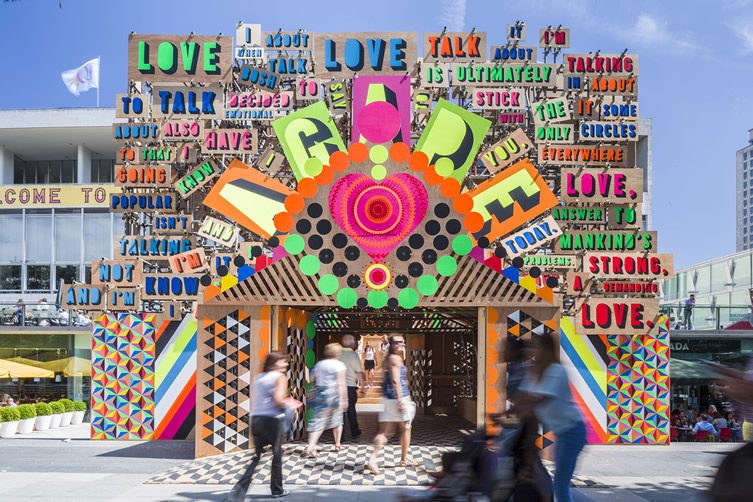 Morag Myerscough and Luke Morgan
The colourful design installations of Morag Myerscough and Luke Morgan never fail to grab the attention thanks to their signature use of eye-popping neon on big shouty signs, flags and other sticky-out things. Their clever constructions are temporary works, popping up around the country as commissions for festivals other special events such as the London Olympics. Capturing the essence of their host in a textual word cloud which bursts from the wooden framework, Morag and Luke add in all sorts of interesting bits to interact with, from swings to tunnels, walkways to workshops.
Tobias Gutmann's Face-o-mat
The wacky Face-o-mat is the brainchild of artist, illustrator and inventor Tobias Gutmann. A photo-booth with a difference, the "machine" produces portraits of customers, with the ability to define characteristics such as the style of drawing and whether or not a flattering facelift filter should be applied. Tobias doesn't hide behind a curtain like Oz though. In fact, one of the main aims of Face-o-mat is to promote human interaction, and to that end he has toured multiple European cities, as well as Tanzanian capital Dar-es-Salaam and Tokyo, producing his analogue portraits.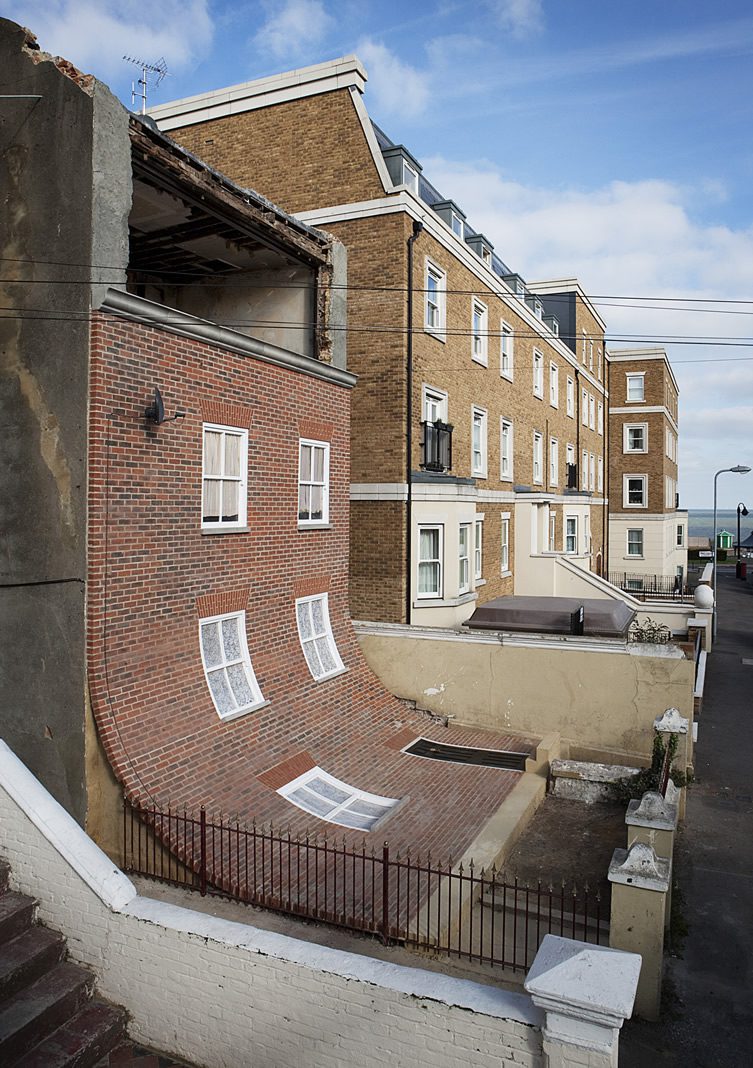 Alex Chinneck
The work of artist Alex Chinneck is proof that urban regeneration doesn't begin and end with restaurant factory conversions. Doing interesting things with worn-out old properties is the 29-year-old's speciality, whether it be a subtle subversion of the expected or an ambitious traffic-stopping illusion. Blackfriars Road in London was the location of one of Chinneck's more understated projects, installing a new façade on number 20 to give the effect of turning the whole property upside down. His previous work in Margate had also seen the artist give a building a facelift of sorts, although in this case a new frontage was built onto a derelict property which appeared to have slipped down to reveal the decay inside.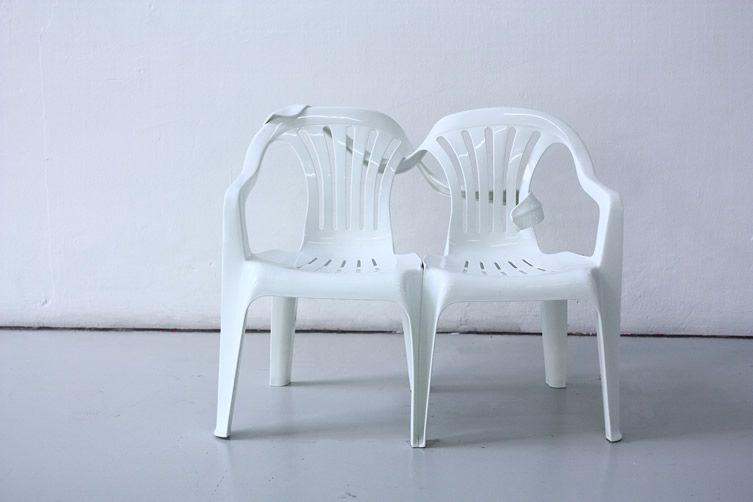 Bert Loeschner
Have you ever wondered what a chair would do, if it could? No? Well don't worry, because Bert Loeschner has, and the answers are really something. The German has unlocked the potential of the classic Monobloc garden furniture chair by re-imagining it as an animate object with a personality. Often left out in the rain, Bert's plastic seat extends an arm and puts up an umbrella. In his world, two seats side-by-side embrace each other in companionship. One fun-loving chair grabs a rope and becomes a swing. Bert has recently been investigating the playful possibilities of the Monobloc chair by adapting it to make the pieces of a chess set.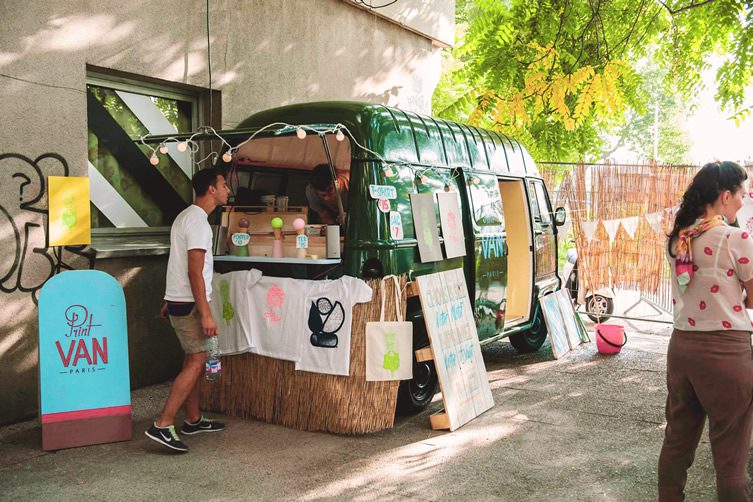 Print Van Paris
Another example of designers wanting to get out and about to really engage with their audience is Print Van Paris. They tour the French capital in the vintage splendour of a former ice cream van, now converted into a mobile print studio, hitting a new location every weekend. A range of designs by international illustrators is available to transfer onto t-shirts, posters and tote bags, with fresh designs added all the time. The Van crew puts the word out about locations in advance through its social media channels.
Per Holmquist's Beat Blox
Swedish designer Per Holmquist has always loved music, and for his graduation project he hit upon an ingenious idea to make music creation a matter of child's play. His Beat Blox is a super-simple drum machine that is programmed using turntables and wooden blocks. Each turntable is capable of producing a range of percussion sounds – sensors on the arm are triggered by the blocks, and their distance from the centre determines which sound is produced. With Beat Blox even a complete novice can be making drum tracks in minutes thanks to its visual simplicity – in fact it's impossible to leave the thing alone once you get going!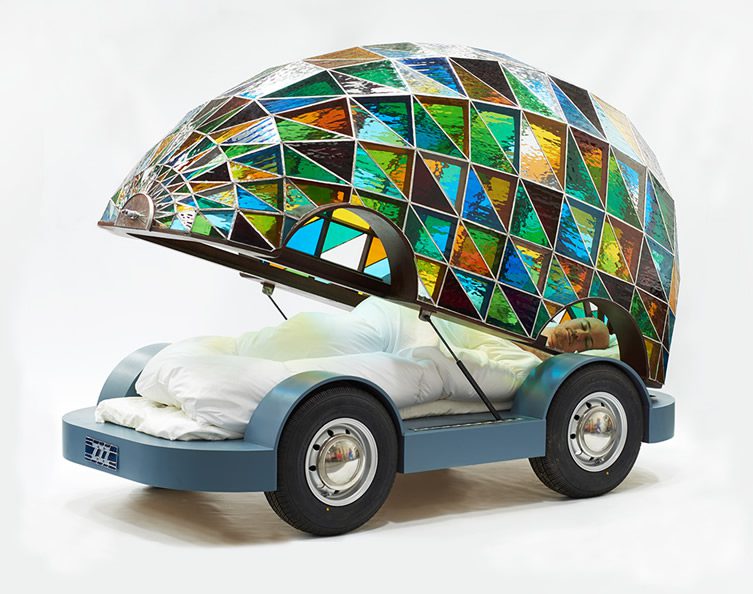 Dominic Wilcox
The development of driverless cars promises to remove the threat of collisions and free up passengers to enjoy their travelling time more. For a recent exhibition, artist Dominic Wilcox got thinking about what kind of car he would really like to spend time in, and a trip to Durham Cathedral provided a moment of divine inspiration. He took the building's beautiful stained glass windows and adapted them to form a restful cocoon, which thanks to technology isn't in danger of being smashed into pieces in a crash – in theory at least, as the Stained-Glass Driverless Sleeper Car of the Future is only a concept vehicle at the moment.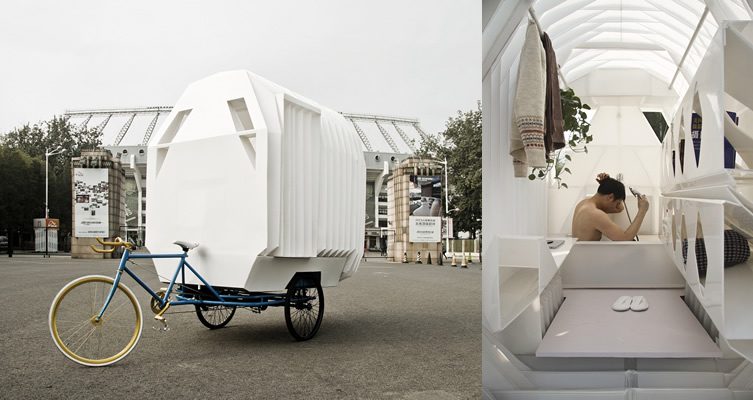 People's Industrial Design Office
Nature never fails to inspire! Snails and hermit crabs have been dragging their shelter around with themselves for millennia, so the idea is clearly a tried and tested success, and the clever folks at Beijing studio PIDO have managed to adapt the concept for human use with their Tricycle House. Using concertina folds in a lightweight material, the trike-drawn shelter can be quickly expanded from compact storage mode to live-in space, complete with reconfigurable storage, furniture – and even bathing facilities! With property prices forever rising, are we looking at the future?
@jimbeam
#MakeHistory