You've seen the lab-like vessels occupying space in the world's hippest coffee shops. It's the 12-hour method of methodically dripping water over coffee beans that typifies the nerdy attention-to-detail that's seen third wave coffee elevate the humble brew; a contraption straight out of a Victorian apothecary painstakingly producing a drink that heightens the subtleties and complexities of coffee.
You probably haven't seen them lined up behind a bar. And that's why Hamburg's dripBAR is such a fascinating proposition for seen-it-all-already revellers. It is innovative and unorthodox—qualities that define this fiercely independent port city on the river Elbe.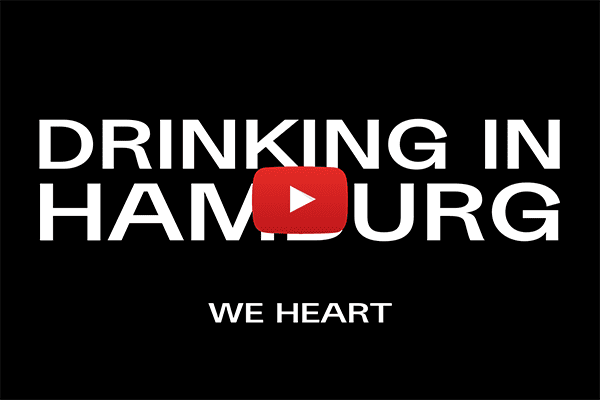 Victoriana may have long rode hand-in-hand with mixology culture, but these are not superficial props raided from a chemistry cabinet for purposes of aesthetic alone; the unconventional minds behind this atmospheric cocktail bar have taken inspiration from progressive baristas and applied it to their world. Think rum dripped through salty peanuts or mezcal slowly finding its way through smoked chipotle; bourbon dripped through oak, or simply coffee, but un-simply paired with rye whiskey, maple and cinnamon smoke …
Team dripBAR's one-of-a-kind spirits hoist their expertly-crafted cocktails to lofty heights—oak drip whiskey sour or salty peanut old fashioned, the cold drip process delivers rich but refined flavours that these crafty mixologists balance to perfection with choice accompaniments. A tight, laidback space amid the boisterous bustle of St. Pauli, dripBAR is table service only and one might expect a wait to be seated, such is its regard among Hamburg's in-the-know. Exceptional quality and effortless cool, by the time you drop in for one of their conceptual cocktails, it's likely you'll have already grasped that dripBAR operates very much within the 'Hamburg essence'. This is a city with spirit, and unconventional is its dogma. Drinking in Hamburg is very much like doing anything else in Hamburg: there's a real sense that you're undertaking something unrepeatable elsewhere.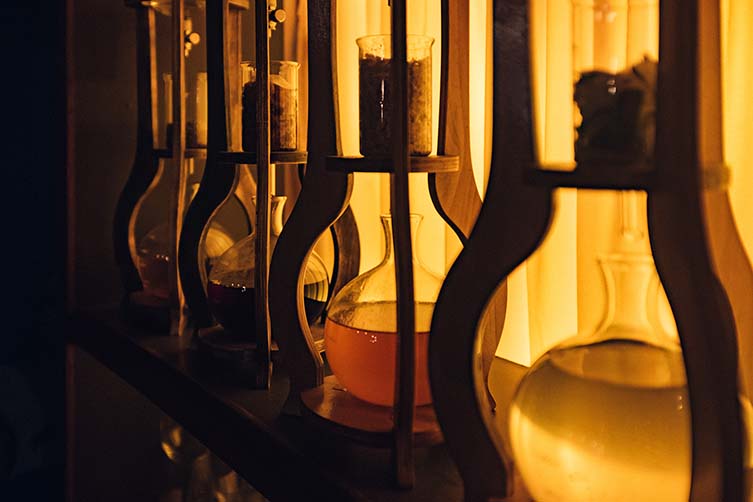 That means treading in the footsteps of the raucous sailors who would sling beer bottles at the young Beatles as they plied their trade in St. Pauli's unruly nightclubs during the early 1960s; drinking until the last person leaves at decadent late-night bars; partying al fresco on the risqué Reeperbahn; or blowing it all in plush drinking dens with more than 100 years of heritage. Many cities have it all, but few have it all and execute it in their own, resolute fashion.
So much has been written about FC St Pauli, the punk football club that boasts the world's most politically-engaged fans, the 'Ultras' that don't fight other football fans, rather for leftwing causes and socially-conscious activism. It is the all-inclusive, culture-forward football club that has transcended its sport, and there can be no better symbol of their neighbourhood's singular spirit. Progressive and inclusive, but unapologetic in its rough-and-tumble disorder. Capable of refinement and glamour, sure, but singularity is a common theme throughout all of Hamburg nightlife.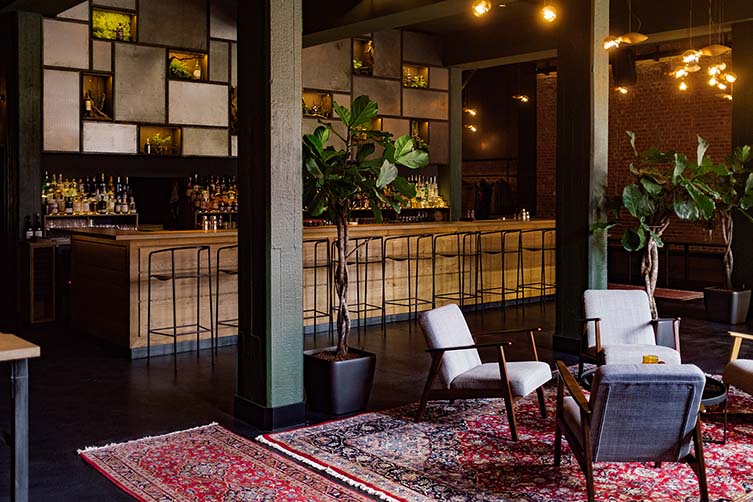 Just opened, Drilling—which means triplet in German—is a café-bar-distillery in the Bahrenfeld suburb that turns out third wave coffee throughout the day, entertains partygoers until 3am, and is the site where the team behind infamous St. Pauli bar Clockers will be distilling spirits like their eponymous gin. A beautiful industrial space with contemporary design pieces and Oriental rugs leads to the shiny bit of kit that'll be put to use in creating those spirits; as a counterpoint, the coffee corner that occupies Drilling's entrance calls on Antipodean aesthetics.
Bringing different things and different styles together, it remains a harmonious coming together, and one that's set to draw savvy Hamburgers out to this neighbourhood. Savvy travellers should follow suit.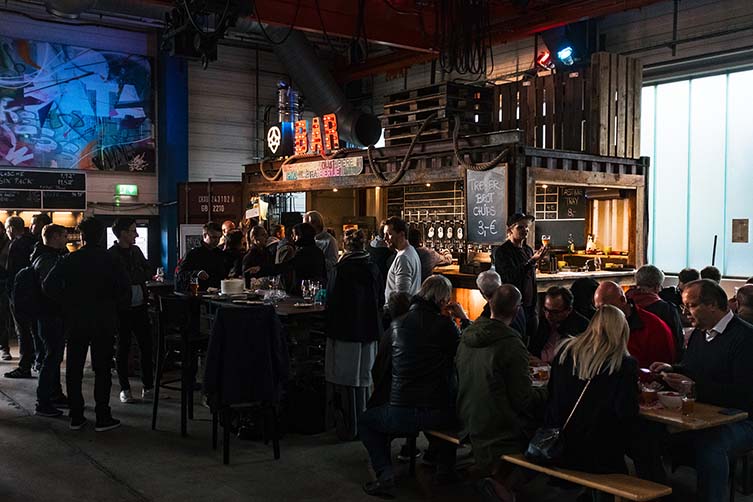 Also off the beaten track is Landgang Brauerei, an internationally-noted brewery that sits at the back of an unassuming business estate. Word travels, though, and when we happen upon this cavernous industrial unit on a Friday evening, the after-work crowd are in full swing; Landgang's eclectic mix of brews being sank by thirsty punters whilst a street food stall churns out hotdogs and, oddly, a wedding reception cranks into second gear. The bride throws her bouquet and the beer flights flow, an opportunity to run through the brewery's range of craft beer styles too good an opportunity to miss.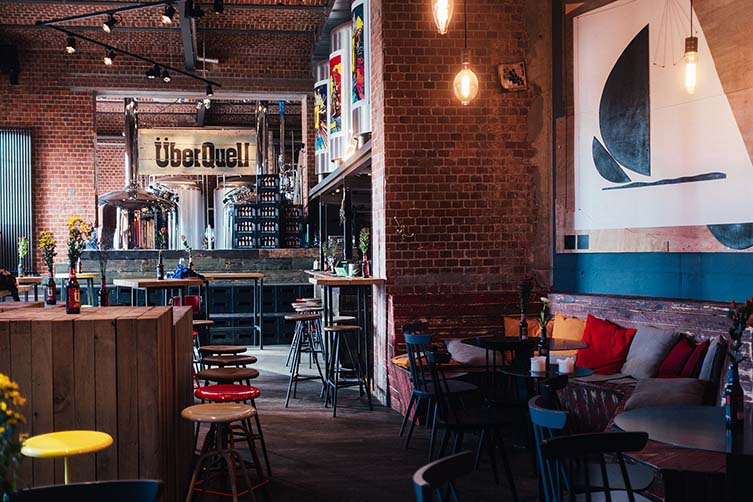 Don't let Germany's famous dedication to beer tradition fool you, craft beer in Hamburg is as plentiful as many a city, excellent bars, shops, and brewpubs accompanying Landgang in catering to those swept up by the International movement for all things artisanal in the beer world. Back in St. Pauli, and the excellent ÜberQuell is one of those spots that has it all—an onsite craft brewery; bar with packed events programming; café; terrace and garden; and restaurant dishing up bona-fide Neapolitan-style pizzas. All on the banks of the city's famous port, and all steeped in the neighbourhood's inimitable quintessence.
With street art adorning their outdoor beer tanks and Instagram-ready aesthetics running throughout, ÜberQuell is a drinking venue rich in both style and substance.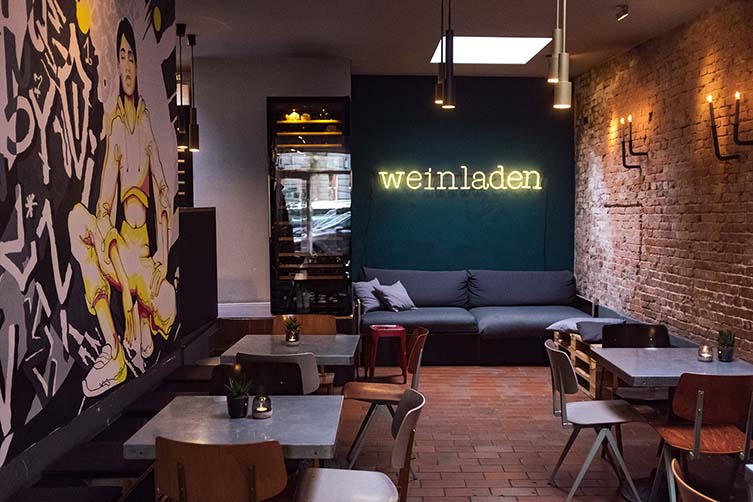 And it's not just artisan ales that can be found in this part of the city. Founded on the dogma of 'wine without dress code', nearby Weinladen is a shop cum wine bar seeking to bust the myth that wine need be stuffy and elitist. With knowledgeable and friendly staff, street art on its walls, and label collaborations with local artists, this is a project that has adopted the accessibility of craft beer and is bringing wine to an entirely new audience.
Again typical of the Hamburg attitude, Weinladen is passionate and inclusive, and stocks some splendid small-batch tipples that are capable of suiting any occasion—its unpretentious owners on hand to help you find the perfect match.
Of course there's glamour to be had in the city, and Hamburg needn't be defined by the grit and alternative edge of St. Pauli alone. Continuing the tradition of high-end drinking culture at Hotel Reichshof Hamburg, Bar 1910 is—as its name suggest—drenched in history and heritage. Carefully restored to all its art deco grandiose, expect the classics crafted to perfection.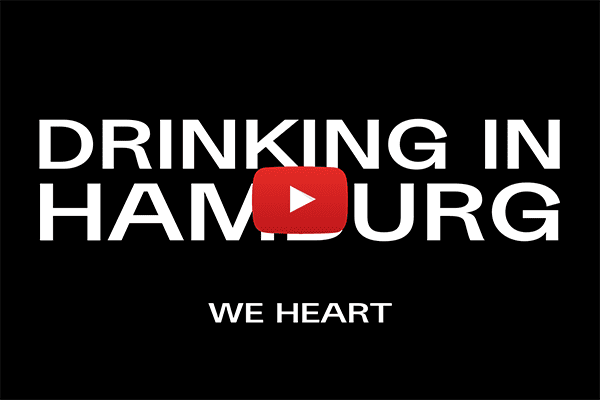 For those seeking a side of contemporary with their glamour, Le Lion – Bar de Paris is a central spot packing a punch of serious sophistication. Laying claim to being the birthplace of the Gin Basil Smash—an alien-green muddle of basil, gin, lemon juice, and sugar—its on-point attention to detail means its position as one of Germany's leading cocktail bars has remained intact since acclaimed bartender Joerg Meyer composed his now world famous cocktail a decade ago.
So … grandiose to grit, and everything in between—drinking in Hamburg is a unique proposition. Bartenders and owners will speak highly of one another's businesses, and the tight-knit community is warm and welcoming—make conversation and your time here will unfold. Independent and unconventional, Hamburg never disappoints. Be it coffee or craft beer, cocktails or anti-elitist wine, your weekend might take you on twists and turns, yet one certain remains: this is a city that knows how to have a party.
Embrace it.
_dripbar_
drillinghamburg
landgang_brauerei
ueberquell
weinladenstpauli
barlelion