elbgold—meaning 'The Gold of Hamburg'—are the first speciality coffee roasters in Hamburg. As well as trading directly with coffee farmers in Honduras, Guatemala, Ethiopia, or India, the team are also café entrepreneurs.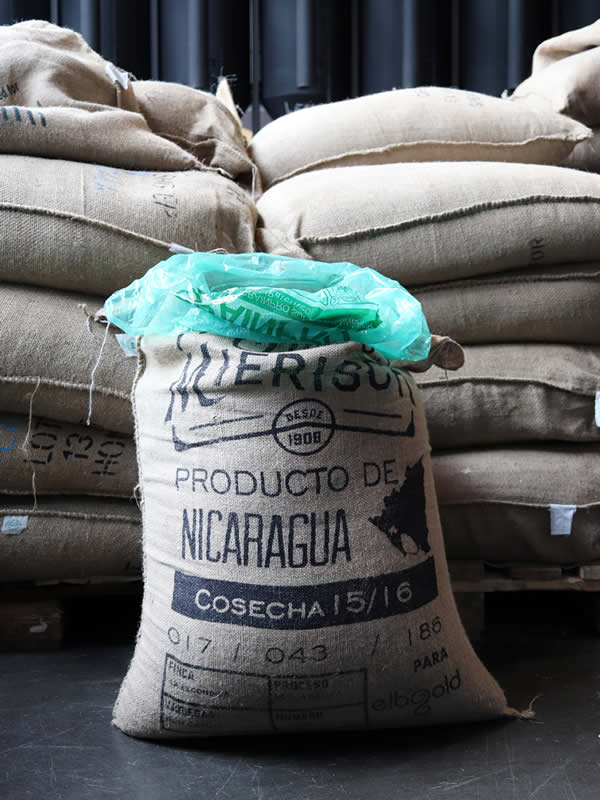 Founded in 2004 by super-couple Annika Taschinski and Thomas Kliefoth, the expert roasters are changing how, where, and when Hamburgers are drinking their coffee. From super healthy breakfasts to early evening coffee cocktails, the duo have designed a coffee-culture like no other in the city. Their six cafés are all distinctively unique in term of design. You can choose from cosy neighbourhood meeting spots to minimal coffee labs or an open roastery, all designed by Kliefoth who is an architect by trade, with Taschinski's added flair for design.
Each elbgold location boats exposed natural wood, clean lines and delicate touches of gold, black, and other tones. It's not all about aesthetically pleasing spaces though—their hand-crafted artisan approach extends to fair and direct coffee trade and transparency; not to mention superlative coffee. The duo's relationships with their chosen farmers are key to not only the best possible cup of gold, but to the future of coffee farming globally. As pioneers of speciality coffee in Hamburg, they are setting high standards in which we hope others may follow.
The elbgold philosophy extends to their dedicated, and we found that they're all coffee aficionados. Yuri, the chief barista, is an award-winning latte artist; their social media specialist Rike is a coffee and café culture blogger; and their chief roaster, ex-chef Basti, knows more about the complexity of coffee than we could ever imagine.
On our latest visit to Hamburg, we chatted to the elbgold family over several aromatic brews to discover more about their genuine love for ethical, top quality coffee.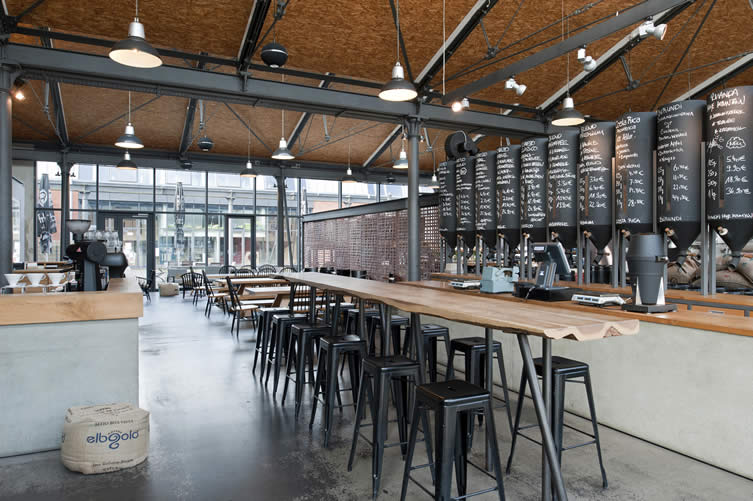 What did you do before you fell in love with coffee?
Annika: I was working in PR, but always had a love for coffee. As well as the passion for the product, I always loved being a host and I wanted to do something meaningful. Coffee is also the link between my partner Thomas and I. The first birthday present he gave me was an espresso maker, espresso cups, and beans.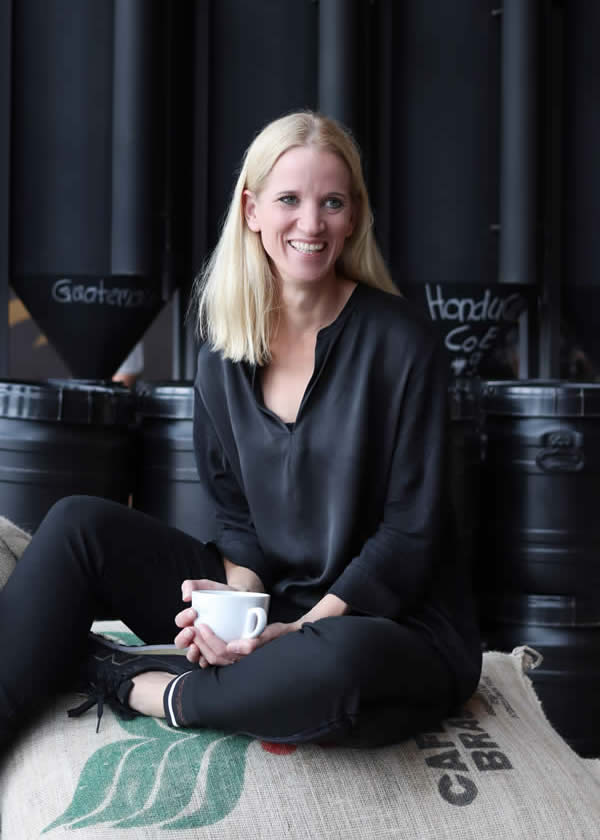 It was back in the early 1990s when we had the idea of opening a roastery together. It took a few years for us to realise it, and after 24 years our love for coffee remained. That's how things led to us opening elbgold in 2004 and to sourcing speciality coffees directly from the farmer.
Tell us about your Hamburg cafés/stores/brew houses …
Annika: We're pretty happy with our current locations, and with what we've achieved so far. All our cafés are unique—we have cosy neighbourhood meeting spots; minimal coffee labs; and an open roastery. Our current focus lies in our direct trade relationships, on working with star-awarded restaurants serving our coffee, on reconstructing our patisserie, and so on.
Please tell us about the 'washing' process; does natural, honey or washed green beans make a difference to coffee after roasting?
Basti: Roasting a natural processed coffee creates a sweet, berry-like profile with a good body, perfect for espresso blends. A washed coffee has a more complex acidity; it's very elegant and smooth and also showcases floral notes. You could say that a washed coffee shows more of the coffee's character. A honey-processed coffee contains between 30 and 80 per cent of the pulp when being dried, so that the tasting profile can vary.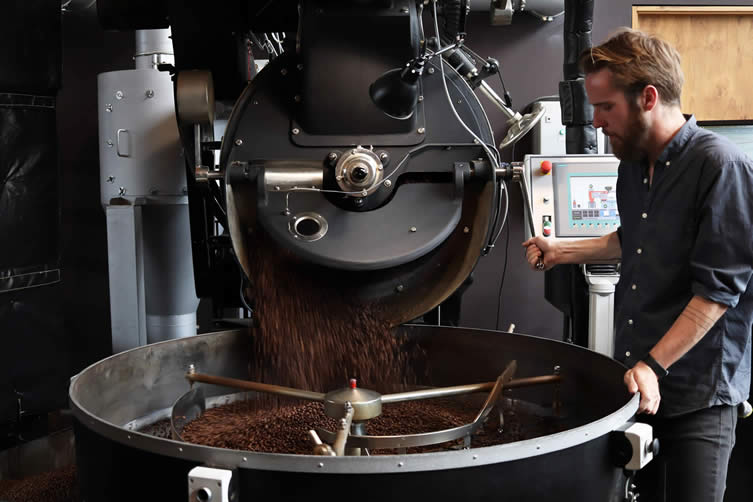 We're sure you've been asked a million times, but what makes the perfect coffee?
Basti: For me the perfect coffee is not just about high-quality green beans, it's about how it is roasted and brewed; as well as being enjoyed in a lovely surrounding. It's also about the history of the product, about telling the farmer's story. So for me, the perfect cup of coffee somehow brings together the customer and the producer.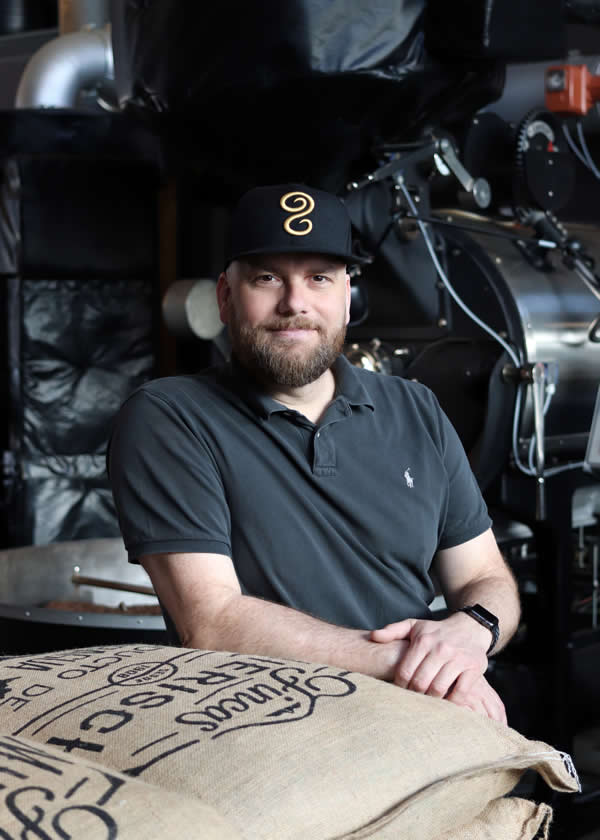 Why do you choose to deal with farmers directly? Why is it essential to the elbgold philosophy—and is this your take on Fair Trade?
Thomas: Our philosophy is all about direct trade with farmers because this means being fair and sourcing the best qualities at the same time. Because of our direct trade, we can make sure that those people who work the hardest are fairly paid fair and that their working and living conditions are appropriate. We care a lot about this social aspect. Our entire coffee producing process is entirely transparent too, we can visit the farms, see where the coffee grows, how it is processed etc., and therefore source the best qualities and build long-term relationships with the farmers; which also improves the quality.
You buy directly from farmers in Honduras, Guatemala, Ethiopia, and India. Are there particular flavours that beans grown in these climates possess?
Basti: Ethiopian coffees are known for tea-like and floral notes. Coffees from India have good body, with brown sugar and spicy notes. Coffees from Latin Americas are known for being light, chocolatey, with notes of yellow/orange fruit like peach or apricot. You could also say that there's no country-specific profile. Coffees can taste very different depending on the climate, soil, and altitude. When we take part in the 'Cup of Excellence' in Costa Rica or Peru, or any other international competitions, we can taste so many different coffees from one country; they are so diverse.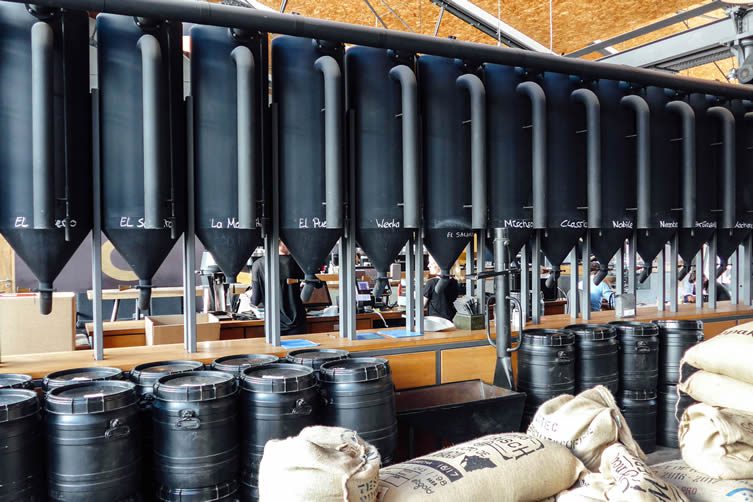 You create a lot with coffee—from cold brews to filter, cocktails, and even nitro—what trends do you see currently emerging?
Rike: Nitro and coffee cocktails are the latest trends. It's part of the so-called 'New Wave Coffee' trend. But 'New Wave' includes more than just coffee. It's also about a healthy and good-quality food; which, of course, is beautifully styled. So it's the whole package.
Tell us about the coffee 'scene' in Hamburg. Is it as geeky and thriving as in London, Portland, or Melbourne? How do you feel about being the pioneers of speciality coffee in your city?
Basti: Hamburg's coffee scene is pretty small and not comparable to those in other cities. That's why others may see us as pioneers because we were the first ones. Fundamentally, we roast coffee because of our passion, not because we want to be pioneers.