Having been invited by Ford to a very special unveiling at Salone del Mobile 2012 only seven days earlier – erm, hell yeah – we boarded the decidedly early morning flight and embarked on our fleeting journey. Arriving at Linate airport just under two hours later, a car was waiting to take us to the hotel for a quick freshen up before driving onwards to the event.
The Via Tortona district – teaming with designer types and press, there for what is most certainly design's most prestigious affair – seemed a very fitting location, and walking into the impressive courtyard, I get my first sighting at the reason I'd been whisked over to Milan. Sat underneath a stylish canopy, at the equally stylish Gianfranco Ferré Foundation, was the all-new Ford Kuga – showcasing the evolution of their 'Kinetic Design' on the compact SUV platform. Highlighting its spacious, high-quality interior, my first impression was – quite suprisingly – that I really liked the look of it. Sturdy and sizable without being bulky or too big.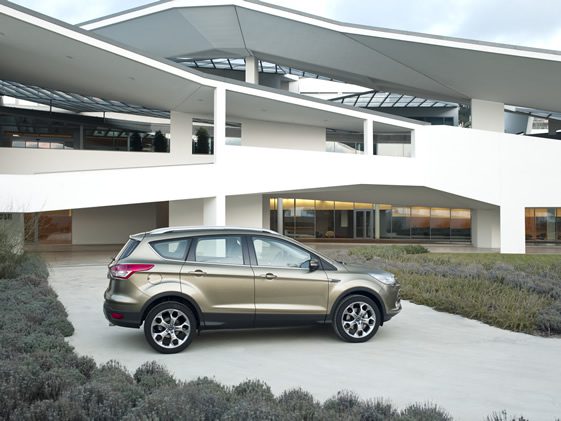 So after many a lovely canapé and flute of champagne later, it was time for Ford's Cologne based experts; Christopher Bird, Director, Global Colour, Materials and Vehicle Personalisation Design, Erika Tsubaki, Studio Manager, Design, Strategy and Futuring, Ford of Europe and Ulrike Dahm, Colour and Trim Supervisor, Ford of Europe to tell us a little more.
Former Royal College of Art student Chris Bird spoke more of kinetic design being high on their list of priorities, starchitect Santiago Calatrava was mentioned, and his influences were clear to see in the fluidity of the headlights that sweep into the wheel arches.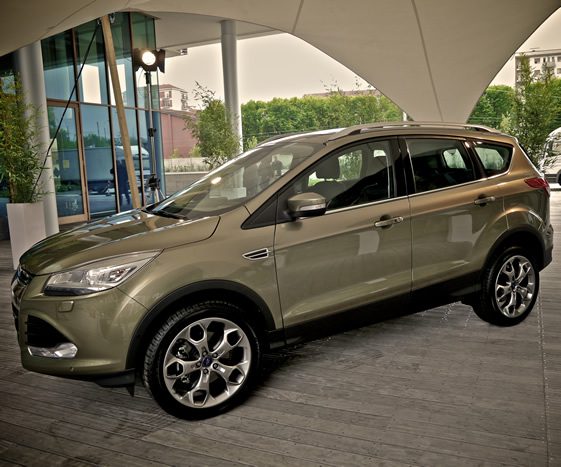 Next up was self confessed car fanatic Erika Tsubaki who described how Ford had taken on global trend-spotting in order to meet the needs of the more design-savvy consumer. "These days 'good enough' is no longer enough, the car has to be stylish, affordable and fulfill the purpose it's intended for".
Ulrika Dahm then went on to speak of the interiors and trims and how there had to be tweeks for the different markets they were trying to appeal to. I found it interesting that in Europe, colours and trim take a lot of influence from the technical industry, and are therefore generally darker, whilst in Asia light and airy is the preference, reflecting a luxury appeal. That said, a decision had been made to launch the car globally in one colour – Ginger Ale – a subtle green hue, stylish enough to suit urban landscapes across the world and still have a playful edge. I liked it, the name too.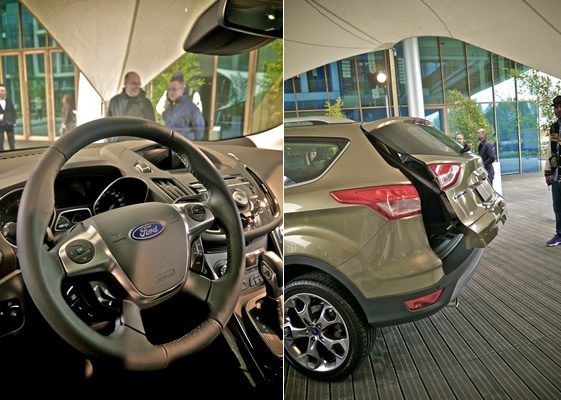 All the tech spiel over and done with, we were given the opportunity to take a closer look at the all-new Kuga, whilst reflecting upon what had just been said. We Heart were in Berlin last year for the unveiling of the Ford Evos concept car – along with much talk of their Global Design DNA – and it's clear today that their commitment to evolving the brand's overall look is shaping up as they intended.
Their kinetic design harks to the iconic big boys of German car design, whilst all the time maintaining their strong fluid look. Typically for Ford, functionality remains high on their list of priorities, with a few fun twists thrown in for good measure – the hands-free auto tailgate being my stand-out favourite.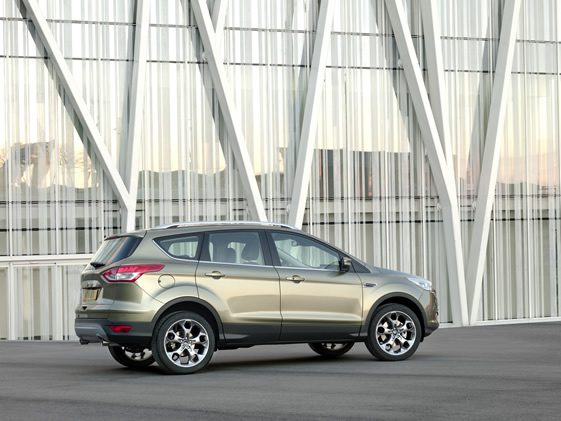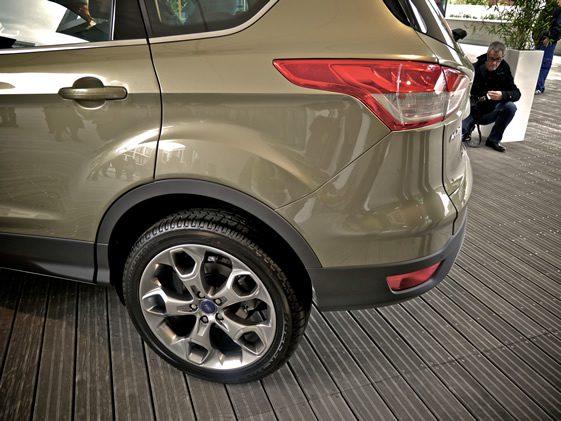 The all-new Kuga will go on sale in the UK at the end of this year.