With outposts in Vietnam, Cambodia, and soon-to-open locations in India and Japan, PIZZA 4P'S is a modest brand with a broad conscience, and one on a mission to 'Make the World Smile for Peace' one pizza at a time.
For their opening in Phnom Penh, Cambodia, architecture studio Bloom Architecture transformed plastic waste into the main material used throughout the design, an innovative and conscious move that demonstrates creativity whilst reducing waste and helping the environment.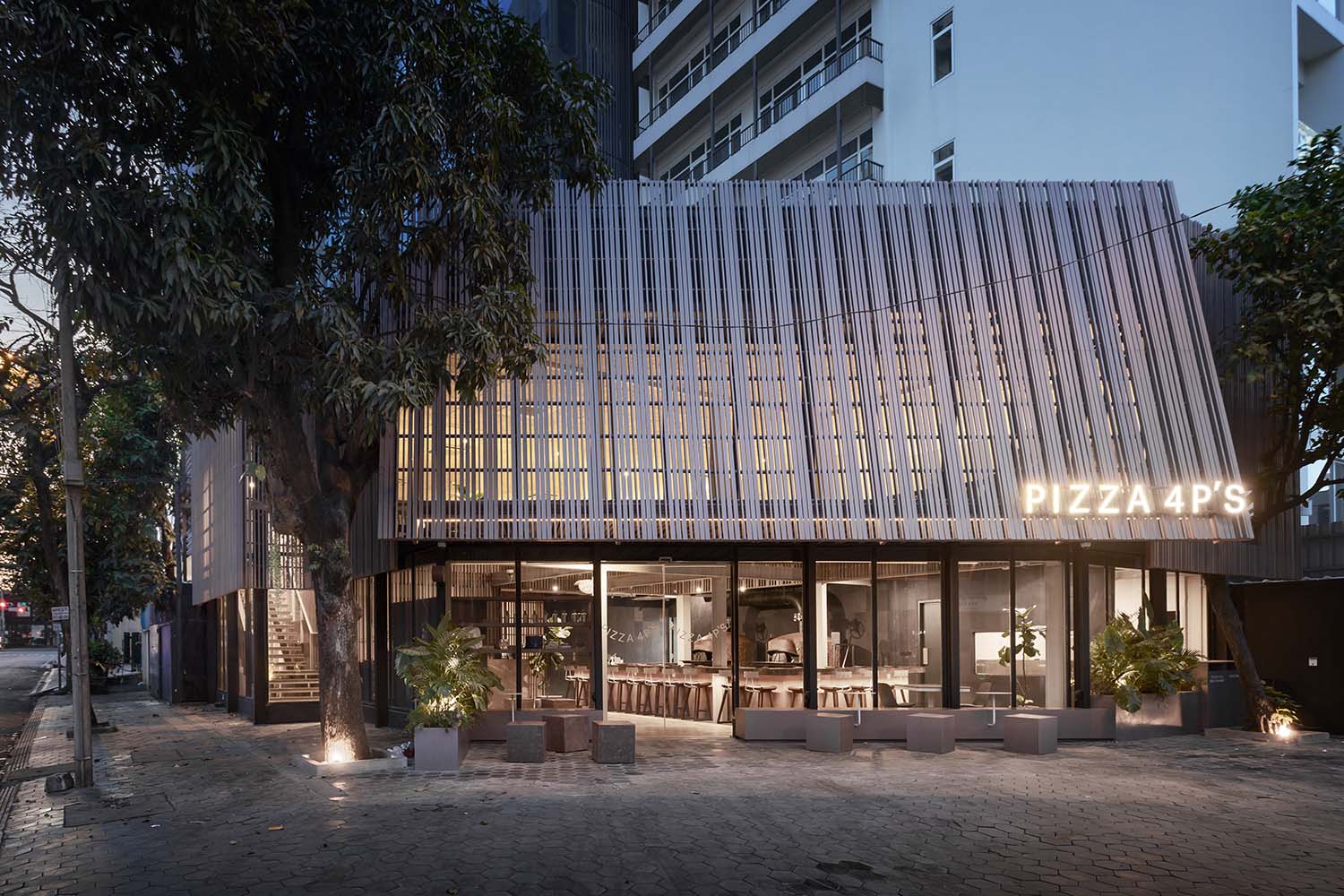 Sitting at the corner of a busy crossroad of the BKK1 district, the Japanese-Italian pizza restaurant — hugely successful since opening its first branch in Ho Chi Minh City in 2011 — serves authentic Italian fare fused with a Japanese culinary influences. With a welcoming ambience and a commitment to sustainability, the chain has grown to more than 20 restaurants with more to open in the imminent future.
The zero waste concept saw Bloom Architecture commence with the use of a core material, recycled plastic profile (23 x 55 x 2,400mm) fabricated from 7.8 tons of plastic waste by PlasticPeople in Vietnam. These profiles were assembled to become louver, and dress the existing building entirely while still maintaining a full preservation of the existing elements such as the curtain wall, roof, structure and surrounding greenery.
With an overall contemporary and sociable vibe, coupled with conscious design and fab food, PIZZA 4P'S is not only satisfying taste buds but also nurturing a sustainable and eco-friendly dining experience that resonates with their mission. So, whether you're enjoying their delicious pizzas in Phnom Penh, Ho Chi Minh City, or any of their future locations around the world, you can savour every bite with the knowledge that you're contributing to a better, greener world.