When a chance meeting led Fleet Street photographer Derek Cattani to cross paths with Australian-born John Rendall and Anthony (Ace) Bourke, little did he know that he'd become a trusted member of a lion cub's human pride.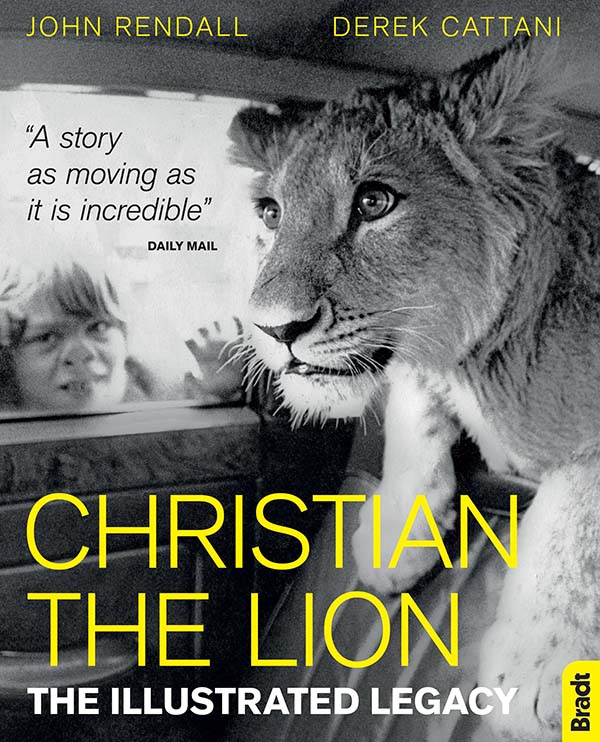 It's a story that could only belong to London of the 1960s. John and Ace bought a three-month-old cub at Harrods, which they would name Christian. (Before the 1976 Endangered Species Act, you could buy practically anything at the store's pet department. Ronald Reagan, in 1967, snapped up a baby elephant called Gertie.) Often seen traipsing the King's Road in Chelsea with a cuddly ball of fur, the Aussie duo would take him for walks before settling him in for the day at their pine furniture shop, Sophistocat, in World's End on the same road. Heady days.
Invited to visit Christian, photographer Cattani decided to gain the cub's trust, which—with patience and regular visits—eventually enabled him to shoot pictures of the lion in his comfortable place, doing what came naturally to him. And what came natural to a baby lion tottering around the streets of west London? Drinking water from the toilet bowl; mingling with the local children and playing football; hanging out with models and celebrities like James Hunt; having his mane coiffured; enjoying car rides down the King's Road … generally being incredibly cute.
From months-old cub to a lion rapidly outgrowing his London home, Cattani captured Christian's evolution, even to the point when the foursome would travel to Kenya and responsibly say their goodbyes; British wildlife conservationist and author George Adamson entrusted to rehabilitate the lovable beast into the wild. Successfully integrated into his natural habitat, what happened next would become a viral sensation.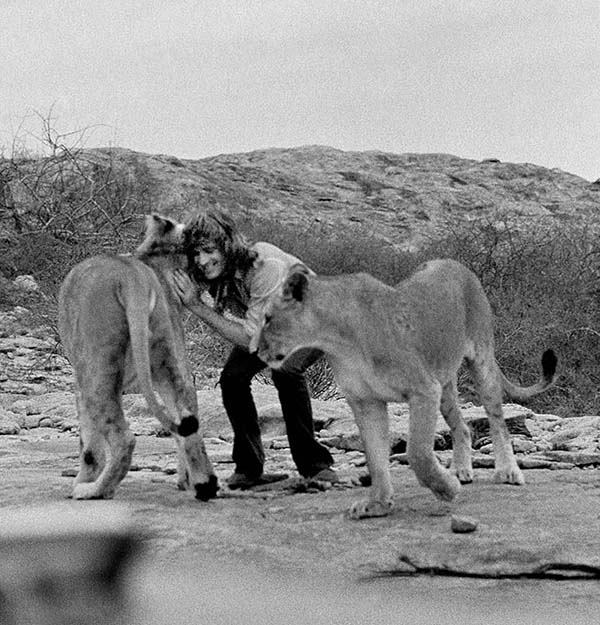 Two years later, Rendall and Bourke would return to check on their beloved cub's progress, only to be greeted by Christian in a manner that won't fail to make you cry. A video of the trio's 1971 reunion, first posted on a fan web site in 2002, has now racked up millions of plays across several different YouTube videos. Enraptured at seeing the Australians, Christian bounds over and wraps his mammoth paws around their necks, nuzzling their faces like a dog whose owner has just returned from work. It's emotional stuff, and ensured lasting memories for the duo and their photographer. After a second reunion in 1973, George Adamson would begin counting the days since seeing him. He stopped at 97.
"In 1969, when we took Christian to Kenya," says John Rendall, "there were an estimated 400,000 wild lions in Africa. As this book goes to press in 2018, there are probably fewer than 20,000. In less than 50 years, the lion population has plummeted by more than 90%. Hopefully Christian's legacy will raise awareness of the threat to all wildlife." Inspiring a lifetime of conservation, the Chelsea cub's story that captured the imagination of the world has been published as an illustrated book featuring scores of never-before-seen pictures from Cattani, with Rendall recounting his story in what makes for an emotional and inspiring read.
From Ilfracombe Zoo to Harrods, the King's Road to Kenya and a life of hope, Christian the Lion: The Illustrated Legacy is published by and available now from Bradt Travel Guides.