A hotel and social hub, TRIBE Phnom Penh Post Office Square has opened in the Cambodian capital. With 260-guest rooms, a flexible coworking space, spacious lobby lounge and urban playground up on the roof, the design-driven hotel concept signalling the brand's first in the Southeast Asian country.
A place for the modern traveller and locals to convene with like-minded souls and entrepreneurs, TRIBE Phnom Penh Post Office Square offers an affordable design-driven alternative in the city, providing the details that matter and none that don't. Rooms are available in six categories and focus on functionality, style and comfort; amenities including the TRIBE signature bed, sweat robes, Nespresso coffee machines for that early morning kick, and KEVIN.MURPHY haircut products.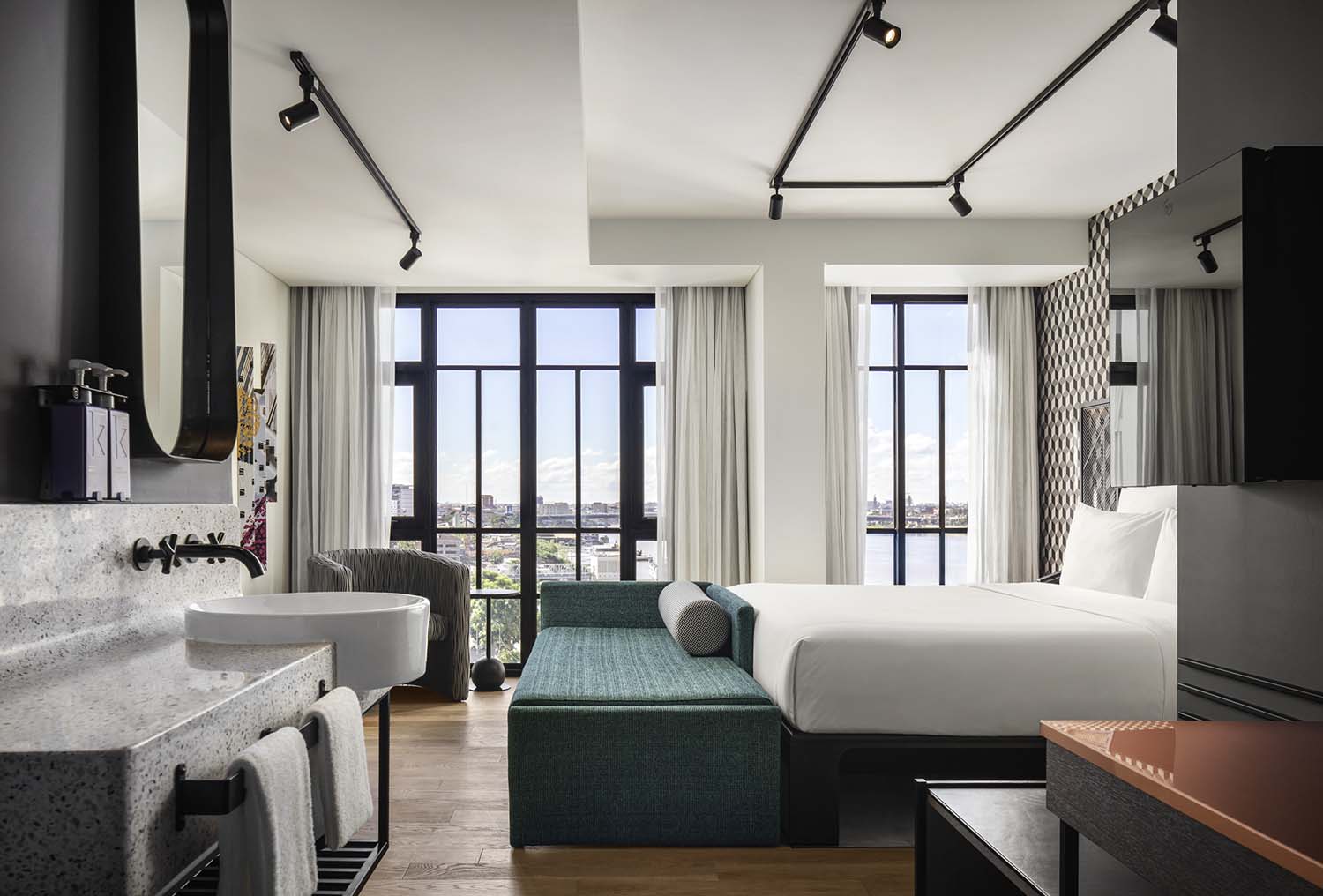 In keeping with the hotel's prime location bordered by heritage buildings, the Mekong riverfront promenade, and the historic temple of Wat Phnom, TRIBE Phnom Penh Post Office Square is a destination for people to socialise with both international travellers and locals welcome to use the space as either accommodation, a collaborative workspace, decompression zone, social destination, or art gallery. With common areas designed as a focal point, the sizeable lobby lounge is filled with bold furniture statements and is the place to enjoy coffee from local roasters whilst hatching that next big plan.
The Workout Atelier is perfect for fitness fanatics whilst up on the hotel's rooftop, urbanites come out to play be that in HEMISPHERE, TRIBE'S culinary concept serving international dishes with spectacular Phnom Penh views, or at Mezcal Mad Memories 21, the hotel's bar which serves some killer Mezcal based beverages and is surely set to be Phnom Penh city hotspot.
Bring a bold new energy to Cambodia, combined with creative hospitality and vision by Ennismore, TRIBE Phnom Penh Post Office Square transplants a design-forward urban concept one might expect in London or New York to the frenetic heart of Southeast Asia.