A veritable Detroit landmark, the 38-story Louis Kamper-designed Book Tower was the city's tallest structure when it opened in 1926, and transformed Washington Boulevard into an upscale destination.
Today, following a $400 million restoration and renovation undertaking, the historic building has been transformed into Motor City's hottest dining and drinking venue, as well as home to the recently opened ROOST Apartment Hotel, ideal for sophisticated, extended stays and providing the perfect vantage point to enjoy the heart and soul of Detroit.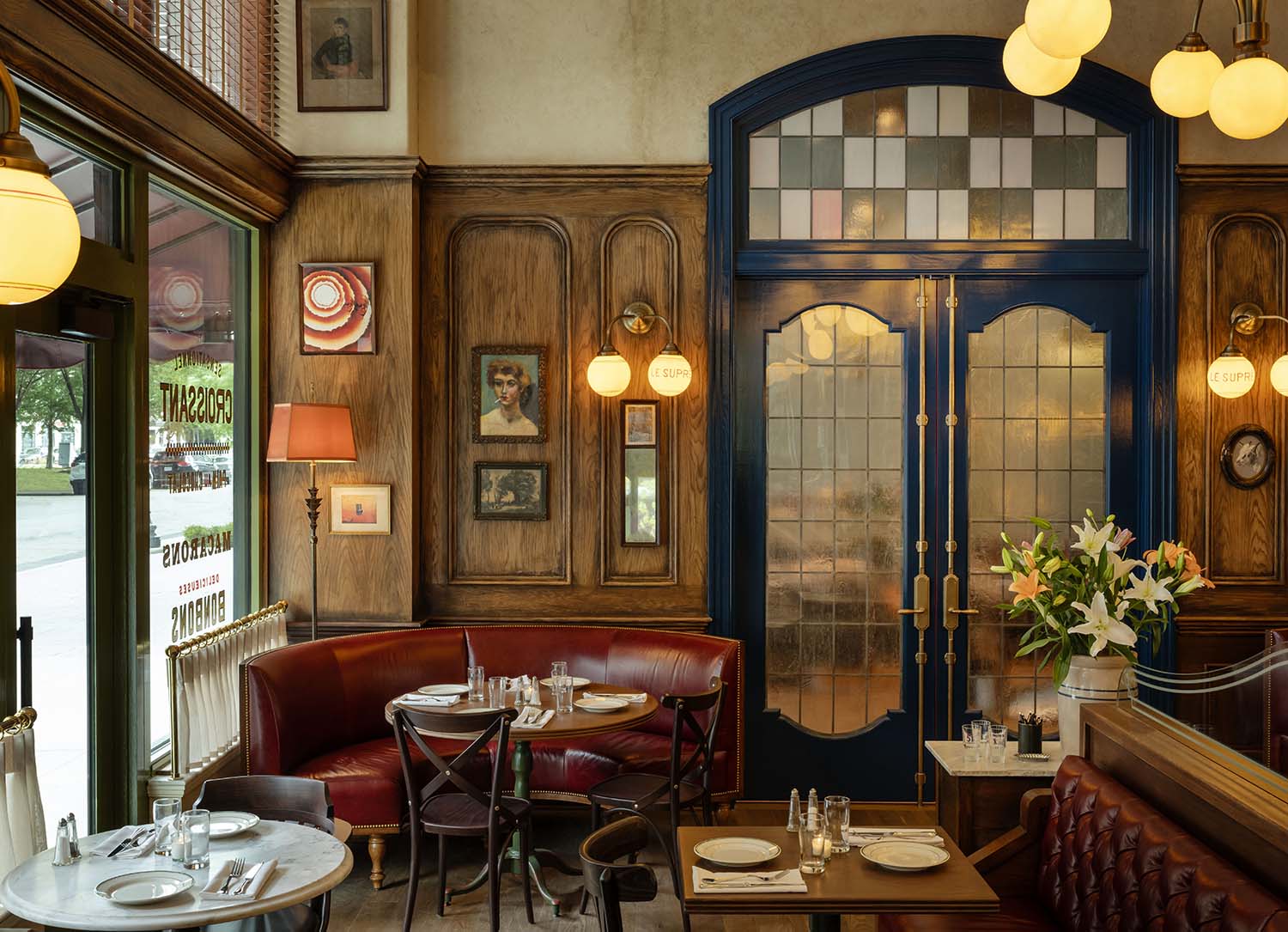 Philadelphia-based hospitality company Method Co. collaborated with real estate firm Bedrock to conceptualise and bring to life seven different hospitality offerings including 6,200 square-foot, Parisian-inspired brasserie Le Suprême; the city's hottest rooftop bar Kamper's, which is located high up on the 14th floor and offers sweeping city views; the soon to open Bar Rotunda, which sits proudly beneath Book Tower's spectacularly restored 100-year-old Keppler Glass dome; and several Japanese concepts including Sakazuki, an intimate street level sake pub.
Following a seven year restoration, the previously vacant turned mixed-use destination transforms a historical landmark into the place to be and be seen in Detroit. Book Tower as much a place to stay, eat and drink, as it is to brush up on the days-gone-by of Michigan's largest city, this iconic landmark is set to write a new chapter in its already fascinating up and down and up again history.
Let's have a look in more detail at some of Book Tower Detroit's star attractions…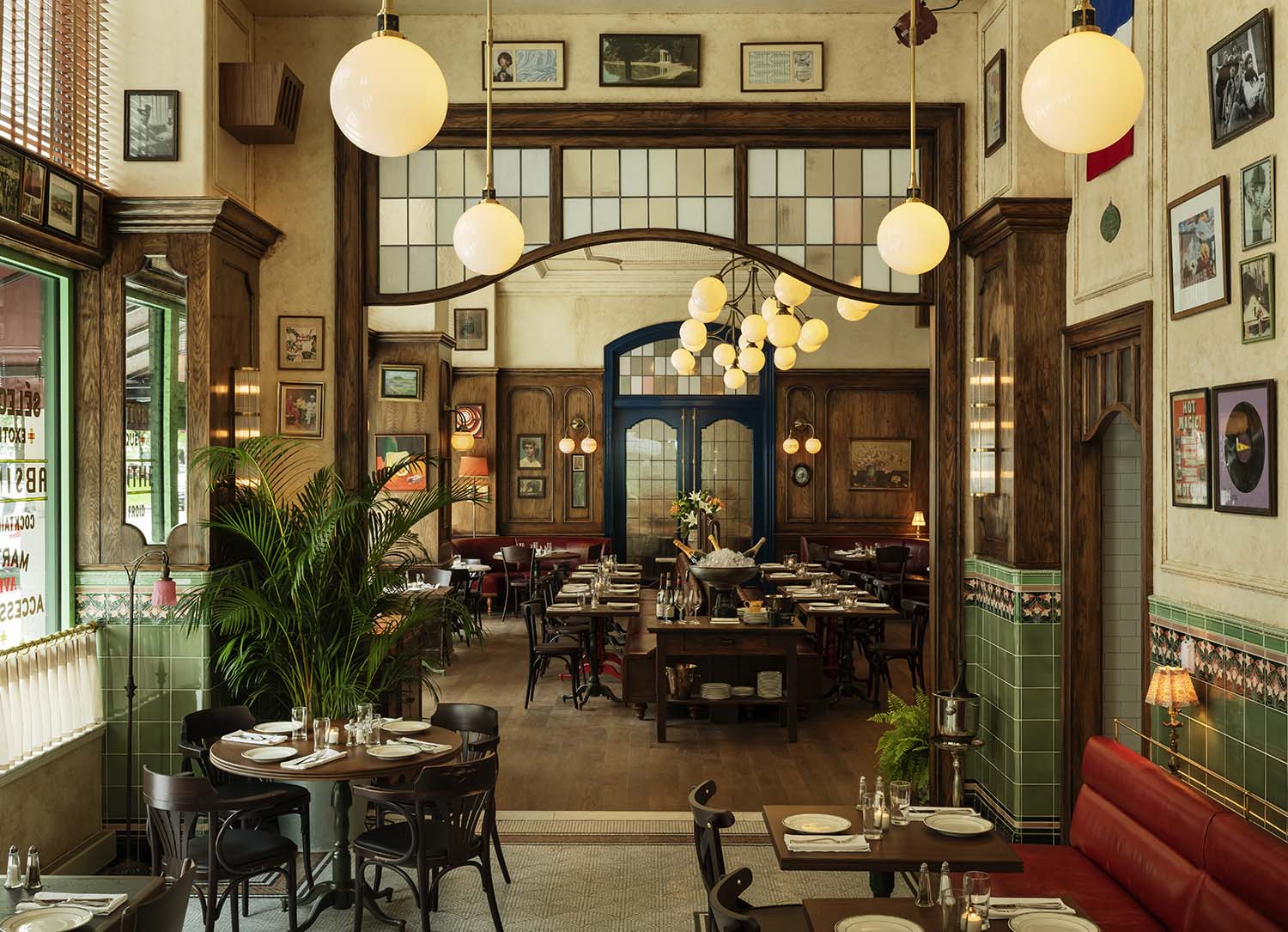 Le Suprême Detroit
Newly unveiled in the heart of Detroit, Le Suprême redefines the essence of French dining with its expansive brasserie, stretching across an elegant café and bar, a sophisticated dining area, and charming outdoor seating along the verdant Washington Boulevard.
This culinary gem entices guests with an array of French delicacies, ranging from lavish seafood towers and classic steak au poivre to the beloved moules frites, complemented by a selection of artisanal breads, pastries, and desserts crafted in the brasserie's own boulangerie and patisserie. At the heart of Le Suprême, a full-service bar stands out, offering a unique absinthe experience, an expertly curated cocktail menu, and an extensive collection of over 300 champagnes and wines from around the globe.
Le Suprême's sprawling 6,200 square foot interior accommodates up to 210 patrons wih a design that marries tradition with local flair, featuring a classic La Bastille zinc bar top, exquisite hand-made European art nouveau tiles, intricate hand-clipped mosaic marble flooring, and plush oxblood leather booths.
These elements are harmoniously interwoven with locally sourced vintage artwork, lamps, and furniture; each piece thoughtfully curated to echo Detroit's rich musical and cultural heritage. Le Suprême's walls are adorned with photographs and art pieces inspired by France's legendary Le Mans car race, seamlessly connecting the brasserie to Detroit's storied automotive history. Additionally, the brasserie boasts a cozy 24-seat private dining room, complete with a fireplace, providing an intimate setting for exclusive gatherings.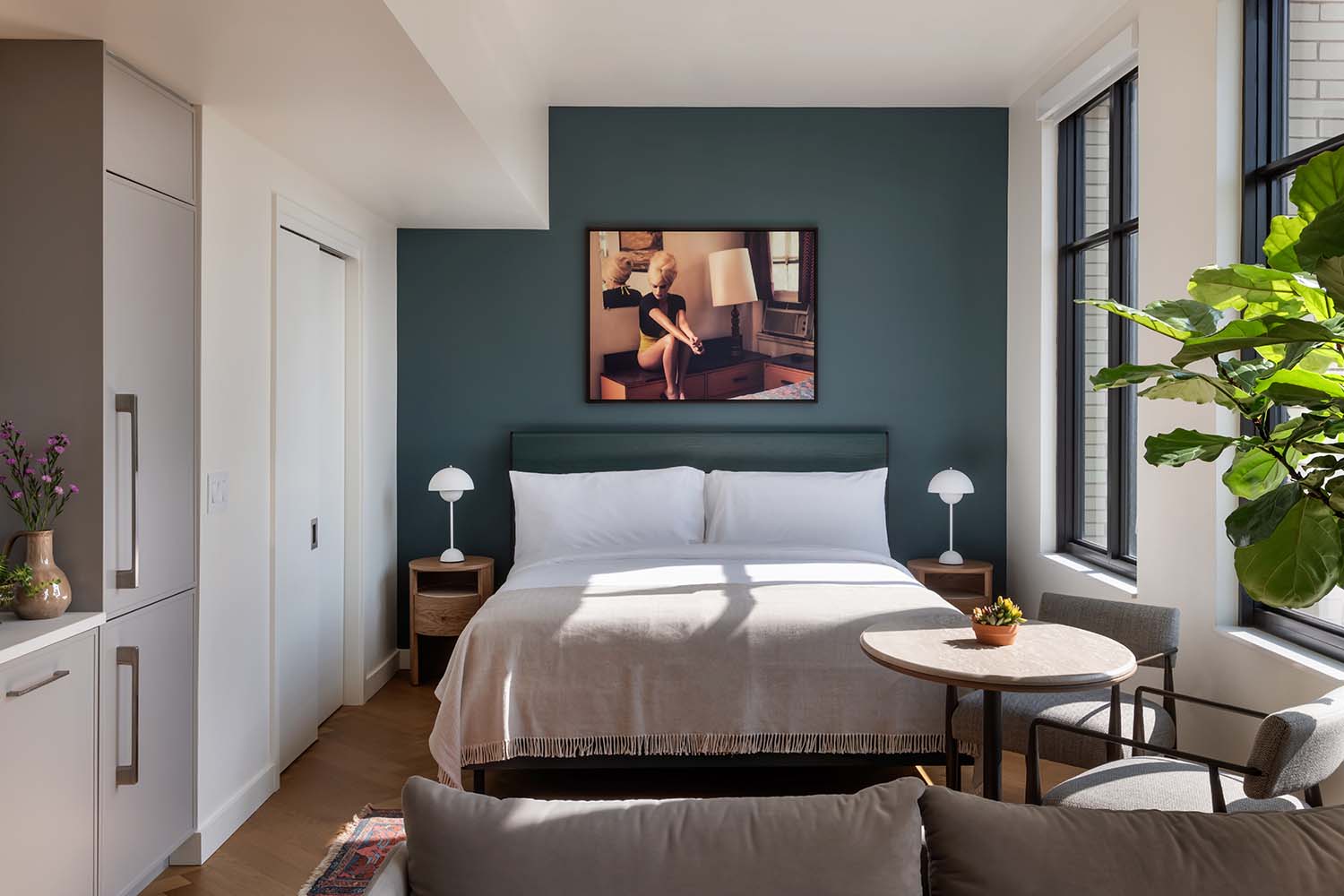 ROOST Detroit
Set within the reimagined Book Tower, ROOST Detroit emerges as a premier destination, offering an unparalleled vantage point to immerse oneself in the vibrant essence of the Motor City. This remarkable establishment, blending the allure of inviting restaurants and bars with the luxury of hotel-inspired amenities, stands as a testament to the architectural and cultural revival of Detroit. ROOST Detroit at Book Tower isn't merely a place to visit; it's a starting point for a new, exhilarating chapter in the heart of the city.
The thoughtfully curated community spaces within the apartment hotel, both indoor and outdoor, provide a versatile environment. These areas are impeccably designed to accommodate a variety of needs, from hosting important meetings to maintaining fitness routines, or simply cherishing a quiet moment with family amidst the backdrop of the city's historic charm.
Each apartment in ROOST Detroit has been crafted to serve as a sanctuary of sophistication and comfort. Designed with a keen eye for detail, these spaces are meant to cater to all aspects of life, whether it's unwinding in tranquility, focusing on work, or hosting guests with ease and elegance. Here, every corner resonates with a sense of home, ensuring a seamless transition for guests, regardless of the length of their stay.
Adding to the allure, the hotel infuses the essence of boutique hotel living into each apartment. Guests can indulge in the simple luxury of sipping coffee sourced from La Colombe, pampering themselves with high-end bath products, and reveling in the soft embrace of lush SFERRA linens, complemented by weekly housekeeping services.
Enhancing the experience, a dedicated concierge stands ready to assist with any request, available 24 hours a day, ensuring that every need is met with the utmost attention and care. In this way, ROOST Detroit at Book Tower redefines the concept of urban living, marrying the comforts of home with the luxury of a boutique hotel, all set against the dynamic backdrop of Detroit's rich heritage.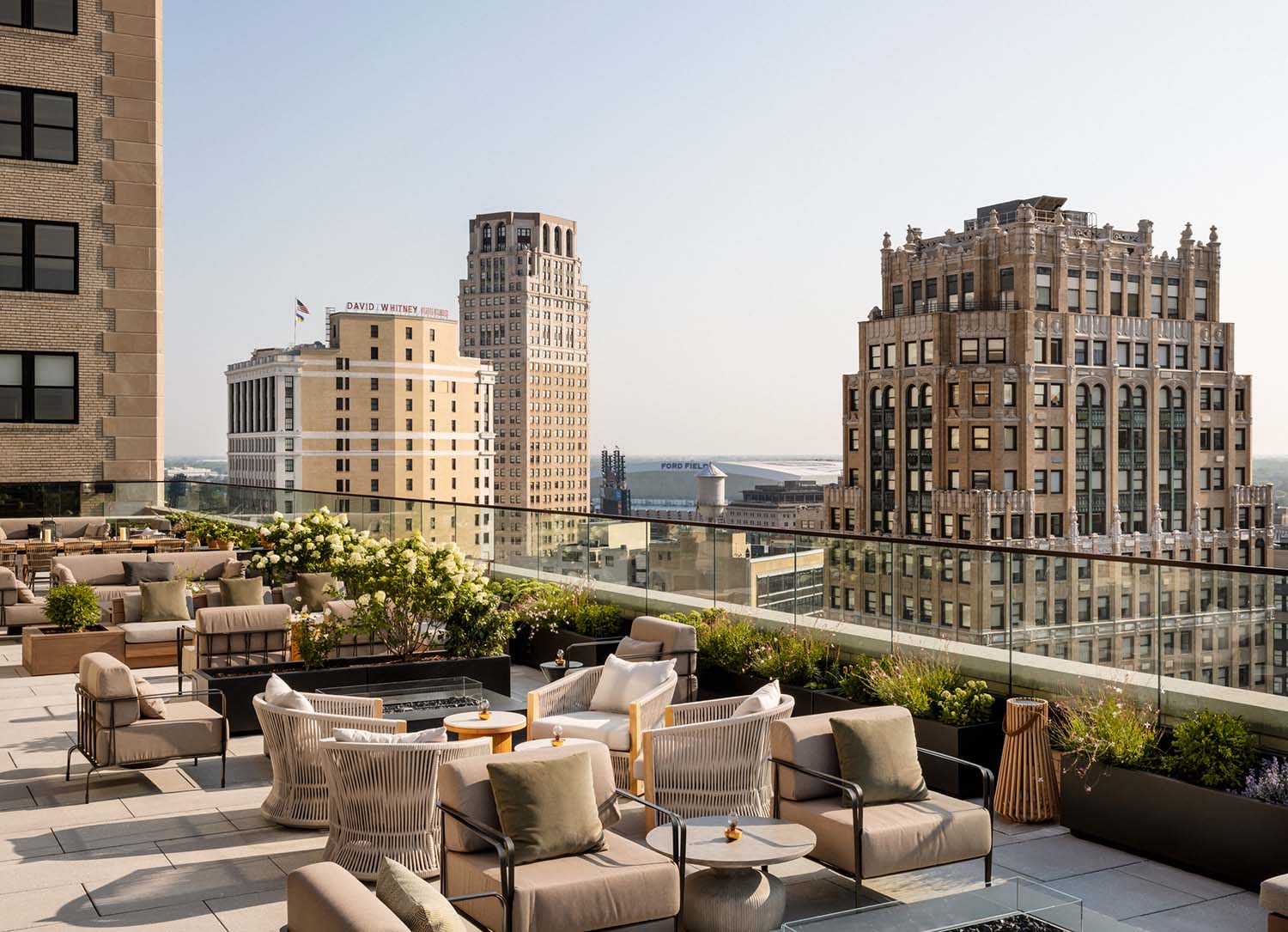 Kamper's Rooftop Bar
Now open on the 14th floor, Kamper's is a luxurious rooftop bar named in honour of Louis Kamper, the esteemed architect of the historic Book Building. Crafted by the renowned New York firm ODA in collaboration with Method Co., Kamper's boasts an elegantly designed indoor lounge. This sophisticated space features rich wood accents, marble mosaic flooring, antiqued mirrors, plush velvet drapery, and a stately panelled millwork bar. French doors lead out to a sprawling rooftop terrace, offering unmatched city views and a breathtaking perspective of the tower.
At Kamper's, the beverage program is artfully orchestrated by Method Co.'s acclaimed beverage directors and mixologists, Natasha David and Jeremy Oertel. Their expertise shines through in a selection of exquisite craft cocktails, fine wines, aperitifs, and premium spirits. Complementing the drinks is a menu of Barcelona-inspired tapas, crafted to elevate the rooftop bar experience. Guests at Kamper's can choose from a variety of seating options, including the cozy lounge, the elegant bar, or the plush, fireside seating areas on the outdoor terrace, each offering a unique ambiance to savour the culinary and visual delights.
@booktowerdetroit
@method.co_
@myroost