* CLOSED * Located on the second floor of The Siren Hotel—which took residence in Detroit's Wurlitzer Building in 2018—Karl's is an all-day dining affair serving up quintessential luncheonette classics; chef Kate Williams adding the same sense of care, style, and originality that gained her nationwide recognition for her first restaurant, Lady of the House in the city's historic Corktown neighbourhood.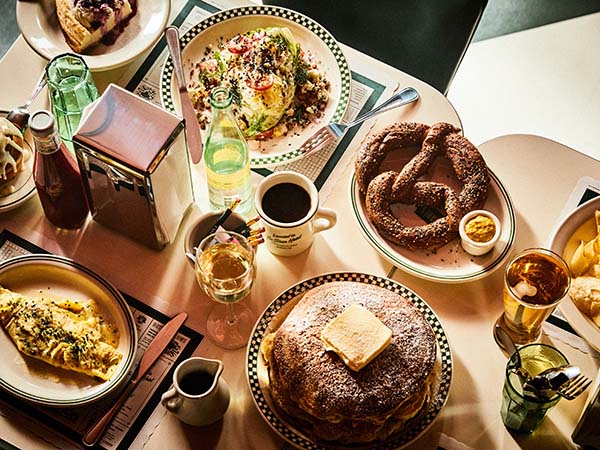 Open for breakfast, lunch and dinner—and taking its cues from the bakery Kate's great-great-grandparents owned on the East Side—Karl's offers a broad selection of sweet and savoury treats that hark to vintage Americana: think Danish pastries, cinnamon rolls, cakes, and pies, alongside a host of irresistible classic 'American diner' fare which includes Matty's ham sandwich, with Lady of the House Parisian ham, butter, yellow mustard, and pickle; Wedge Salad with devilled egg, bacon, blue cheese and bagel spice; and Barb's Maurice with turkey, ham, olive and pickle.
Designed by The Siren Hotel owners, ASH NYC, the space is a contemporary take on nostalgic diner motifs; filled with vinyl banquettes, fixed stools, laminate bar tops, patterned tiles, and chrome and neon accents. A colour palette of vintage greens, oranges and reds nod to other era diners that were famed throughout the country.
Live music will entertain diners, as will the restored 1957 Wurlitzer jukebox stocked in collaboration with Third Man Records and Paramita Sound. For a mere 25 cents a pop, the vintage music machine will keep the fun times rolling as each and every essence of Karl's transports you to an evocative age.